25+ Must-have Interactive Toys for Parrot: Discover the Feathered Fun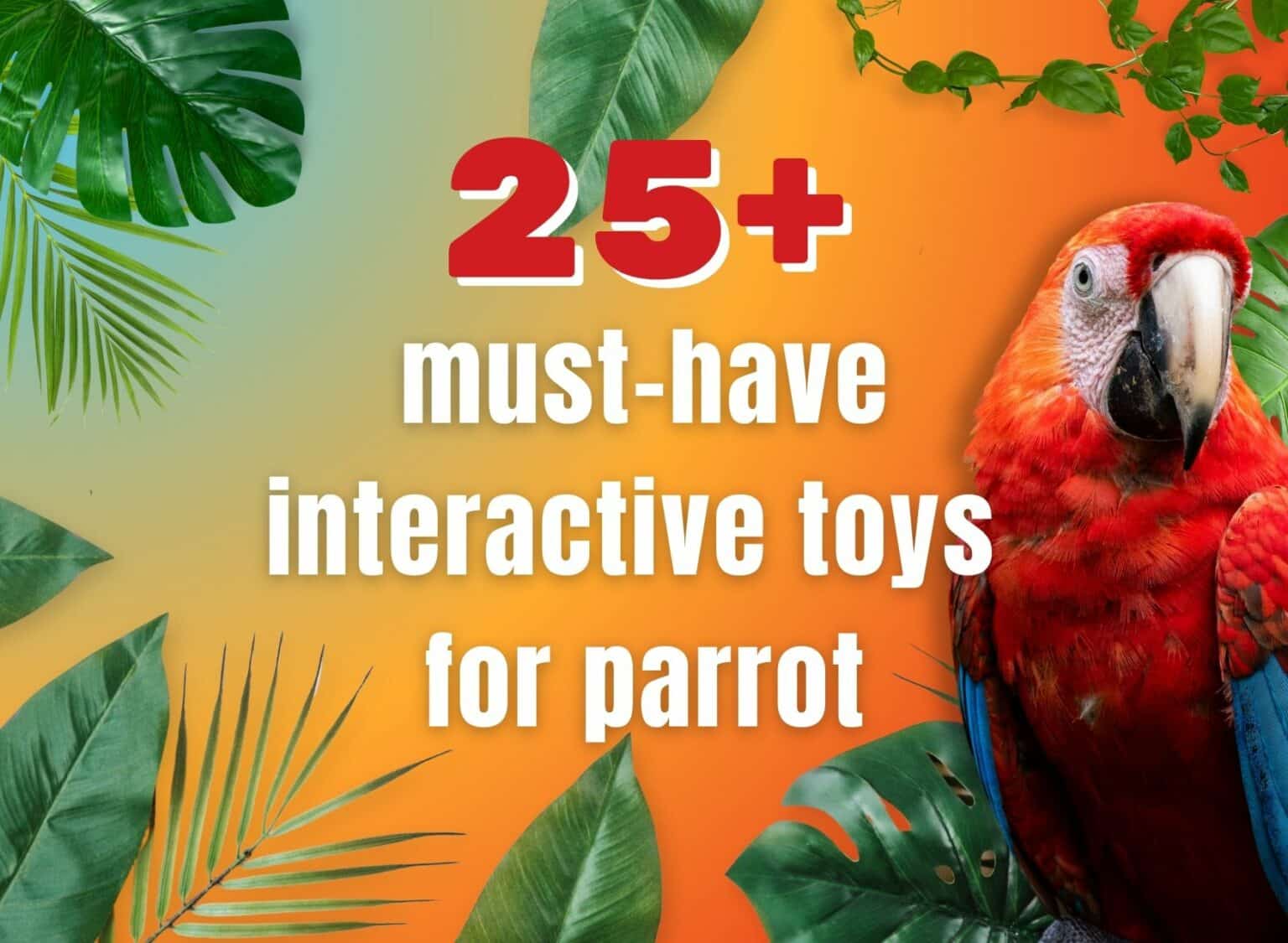 Bringing a feathered companion into your home is a source of immense joy and companionship. Interactive toys for parrrot will definitely ensure their longterm well-being and contentment. In this comprehensive guide, we've carefully curated a list of more than 35 essential intelligence toys for parrots. These specialized toys for parrot are crafted to captivate their inquisitive nature and promote mental enrichment. Let's started now!
Top Interactive Toys For Parrot Under $10.00
1. Square Shaker foot toys for parrot
Square Shaker toys are a fantastic addition to your parrot's playtime. These colorful, textured squares provide both visual and tactile stimulation. This set of 2 mini tube foot toys comes in 2 sizes. Each toy is constructed from mini tube pieces containing safflower seeds for a delightful rattle effect. The rattling sound adds an auditory dimension to play, making it an engaging experience for your feathered friend.
2. Hardwood Beehive Beads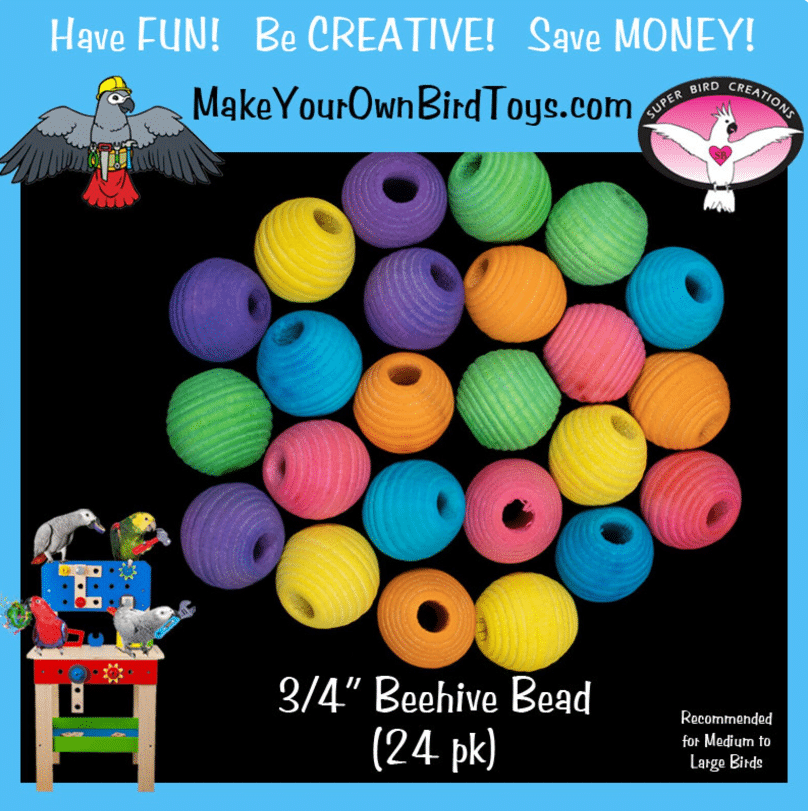 This set includes 24 brightly colored and drilled ¾" wooden beehive beads. Made from bird-safe wood, these beads satisfy your bird's instinctual drive to chew and destroy. They are hand-dyed with food-grade colorants and recommended for use in bird toys for medium to all-sized pet birds. The intricate design encourages problem-solving as they navigate through the nooks and crannies of the beehive. These toys for parrot can combines mental and physical stimulation seamlessly.
3. Set of 5 Keys and Rings Parrot Foot Toys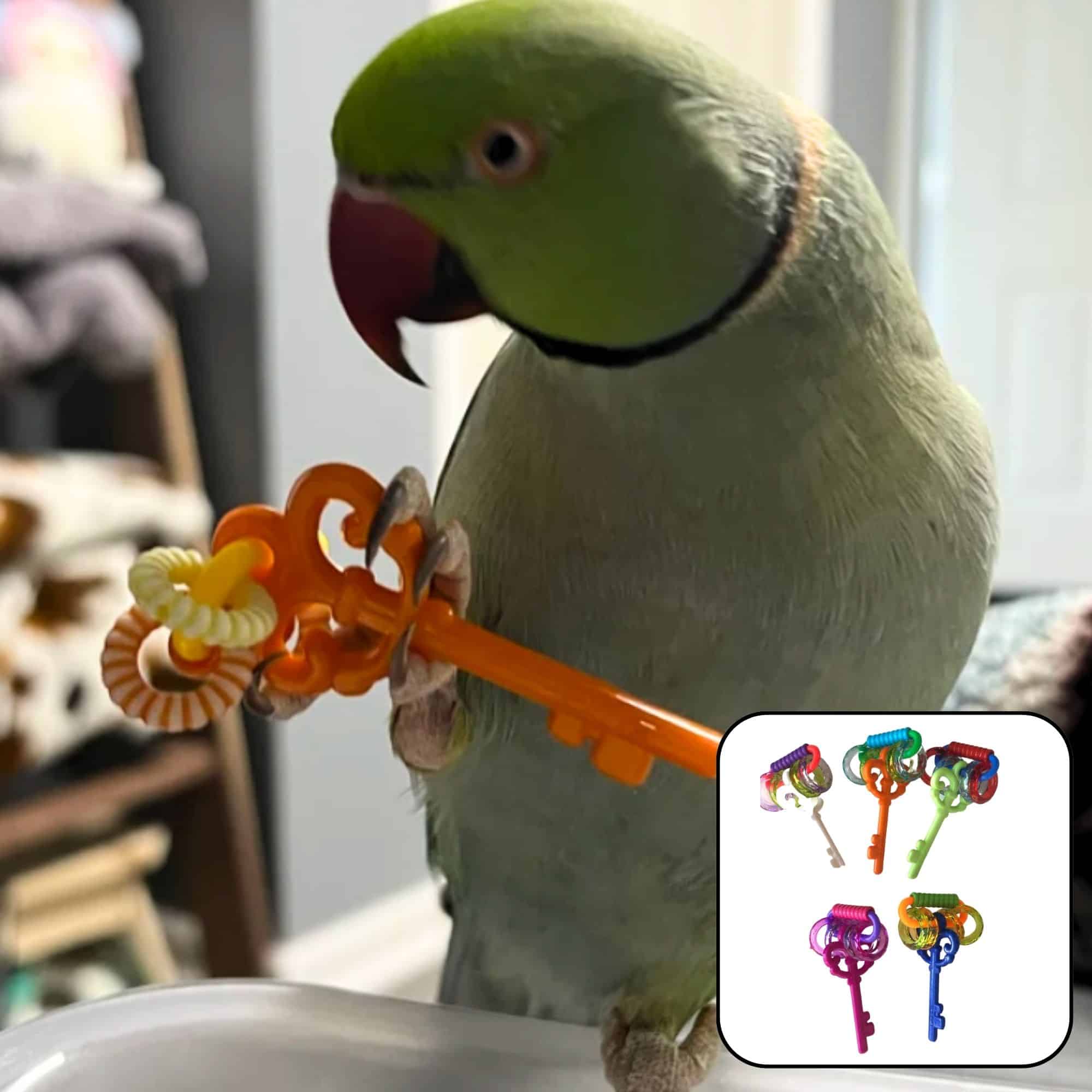 Handmade with care, this set of parrot foot toys includes plastic and acrylic beads, links, and keys. The set with acrylic rings in different shapes are the most suitable for larger birds, as acrylic is tougher to break, while sets with plastic rings are better suited for medium to small birds. Let's unlock hours of entertainment for your parrot with this set of keys and rings.
4. Rainbow Rings Flock Set of Foot Toys for Medium to Small Sized Parrots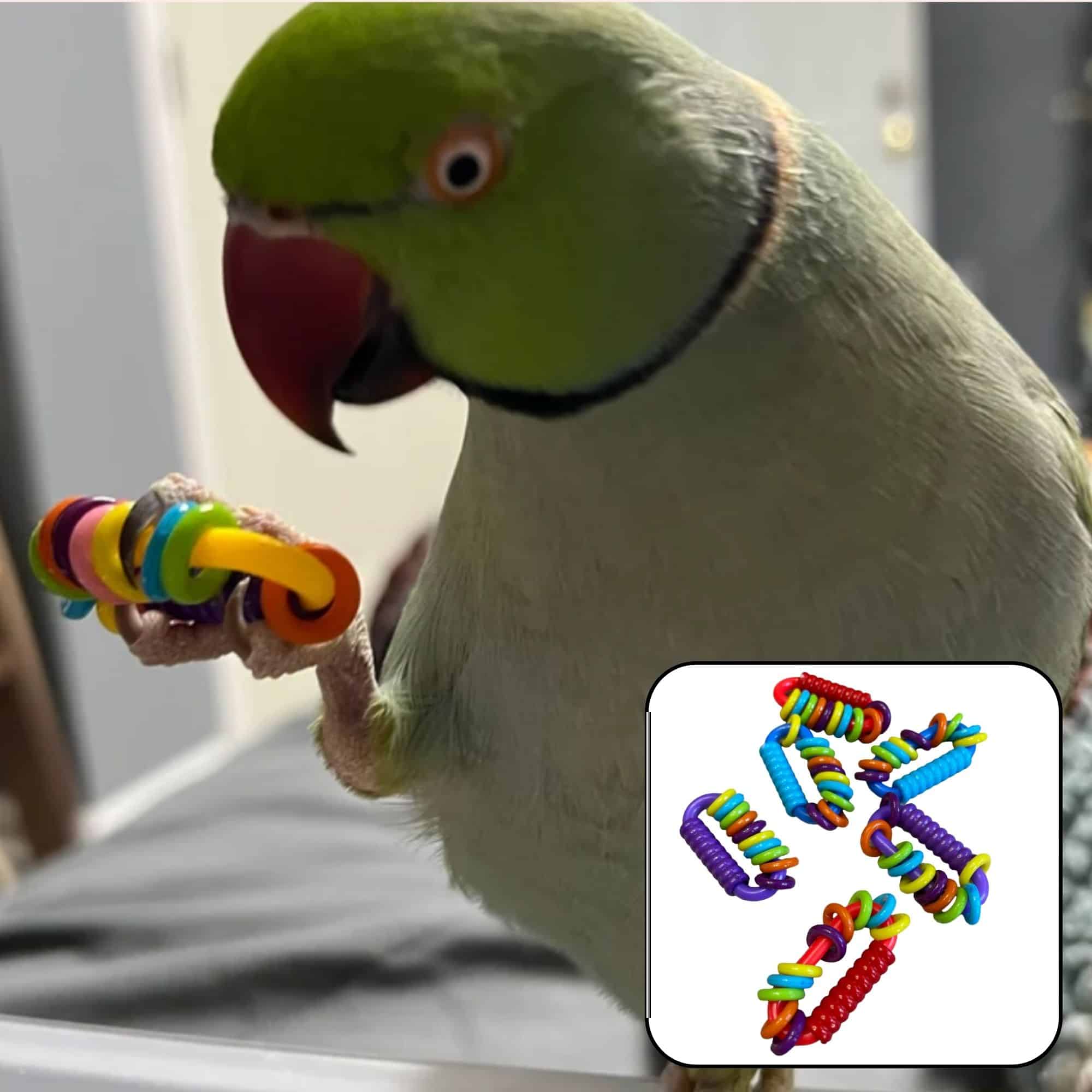 Vibrant and dynamic, the Rainbow Rings Flock set is tailored for medium to small-sized parrots, containing 6-foot toys. Each toy features acrylic donut beads, tube beads, plastic links, and plastic C-links. This toy provides an engaging play experience, invites exploration, and encourages motor skills development. Your parrot will be enthralled by the kaleidoscope of hues as they engage with this captivating toy for parrot.
5. Swivel Ball Spinner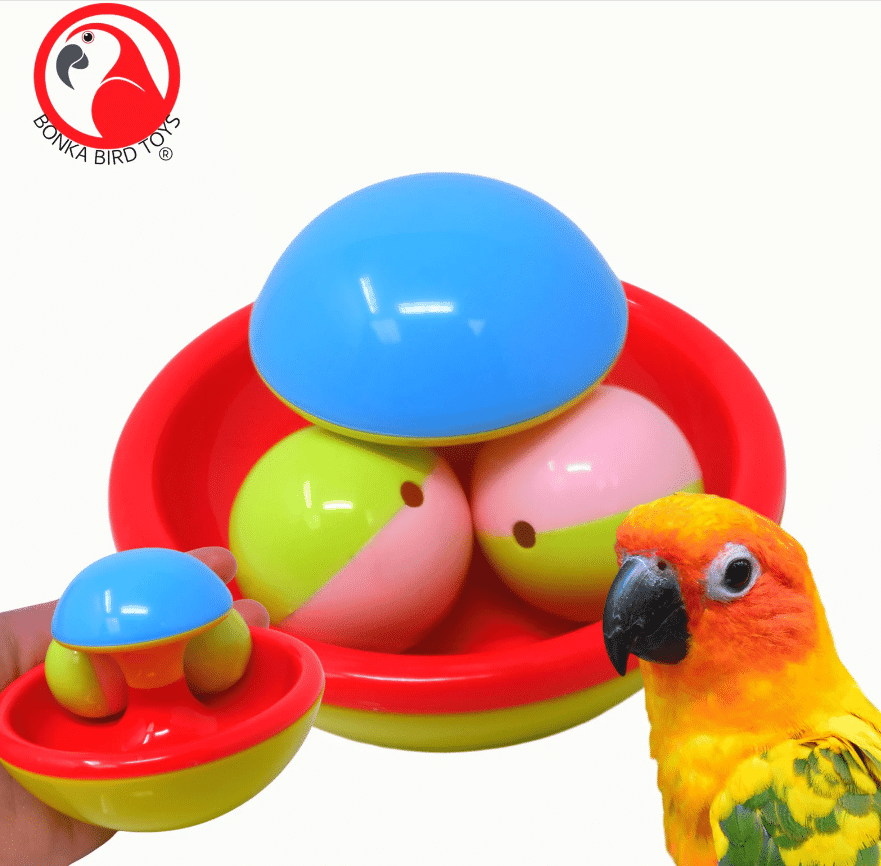 Specifically designed for medium to large-sized feathered friends, the Swivel Ball Spinner is a durable plastic toy for parrots that guarantees hours of entertainment. As the ball spins, it captivates your parrot's attention, encouraging them to follow its motion. This toy stimulates your parrot's senses and intelligence and encourages exploration and interaction. Measuring approximately 4 inches high by 5 inches wide, it comes in bright, bird-pleasing colors.
6. Beakaroo Mini Foot Toy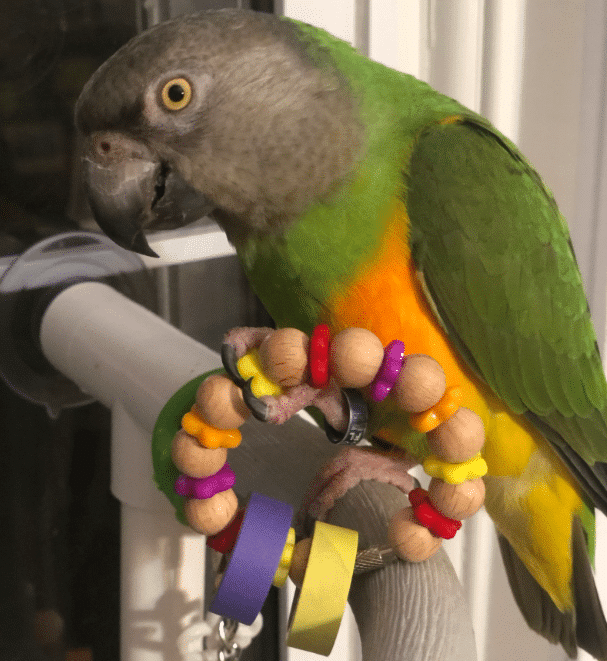 The Beakaroo Mini is a teether-style toy designed for medium to large-sized parrots. It features wood beads and acrylic rings strung on a reusable stainless steel cord. This toy is perfect for birds like African Greys to Conures. Promised that they'll love playing with the dangling birdie bagels.
7. Tutu Chew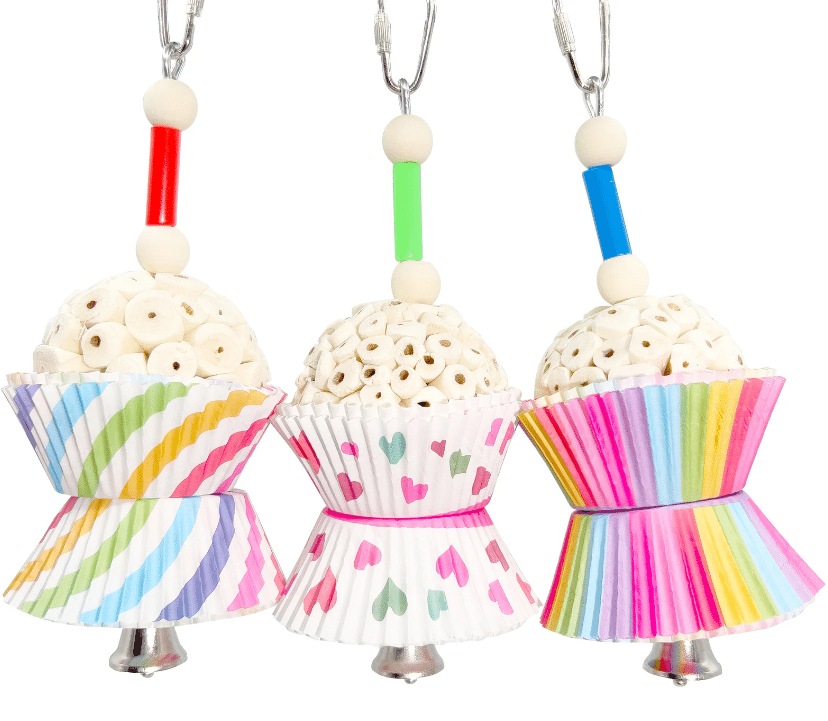 The Tutu Chew are super shreddable small-sized parrot toys that combine fun with a bit of practicality. It includes bird-safe metal, food-grade cupcake cups, and air-dried natural sola wood. Its colorful and textured design not only entertains your parrot but also serves as a satisfying outlet for their natural chewing instincts.
8. Ferris Wheel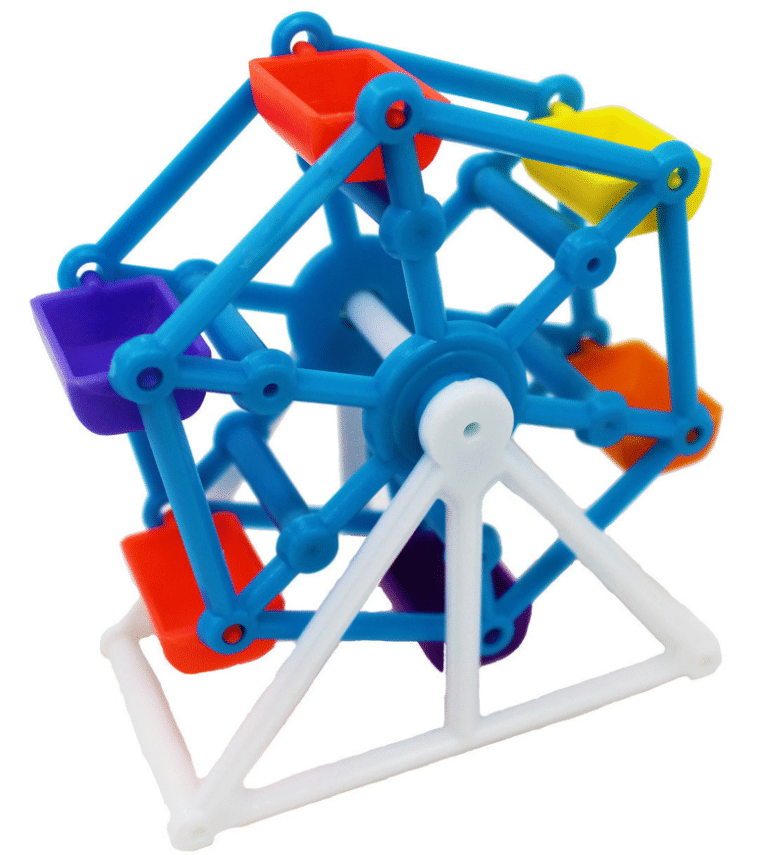 The Ferris Wheel is a fun and interactive toy for small-feathered friends. Made of durable plastic with spinning buckets, it provides a carnival of fun and healthy play activities. As they push and spin the wheel, they'll be rewarded with delightful movement. It can also be used as a novel seed feeder. This toy is 100% bird-safe and comes in assorted bird-pleasing colors.
9. T-Pipe Tubes Craft Part Foot Toy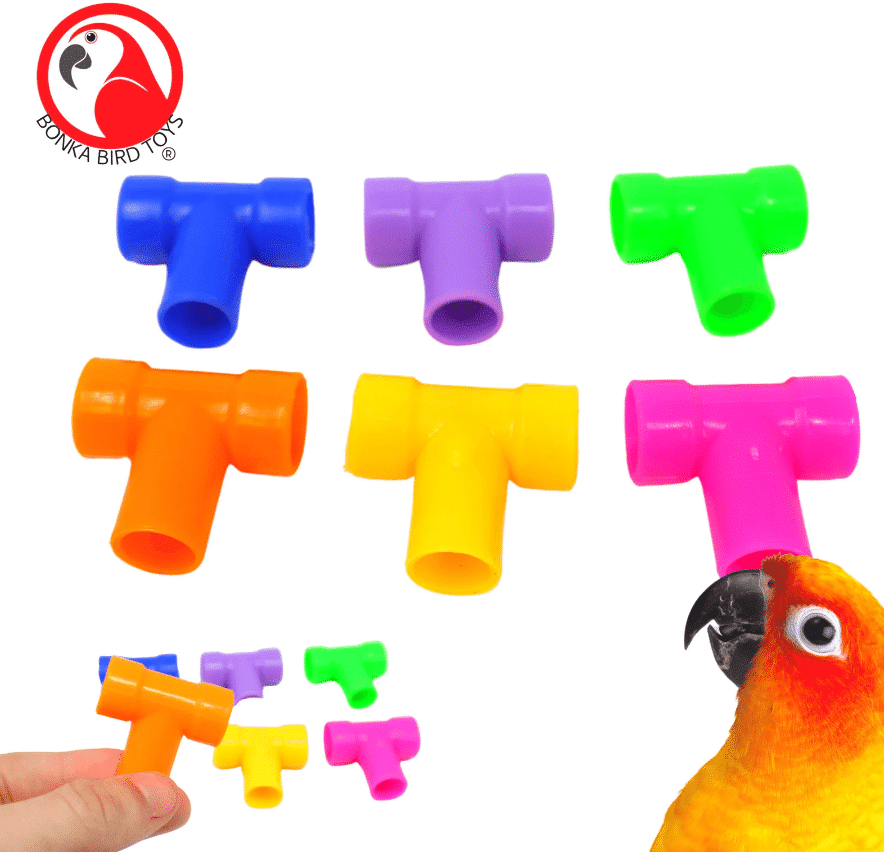 Colorful Plastic T-Pipe Tubes are versatile and eye-catching toys for parrot. They are durable and can be used as foot-talon toys, providing hours of entertainment. These tubes measure approximately 1 1/2 inches long with a 1/2-inch diameter. Your parrot can explore different ways to interact with these tubes, promoting problem-solving and exploration.
10. Mini Shopping Cart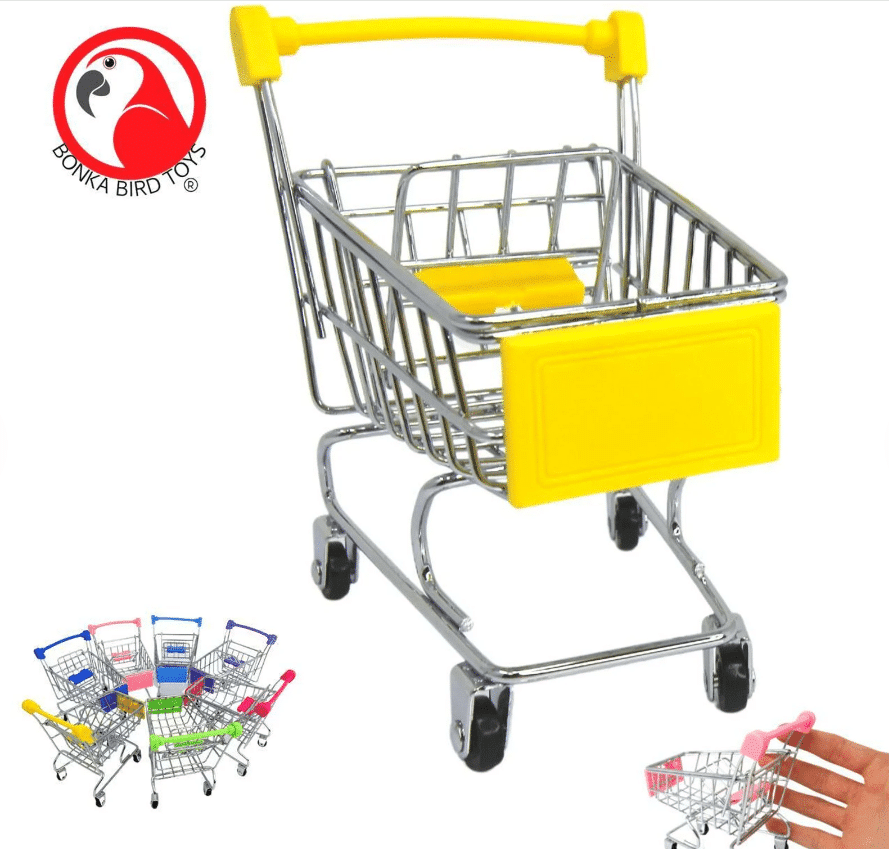 Mini Shopping Cart is a fun and engaging toy made of durable zinc-free chrome-plated steel. It features four casters for smooth movement and can be filled with food, snacks, and toys to keep your bird happy and occupied. Your parrot can push, pull, and maneuver the cart, stimulating both physical activity and cognitive engagement. This toy is perfect for small-sized parrots like Conures, parakeets, lovebirds, and cockatiels.
11. Ding-a-ling Bird Toy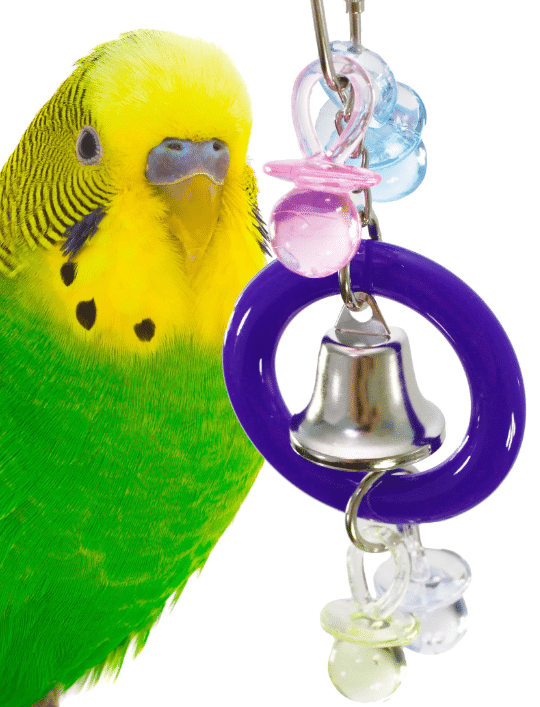 The Ding-a-ling Bird Toy is designed for small to medium birds and measures about 2 1/2 inches wide and 7 inches high. As they interact with this toy, it produces gentle, melodic sounds that capture their attention. It provides mental stimulation and development for your parrot while offering a fun rattling sound.
12. Cutie Cuppy Rattle Toy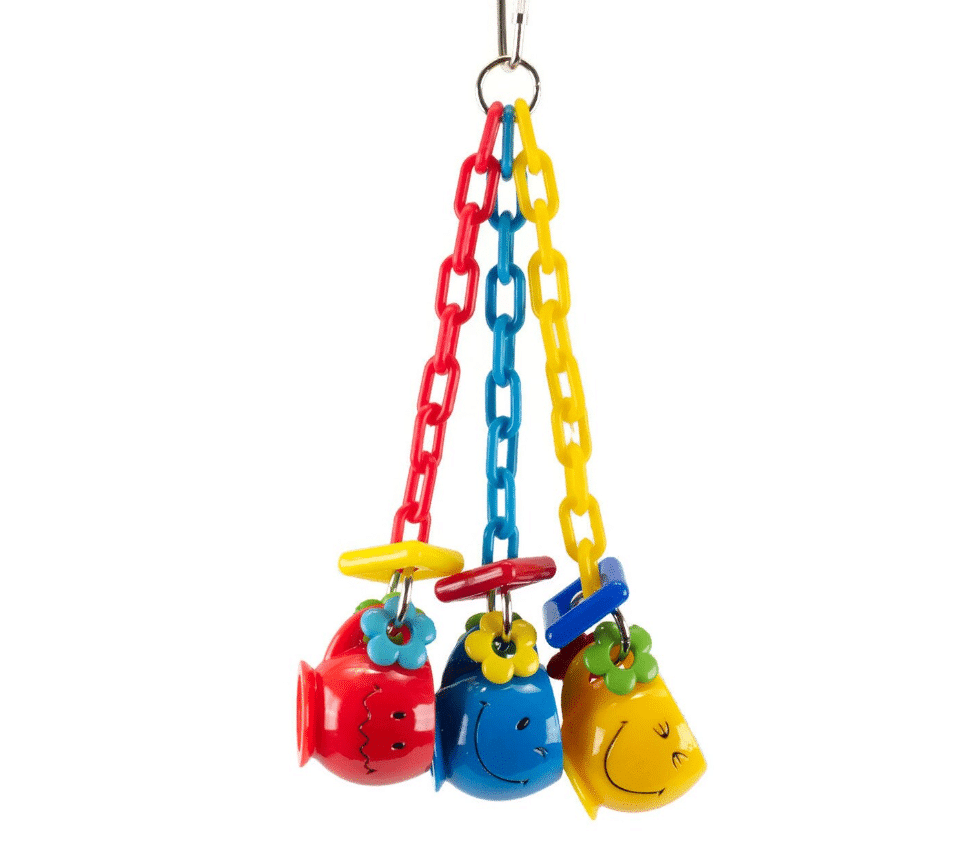 The Cutie Cuppy Rattle Toy is another delightful toy for parrots who enjoy rattling and shaking toys. It features three smile cups with cute embellishments, including a daisy, plastic chain, and square marbella rings. This toy engages your parrot's sense of touch, sight, and hearing.
13. Large Parrot Foot Toy
The Beakaroo is a large parrot teether toy made from smooth beech wood. It includes wood beads and acrylic rings on a reusable stainless steel cord system. Designed for larger parrots, this foot toy offers robust entertainment. Its size and durable construction make it suitable for birds with a more substantial beak strength.
Top Interactive Toys For Parrot Under $20.00
14. Springy Straw Parrot Toy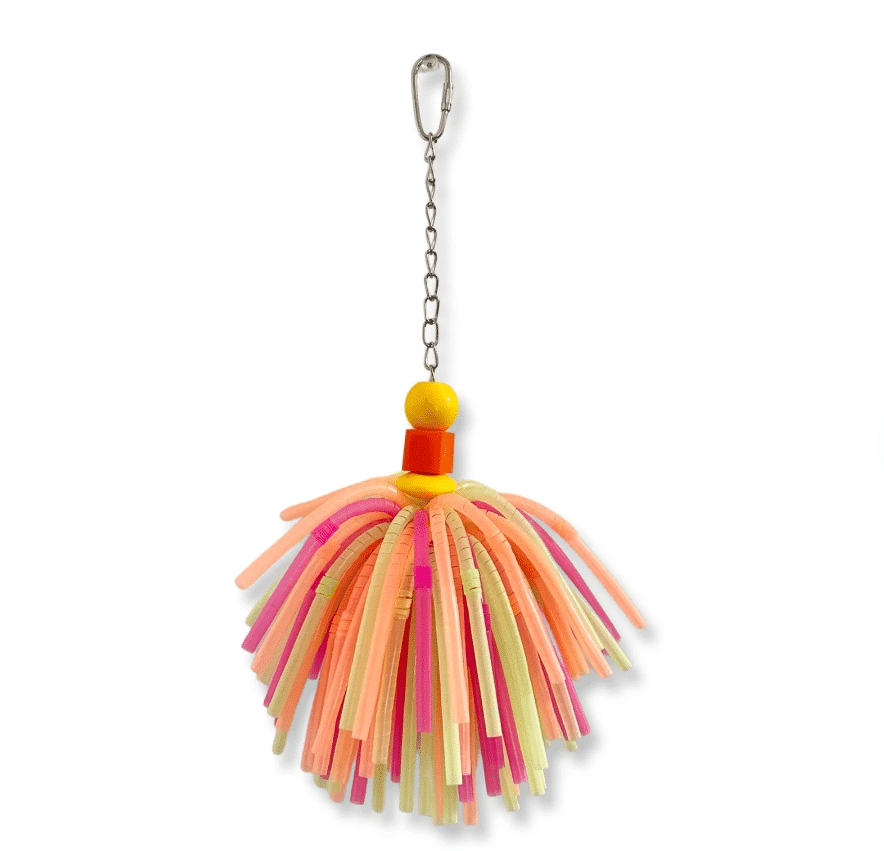 Handmade from spiraled straws, jumbo beads, a nickel-plated chain, and a nickel-plated pear clip, this durable toy provides hours of fun for parrots. The flexible straws bounce and sway, captivating your parrot's attention. This toy promotes physical activity, coordination, and mental stimulation for your parrot.
15. Brainy Blocks Interlocking Turning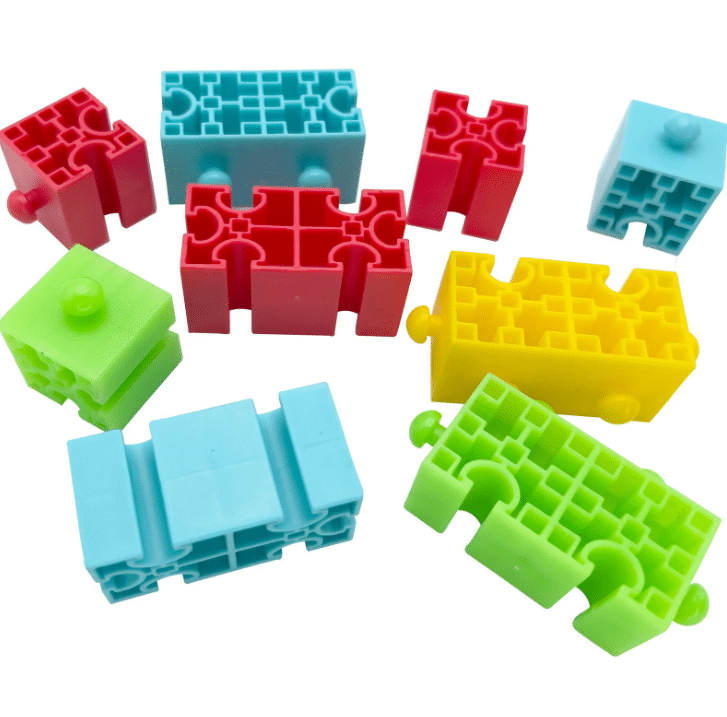 The Brainy Blocks are vibrant, interlocking foot toys that engage your parrot's intellect and promote interactive play. With rounded clips and grooved channels, these blocks easily interlock, creating an ever-changing array of shapes. This dynamic toy encourages cognitive development, problem-solving, and tactile stimulation. It can be filled with treats for added engagement, providing a stimulating and rewarding experience.
16. Small Wave Beak Toy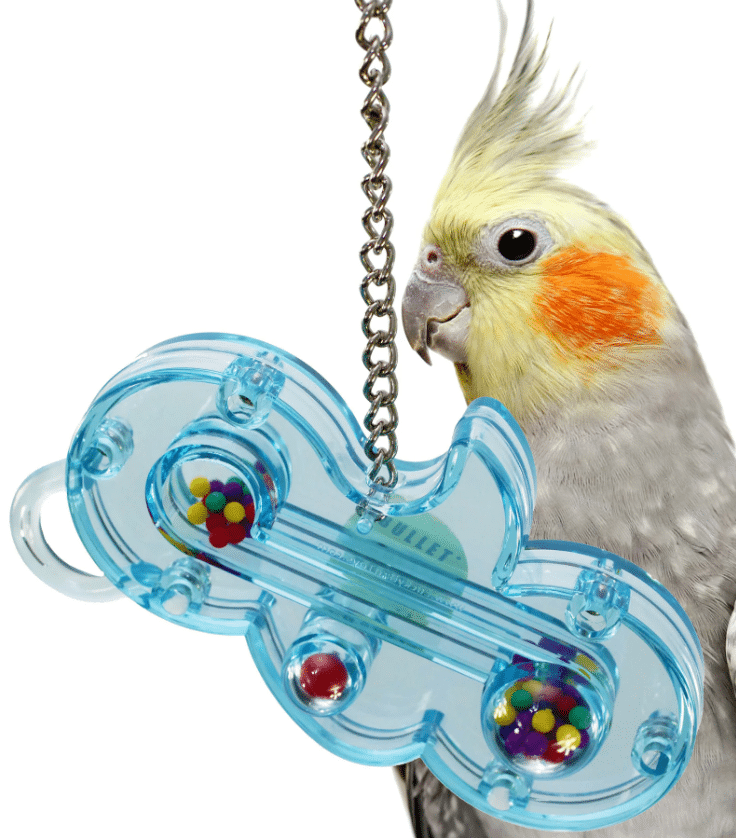 The Small Wave is a beak-teasing delight for small to medium-sized birds. Its virtually indestructible, brightly colored plastic body is shaped like a wave, with a narrow channel filled with colorful beads that move as the toy is tilted. The "bubbled" areas add depth and visual interest. It can be enhanced by adding more of your bird's favorite toys. Suspended by a sturdy Stainless Steel chain, it measures approximately 5 inches high by 9 inches wide.
17. Ring Gear Parrot Toys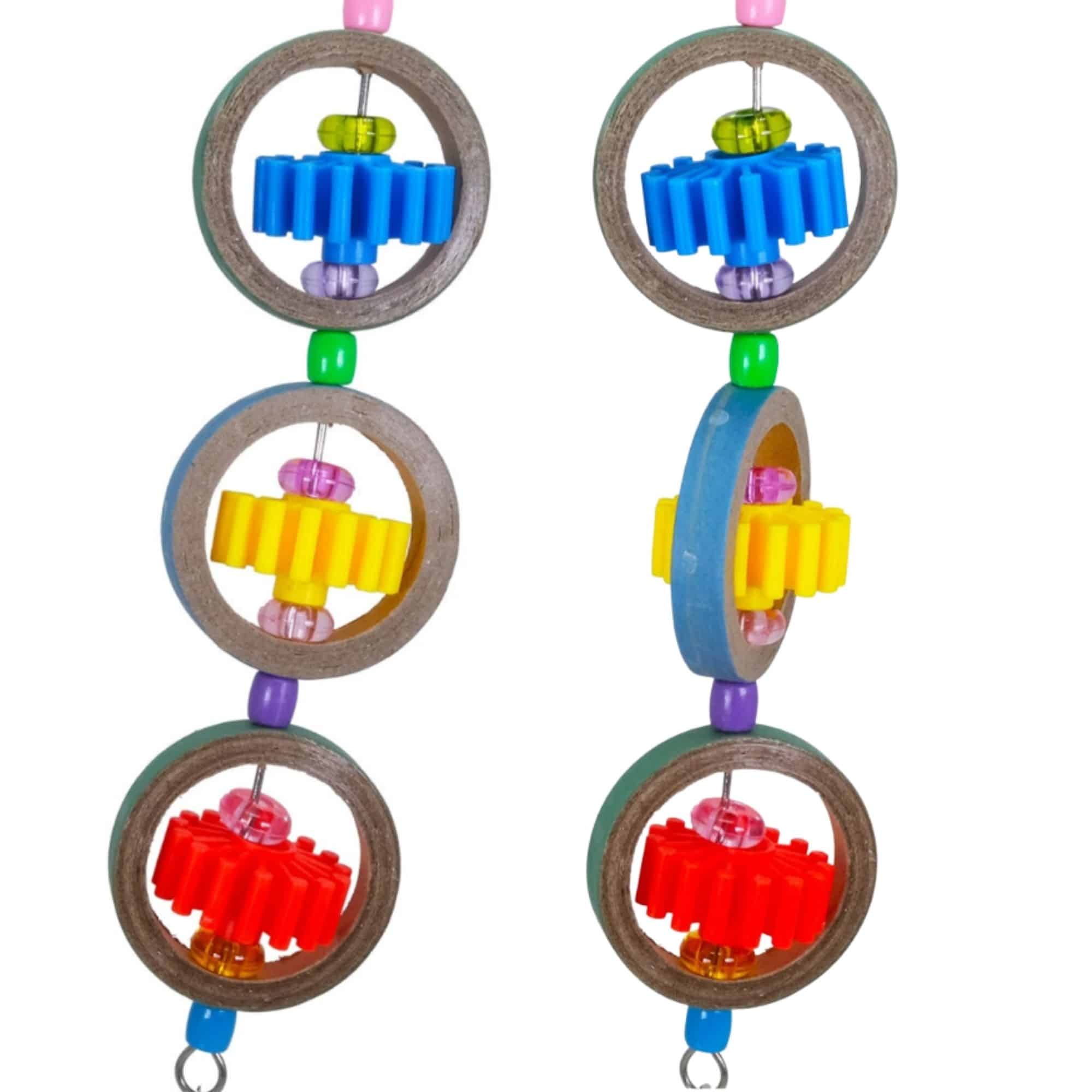 The Ring Gear Bird Toy is a chewable and easy-to-play toy. It features straightforward, bird-pleasing parts arranged in a tower, making it easy to grab and play with. The toy includes small bird bagels made from compressed cardboard, with translucent colorful beads and plastic gears in between. It's equipped with a metal bell for added auditory stimulation. It measures approximately 8 inches in height.
18. Spikey Star Chew Toy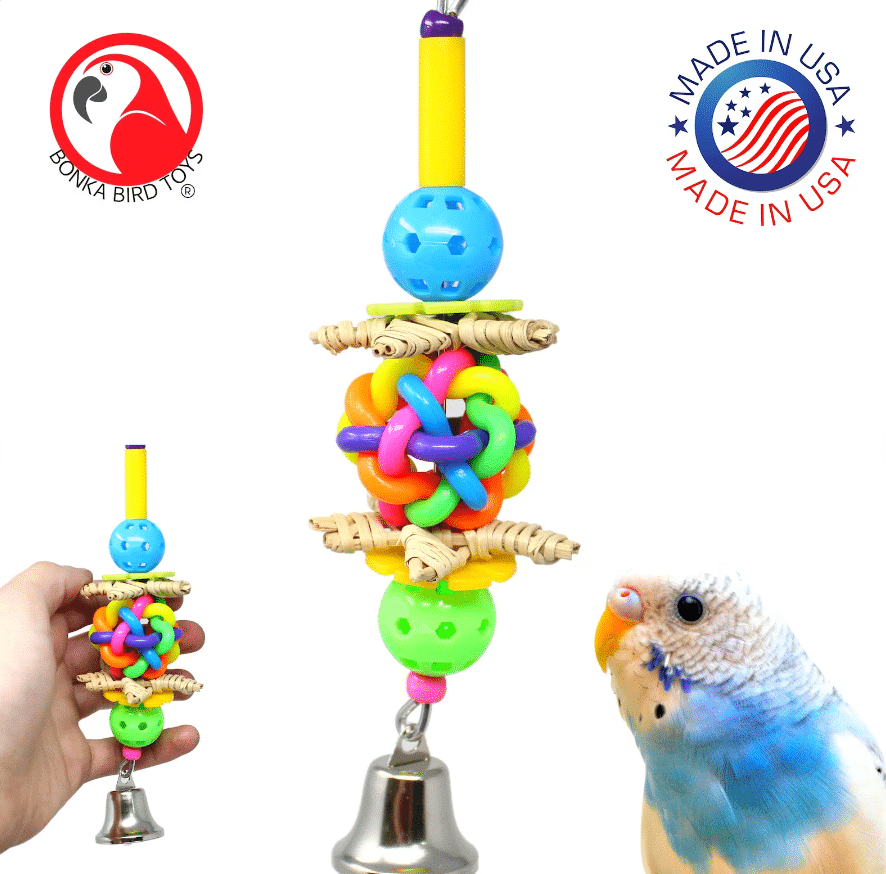 The Spikey Star Chew Toy is designed for small to medium-sized feathered friends. It offers multiple foraging, chewing, and play activities with colorful plastic discs, beads, vine stars, and a small bell. The toy provides a variety of textures to engage your bird's senses and comes with a quick link for easy cage placement. It measures approximately 8 inches in height.
19. Popsicle Stick Parrot Toys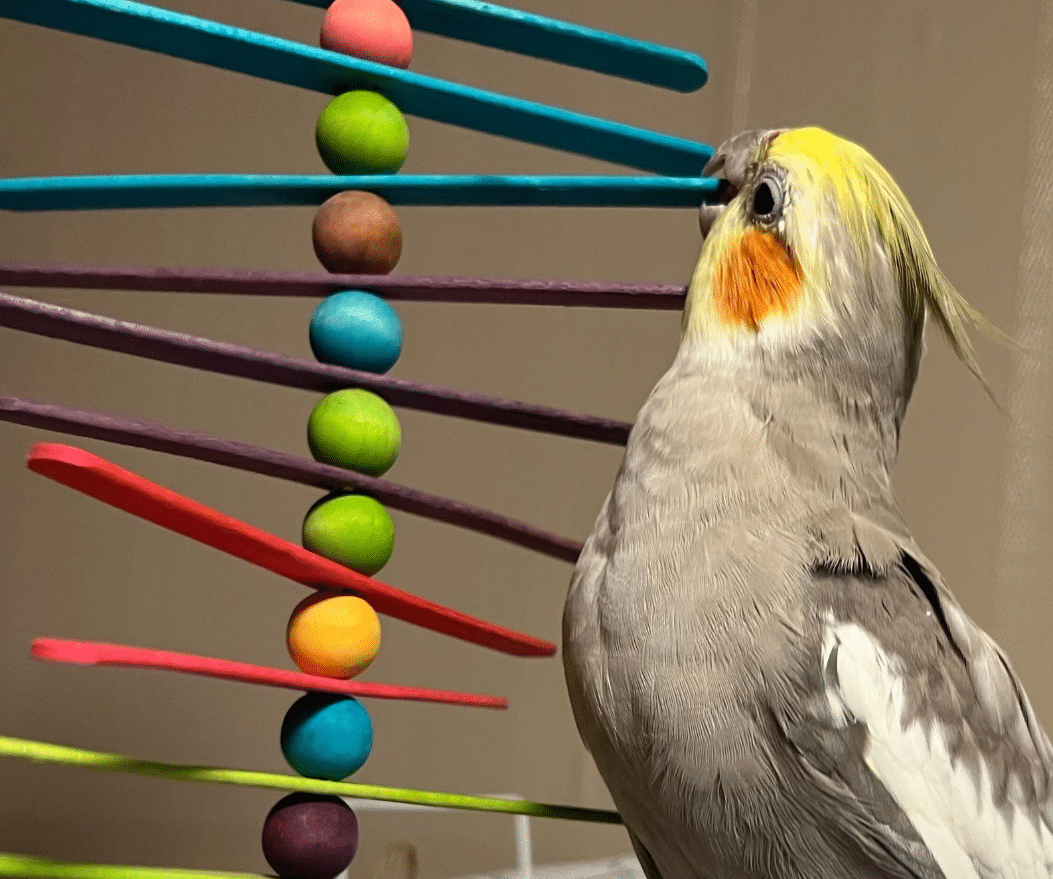 This toy is made from brightly colored popsicle sticks and features a shiny liberty bell to attract your bird's attention. Safe for chewing, it's recommended for Cockatiels, Conures, Lovebirds, Budgies, and other small to medium birds. It hangs approximately 12 inches long and 4-6 inches wide, with adjustable height.
20. Medium Wood Pile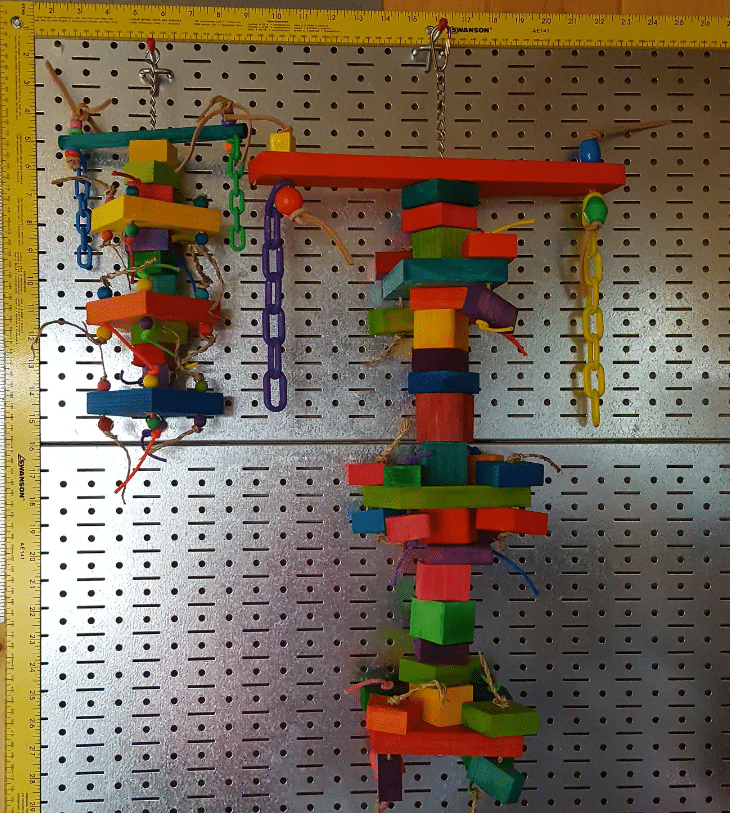 This medium-sized toy is packed with wood blocks, beads, vegetable-tanned leather, a seagrass mat, poly rope, and a plastic chain. It comes with a plastic link for easy hanging and provides plenty of opportunities for chewing and exploration.
21. Holiday Bird Parrot Toy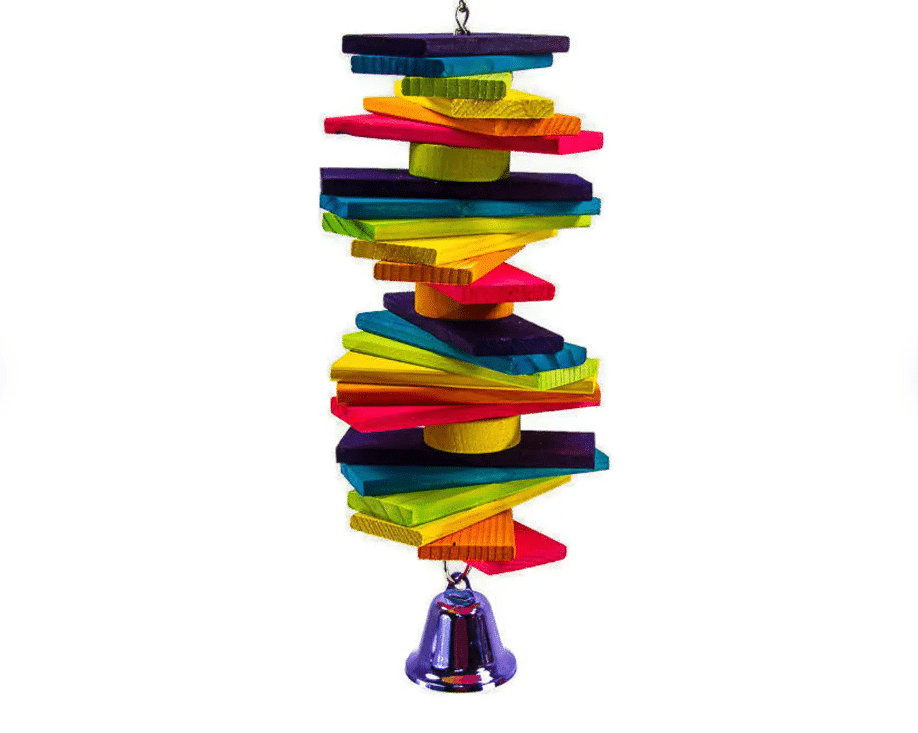 Made from nontoxic materials that are guaranteed to be safe for parrots, this is a colorful and delighted toy that you can not miss. Parrots like caiques, Quakers, African Grey love chewing and they tend to chew every toy they love. With this toy, your lovely parrots can feel free to chew as the coating is human-grade food coloring. Allowing your pet bird freely chew and play whatever they like will help enrich their emotion and experience.
22. Pony Puzzler Bird Toy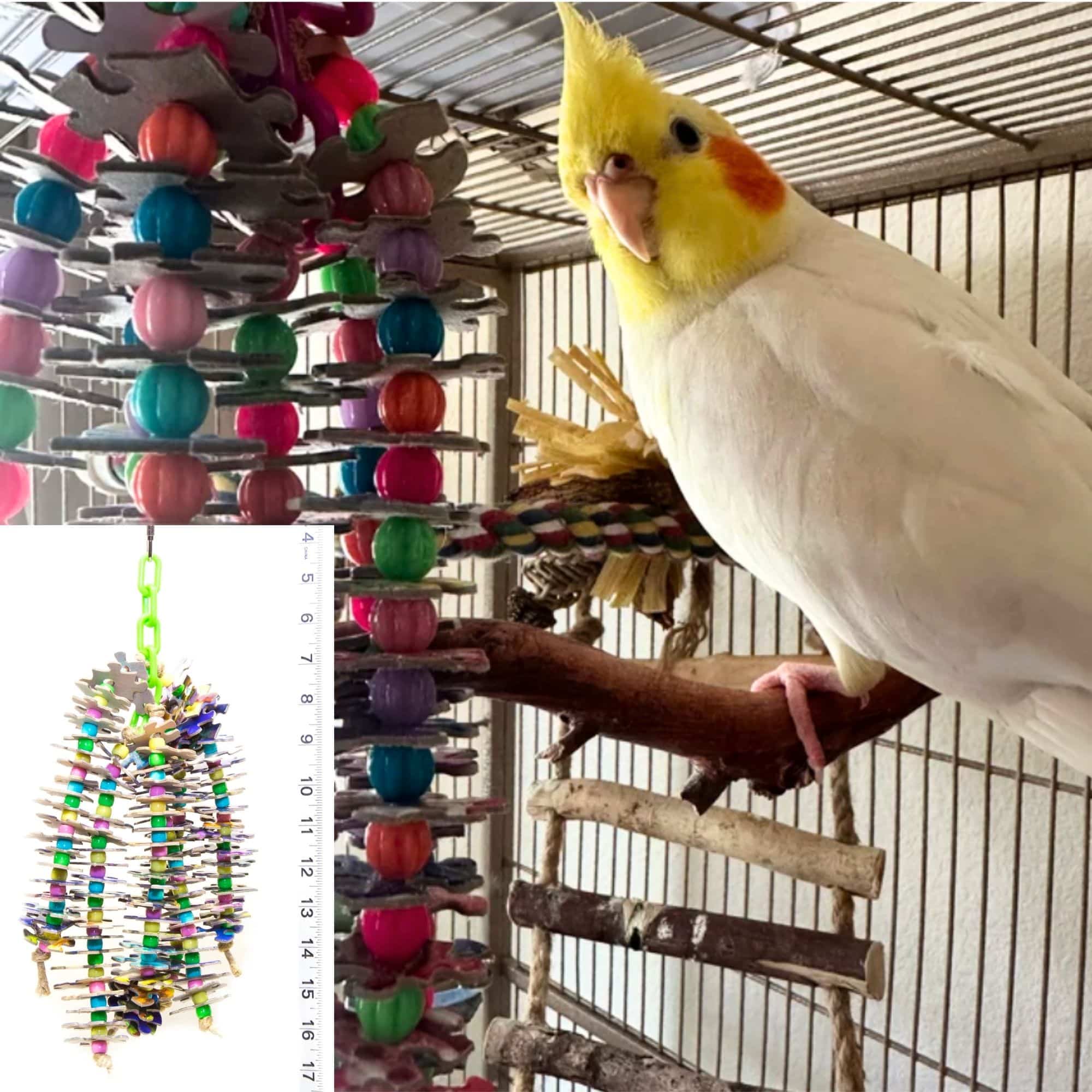 Recommended for medium-sized birds, this toy features crunchy puzzle pieces strung on natural hemp rope. It includes zinc & lead-free hardware, 100% cotton rope, non-toxic, bird-safe coloring, and vegetable-tanned leather. The toy measures approximately 12 inches in length. Such a bargain with the quality.
23. Single Tuff Ball for parrot
The Single Tuff Ball is a durable toy designed for medium to large-sized birds. It includes a large plastic ball with a small rattle ball inside, providing plenty of noise and excitement during playtime. The toy is equipped with a quick link for easy cage placement.
24. Spoon Delight Chain for Medium-sized parrots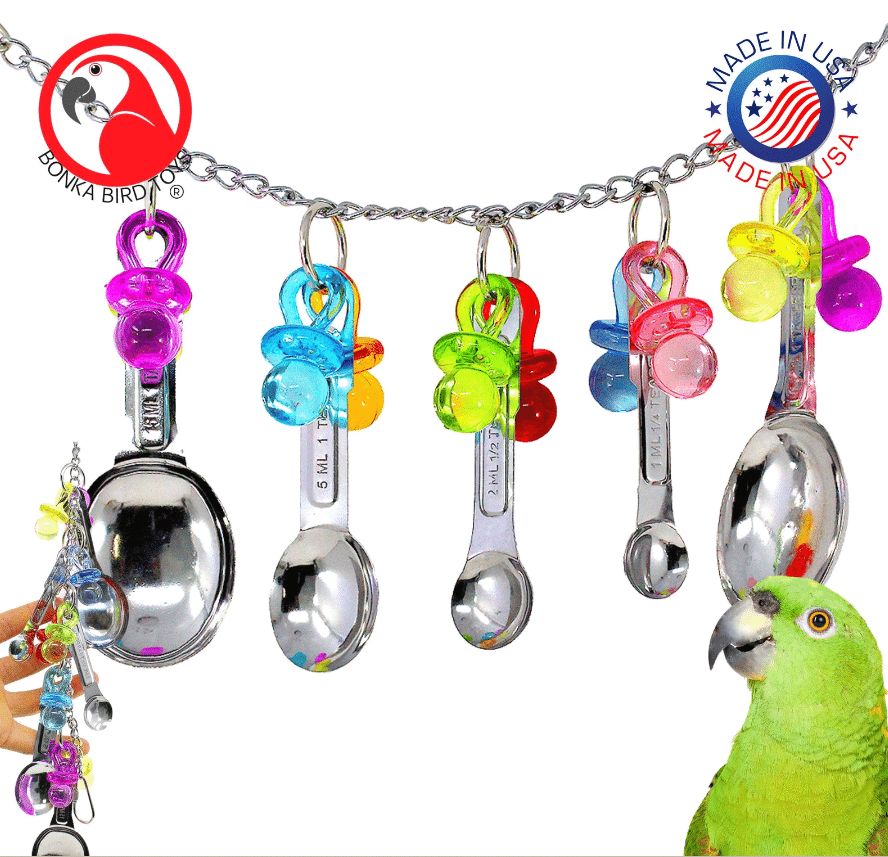 This medium-sized bird toy is packed with shiny stainless steel and colorful acrylic pacifiers or rings. Its long main chain link allows for flexibility in play, and it comes with two quick link connectors for easy hanging.
25. Talon Twizzler Parrot Toy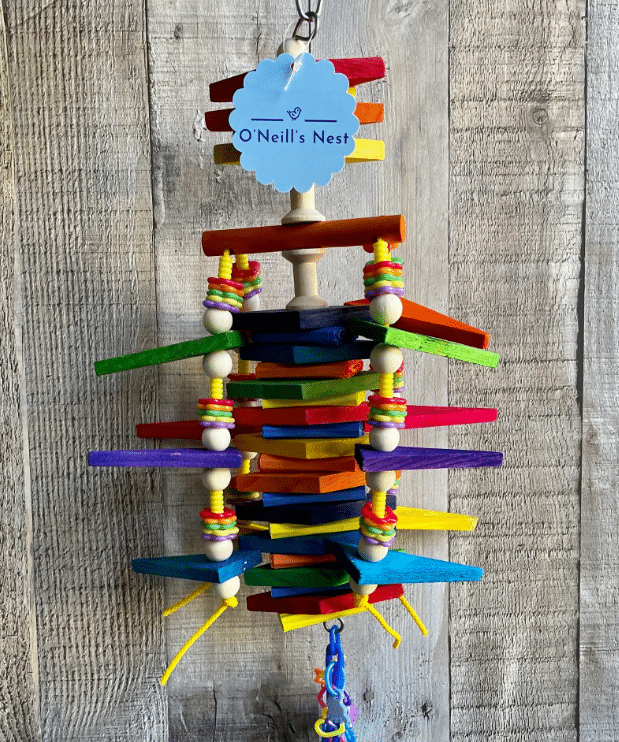 The Talon Twizzler Parrot Toy offers all the fun of a large wood bird toy in a more manageable size. It features colorful rolls of corrugated paper, wood beads, acrylic tubes, and rainbow-colored flower rings for added movement and texture.
26. Gear Pull Training Toy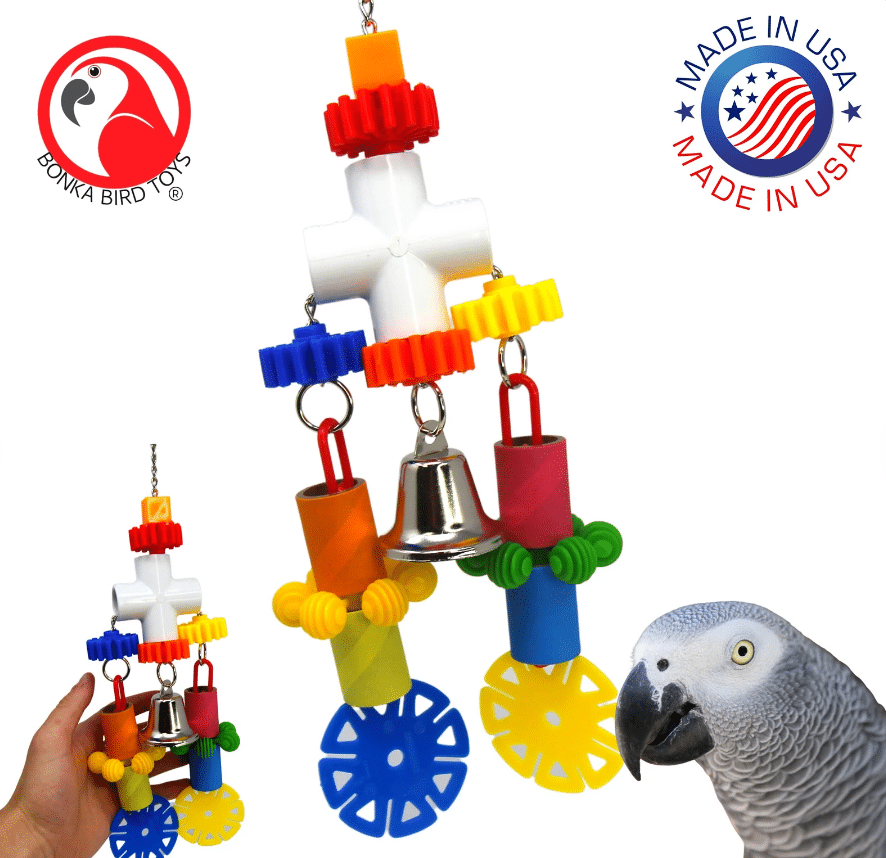 The Gear Pull Toy offers a technically engaging experience for your medium-feathered friend. It features plastic gears, interstars, bagel tube pieces, and a metal bell. The quick link attachment makes hanging quick and easy. This is one of the best training toys for african grey parrot if you are finding one.
27. Olympic Bells Bird Toy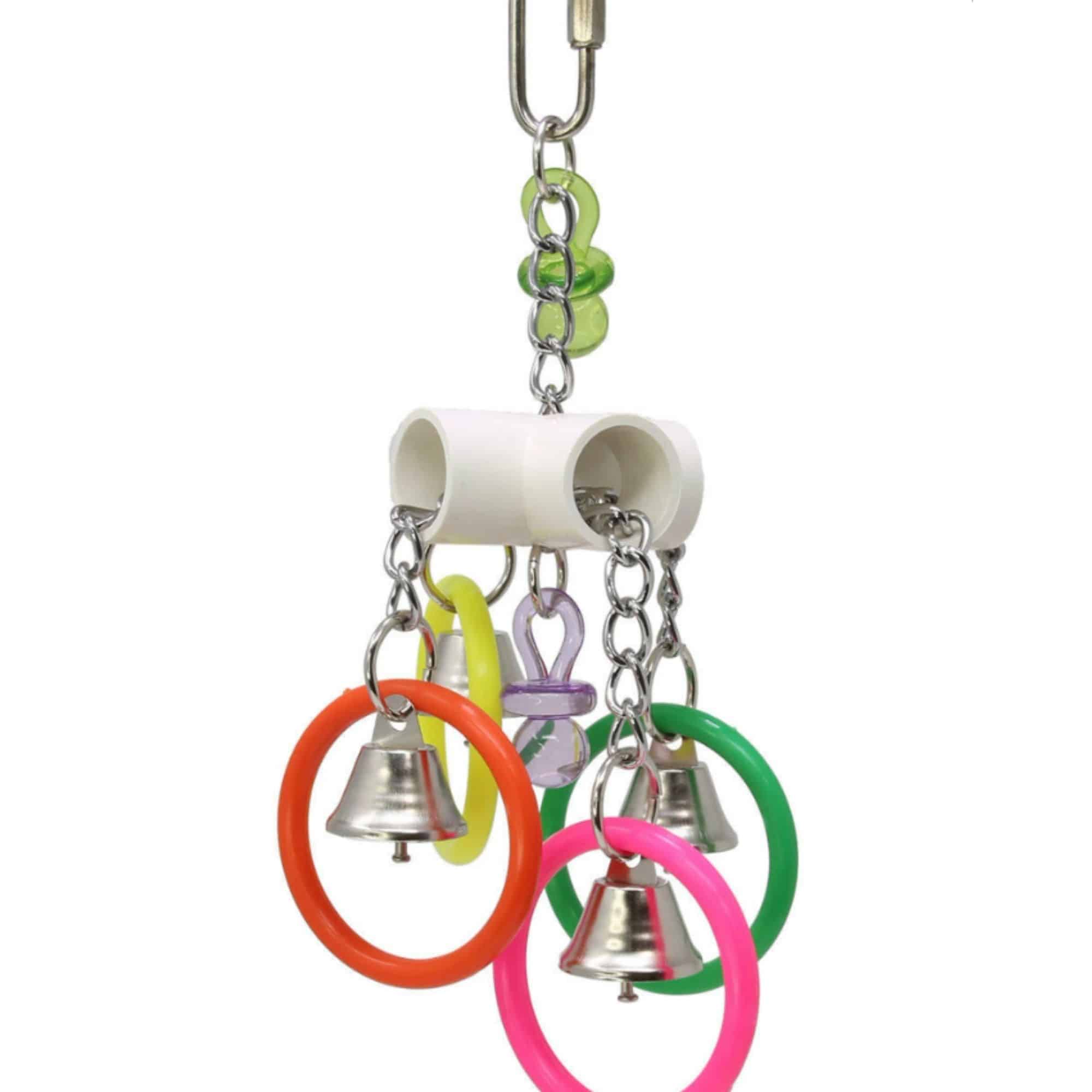 The Olympic Bells Bird Toy is a ringable and pullable medium-sized toy. It features interactive bird-pleasing materials, including acrylic pacifiers, metal rings, and small bells. Your pet can engage in a variety of play activities with this dynamic toy.
28. Rain Cube Spoon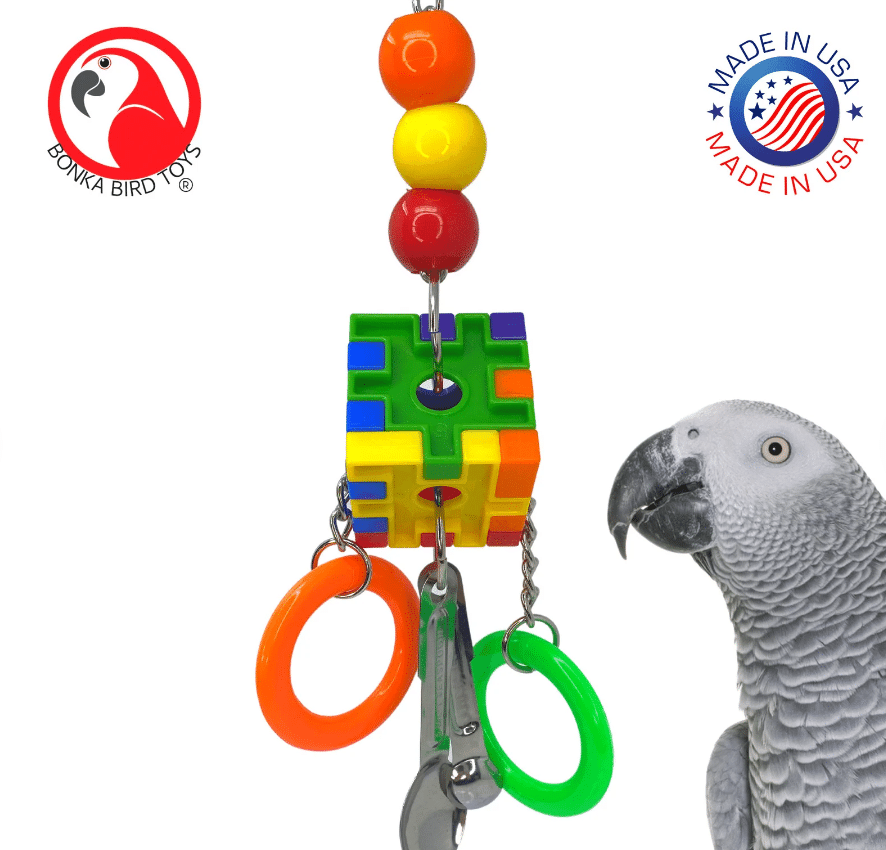 The Rain Cube Spoon is a vibrant puzzle box toy designed for medium to large-sized feathered friends. It offers a variety of engaging activities, including a colorful plastic puzzle cube, stainless steel spoons, plastic beads, and Olympic plastic bird rings. These elements are suspended by a sturdy chain that freely moves, providing endless entertainment. This 100% bird-safe toy measures approximately 11 inches high by 7 inches wide and comes complete with a quick link for easy cage placement.
CONCLUSION
Investing in interactive toys for your parrot is an investment in their well-being and happiness. The toys mentioned in this article are carefully selected to cater to a range of preferences and sizes. By incorporating these toys into your feathered friend's routine, you're ensuring they lead a fulfilling and enriched life.
GET YOURSELF A SPECIAL GIFT WITH YOUR BELOVED PARROT
Being a part of parrot enthusiasts community? Here is a special offer for you. Check it out for an exclusive personalized artwork of you and your feathered friend in a completely special way. This is a canvas print wrapped and framed carefully with touching quote. You can print down your name and your parrot's name to cherish this friendship.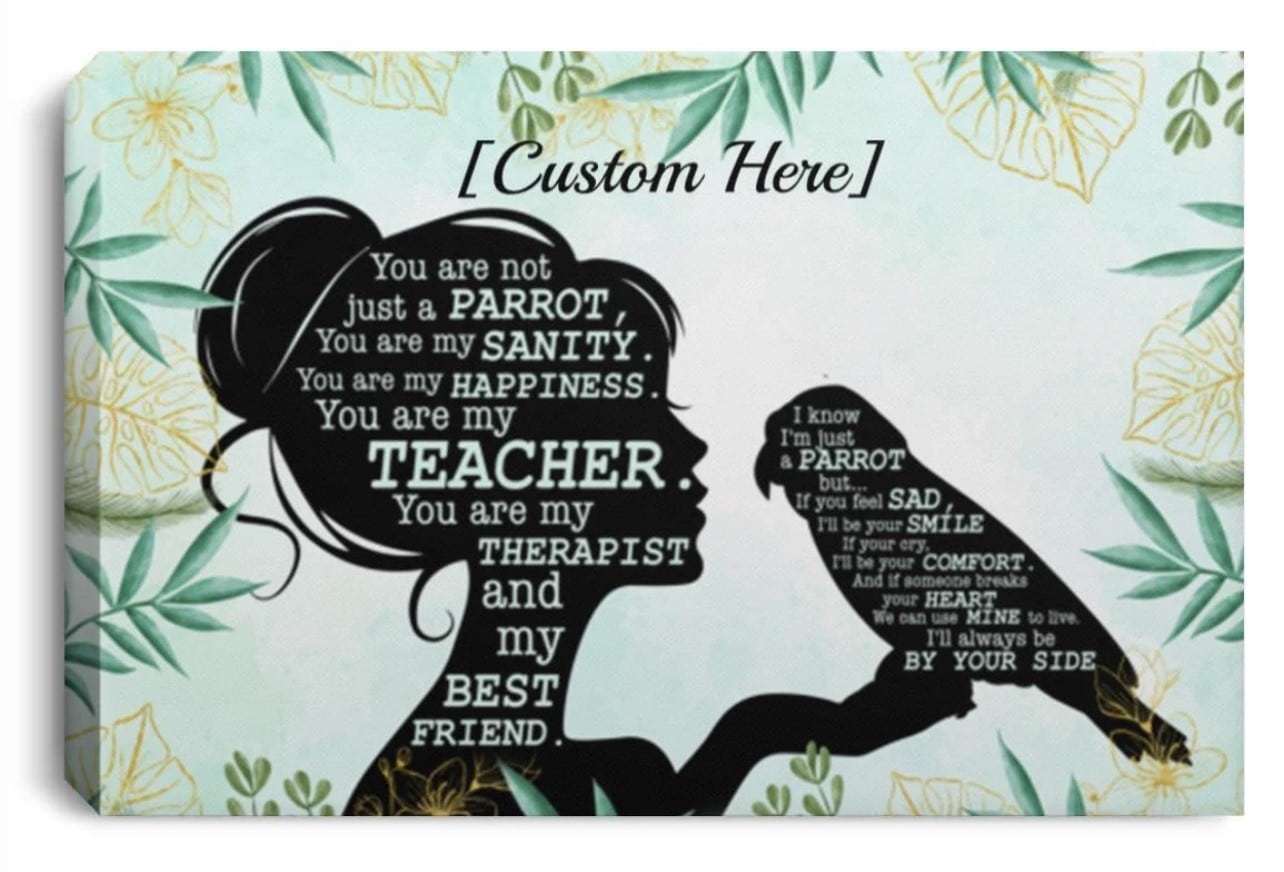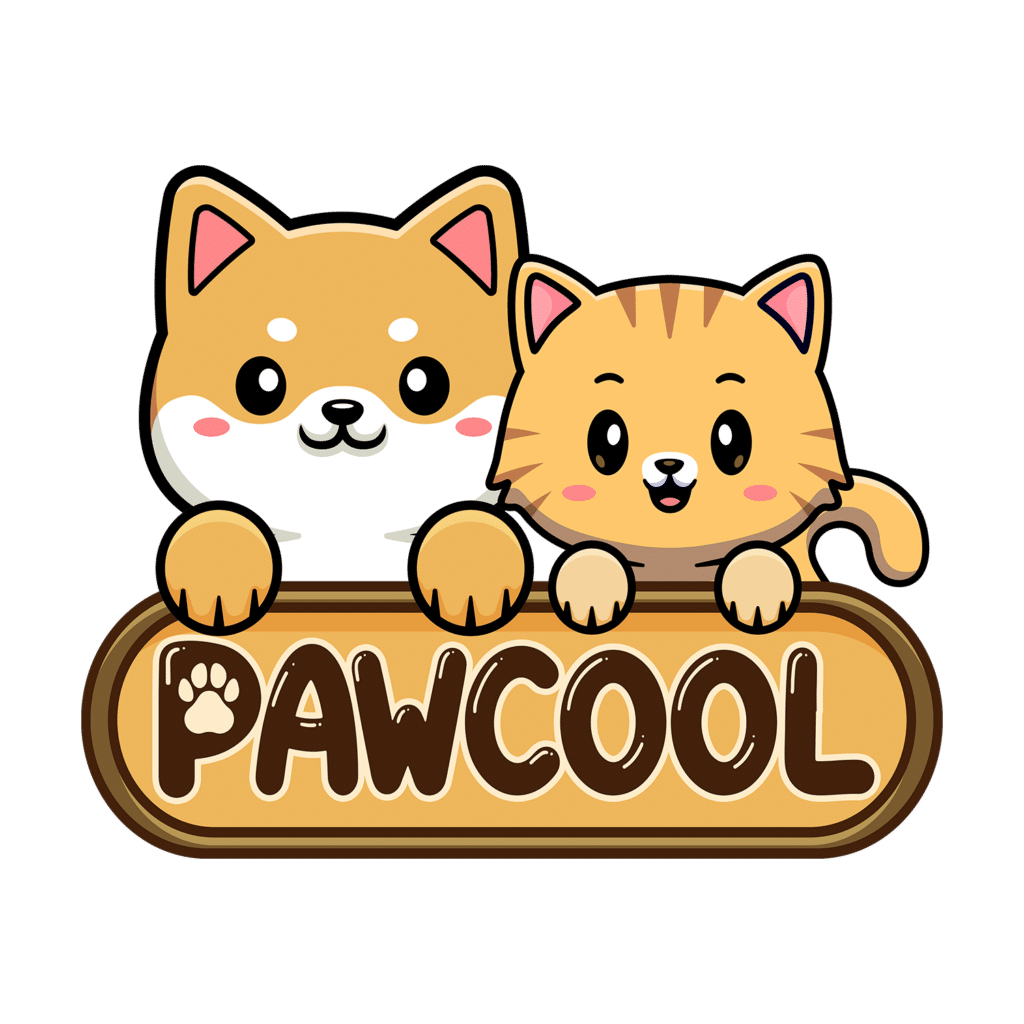 All pet stories & guides you care about