Christmas Movies Ideas: 12 Best Movies About Rabbits for Bunny Lovers At Christmas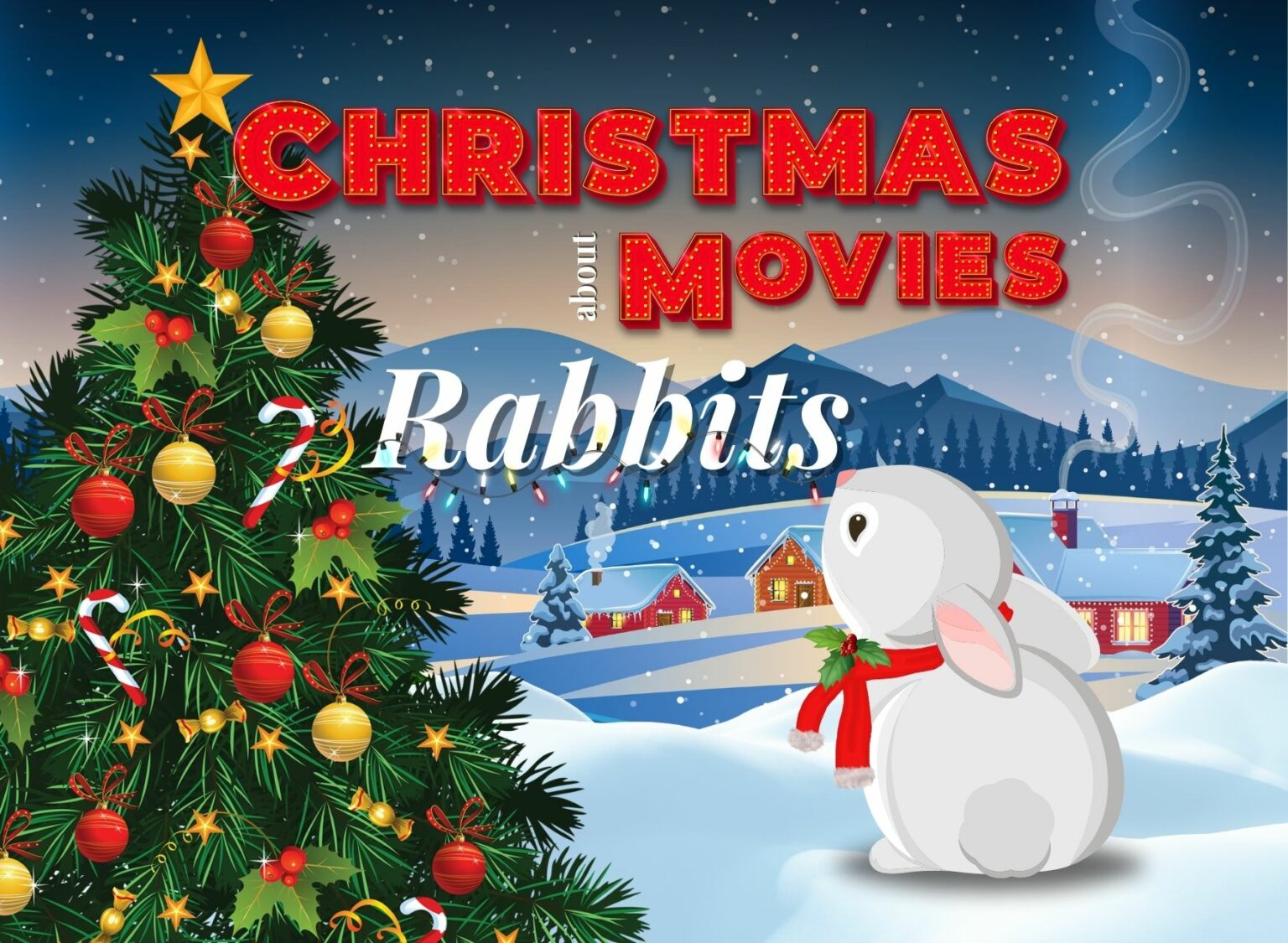 The holiday season is all about spreading joy, spending quality time with loved ones, and creating cherished memories. For bunny enthusiasts, what better way to celebrate than by enjoying the best christmas movies featuring our furry friends? In this article, we've curated a list of the top 12 Christmas movies about rabbits, guaranteed to bring a hop to your step and warmth to your heart.
Introduction
As the holiday season approaches, there's a special kind of magic that fills the air, and what better way to amplify that enchantment than with a heartwarming Christmas movie night? For all the bunny enthusiasts out there, we've curated a list of movies with rabbits that are bound to add an extra layer of joy and merriment to your festivities. These bunny movies are not only fascinating and funny, but they also promise to create a truly unique and memorable Christmas experience.
Bunny lovers understand the charm and endearing nature of these fluffy creatures. Their playful antics and adorable personalities have a special place in our hearts, and what better time to celebrate them than during the holiday season? These movies about rabbits or with rabbits taking part in, will bring the world of rabbits to life, weaving heartwarming tales of adventure, friendship, and valuable life lessons. Whether you're a long-time bunny enthusiast or simply looking for some family-friendly entertainment, these movies with bunnies offer something for everyone.
So, grab your loved ones, some popcorn, and settle in for a cozy evening filled with laughter, warmth, and the delightful company of our furry friends. Join us as we embark on a cinematic journey through a collection of movies with rabbits that are sure to warm your heart and tickle your funny bone, making this holiday season one to remember.
Here is the list of 12 Best Movies about Rabbits for Christmas
1. The Christmas Bunny – Superior Christmas Movie with rabbits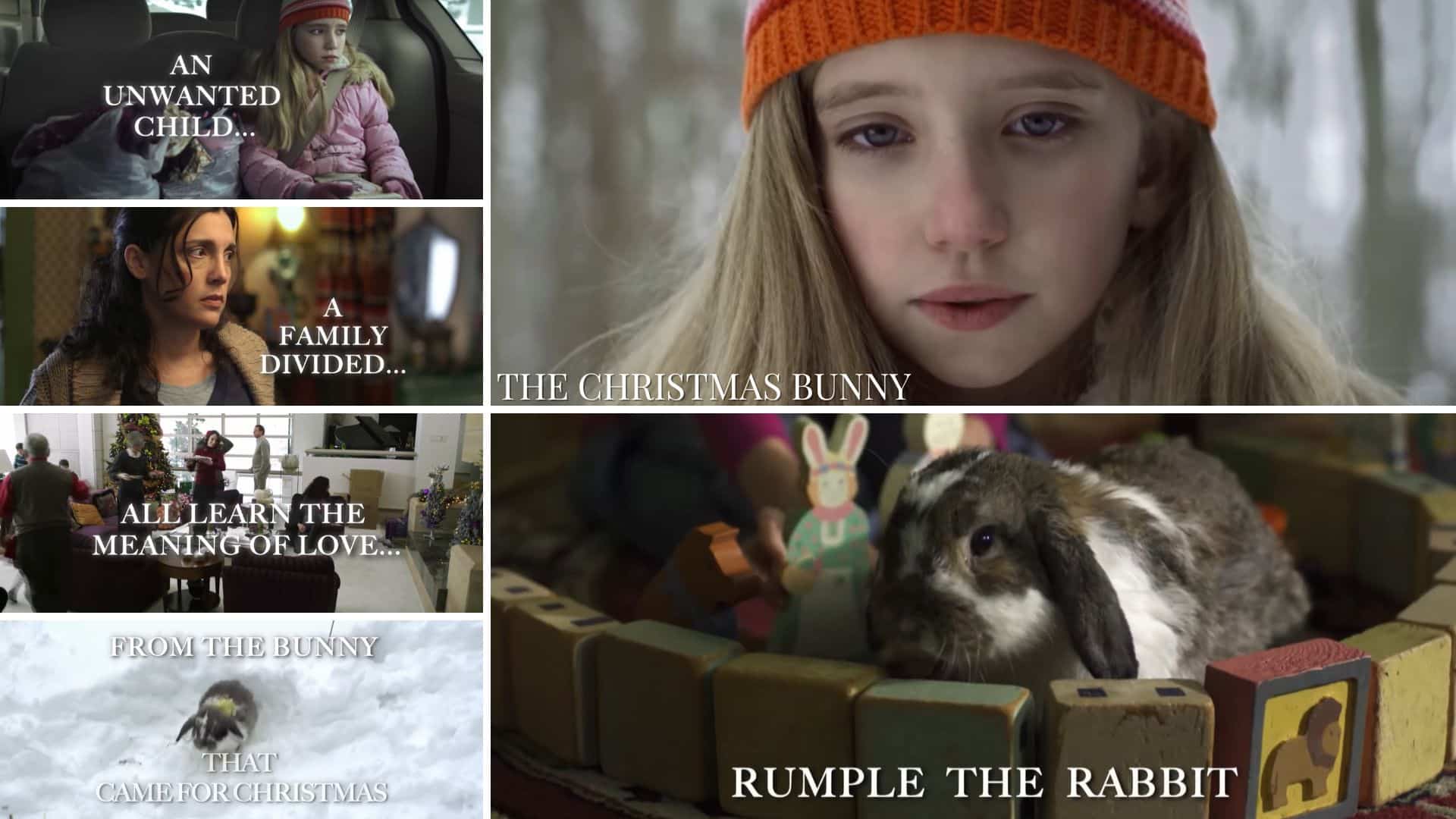 On the top of the list is "The Christmas Bunny", one of the best Christmas movies with a touching plot and great acting. The film explores the problem of loneliness through the eyes of both the young girl and the compassionate elderly lady, who both share the love with bunny. Eschewing clichés, it offers a refreshingly authentic portrayal of childhood.
Set in Michigan amidst financial hardships, it follows a family who embraces Julia (portrayed by Sophie Bolen), a foster child looking for acceptance, akin to the Velveteen Rabbit's transformation in her cherished storybook. An accident involving a real rabbit and Julia's foster brother leads to a pivotal encounter with the Bunny Lady, an eccentric caretaker of abandoned pets.
With outstanding script, cinematography, and acting, it surpasses typical made-for-TV fare. While not life-altering, it's a heartwarming choice for a family Christmas Movie Night.
2. Peter Rabbit 1 (2018) and 2 (2021)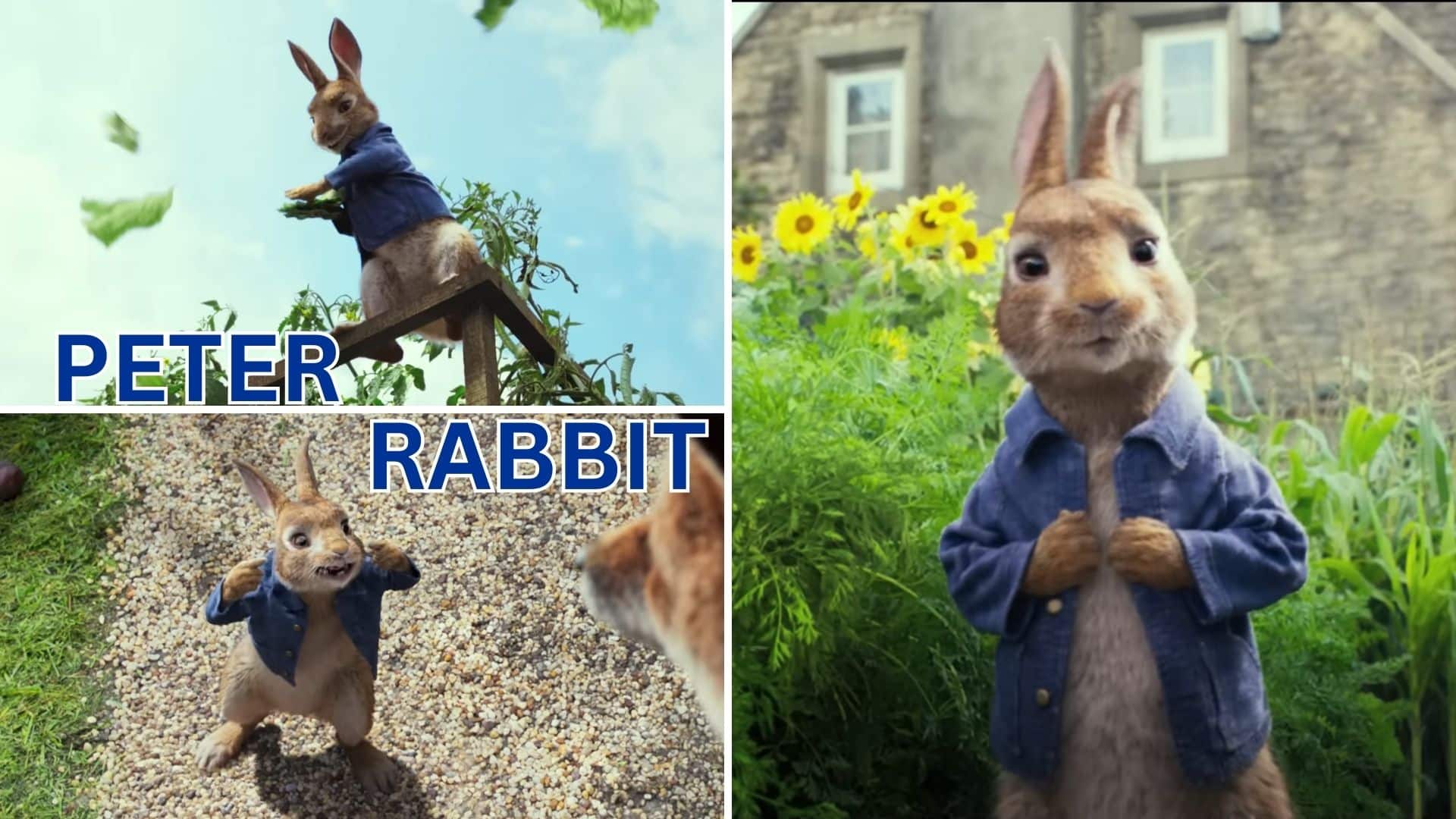 "Peter Rabbit Episode 1 and 2" brings Beatrix Potter's timeless tale to life with a blend of live-action and cutting-edge computer graphics. This duo movie's lively production is a collaborative effort between Columbia Pictures and Sony Pictures Animation, the company brought to magnificent animations like Meat Ball, Transylvania Hotel, and lately, a striking animated movie, Spider-Man: Across the Spider-Verse.
The storyline of movie Peter Rabbit centers on our protagonist, Peter Rabbit, who is a rambunctious rabbit with an insatiable appetite for the vegetables in the neighbor's garden. He has to deal with new problems when the late Mr. McGregor's great-nephew arrives and discovers the trouble Peter's family can get into. Set against the picturesque backdrop of the English countryside, the film treats viewers to breathtaking landscapes and endearing characters. Accompany Peter and his companions on an enchanting journey filled with laughter, camaraderie, and invaluable life lessons.
3. Wallace and Gromit: The Curse of the Were-Rabbit (2005)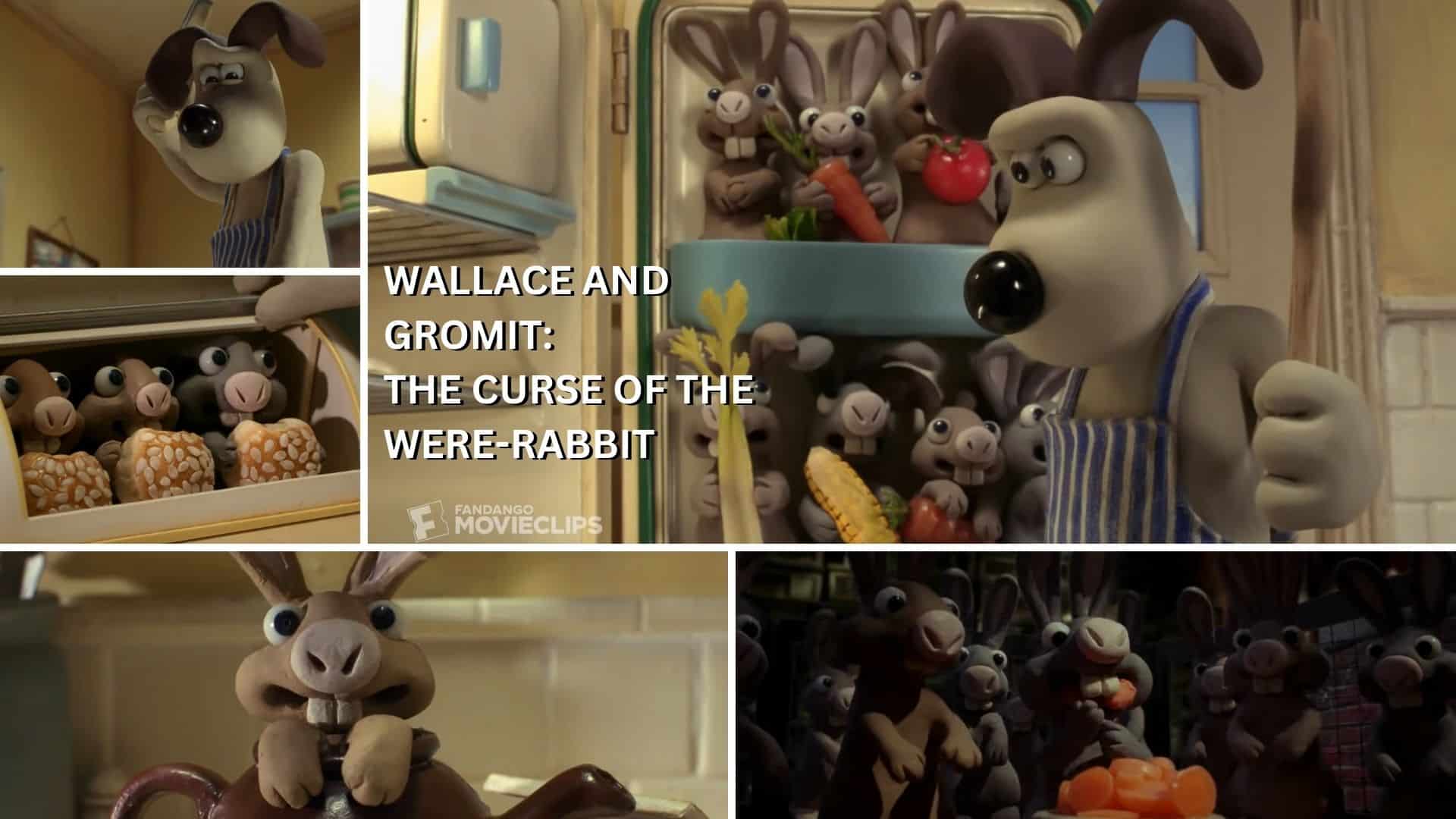 Christmas can not be completed without a little of christmas movie horror. Wallace & Gromit: The Curse of the Were-Rabbit is a 2005 stop-motion animated comedy film directed by a brainchild of director, Nick Park and Steve Box and produced by DreamWorks Animation and Aardman Animations. The Curse of the Were-Rabbit is a parody of classic monster movies and Hammer Horror films and also serves as part of the Wallace and Gromit series.
The film centres on good-natured yet eccentric cheese-loving inventor Wallace (voiced by Peter Sallis) and his intelligent canine companion, Gromit, in their latest venture as pest control agents. However, the duo soon find themselves in a hare-raising situation, against a giant rabbit consuming the town's crops. Their mission is to rescue their town from a rabbit onslaught threatening the annual Giant Vegetable Competition. As they strive to save the town's prized vegetables from a gargantuan rabbit, chaos and hilarity ensue.
Using a special movie technique – stop-motion animation, this is definitely one of the best Christmas films for the whole family to enjoy together. With a little of thrills and adventures, the Christmas night would be less cold than usual but full of joy and excitement.
4. Zootopia (2016) by Disney, One of the Most Amazing Movies About Rabbits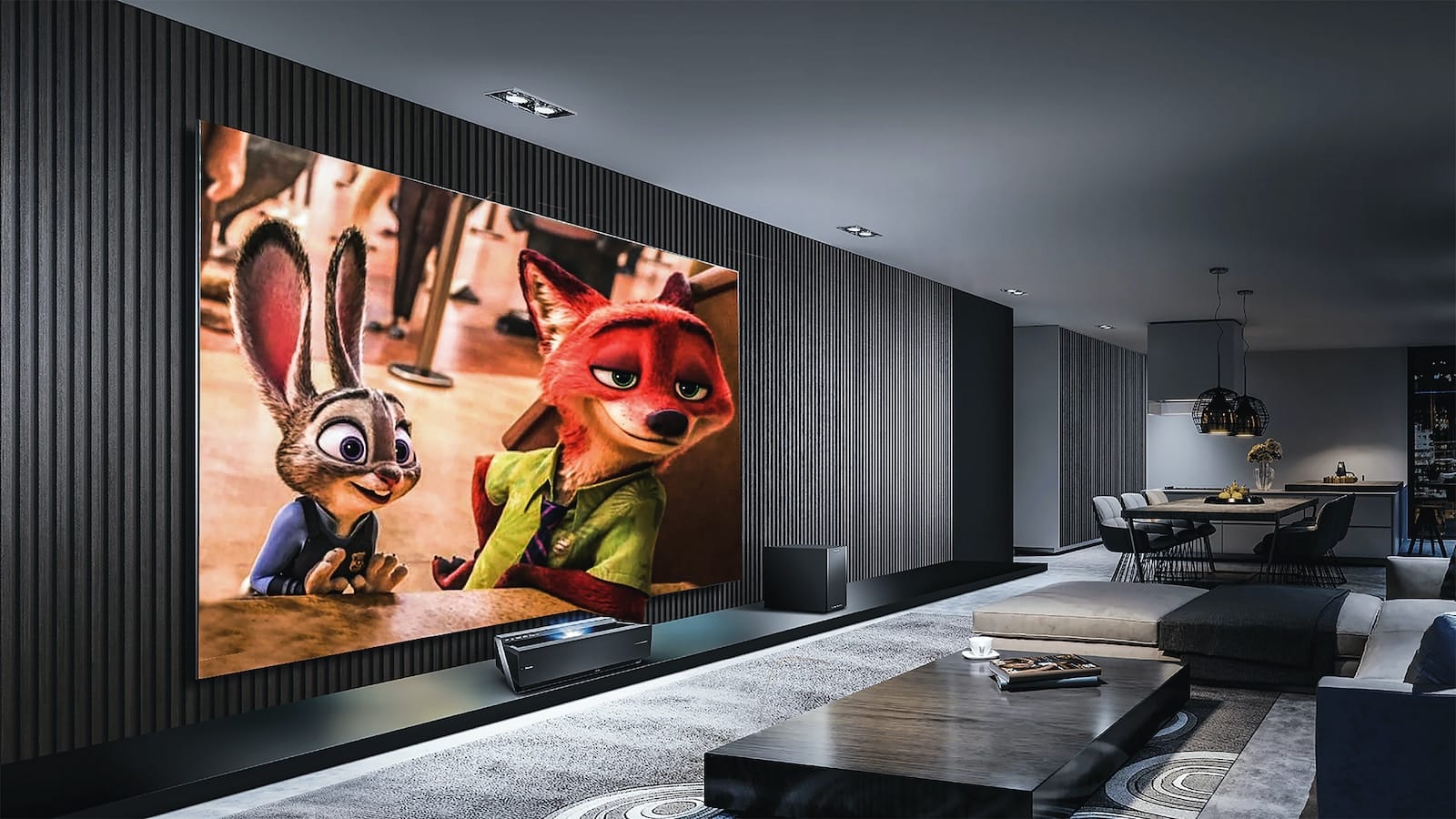 Zootopia is a 2016 American computer-animated buddy cop action comedy film produced by Walt Disney Animation Studios.
*Zootopia* transports us to a city where anthropomorphic animals coexist in harmony. Judy Hopps, an ambitious bunny, embarks on a mission to prove herself as the first rabbit police officer. She possesses an unlikely partnership with a red fox con artist as they uncover a criminal conspiracy involving the disappearance of predators. This film celebrates diversity, perseverance, and the unbreakable spirit of our furry friends.
The film's characters are voice dubbed by famous singers and actors like Ginnifer Goodwin, Jason Bateman, Idris Elba, Jenny Slate, Nate Torrence, Shakira, etc., in combination with quality sound-making technologies, making this film a spectacular artwork in terms of sounds and visuals. This is a promising and family-friendly Christmas movie that will fulfill this holiday night.
5. The Secret Life of Pets 1 and 2 (2016)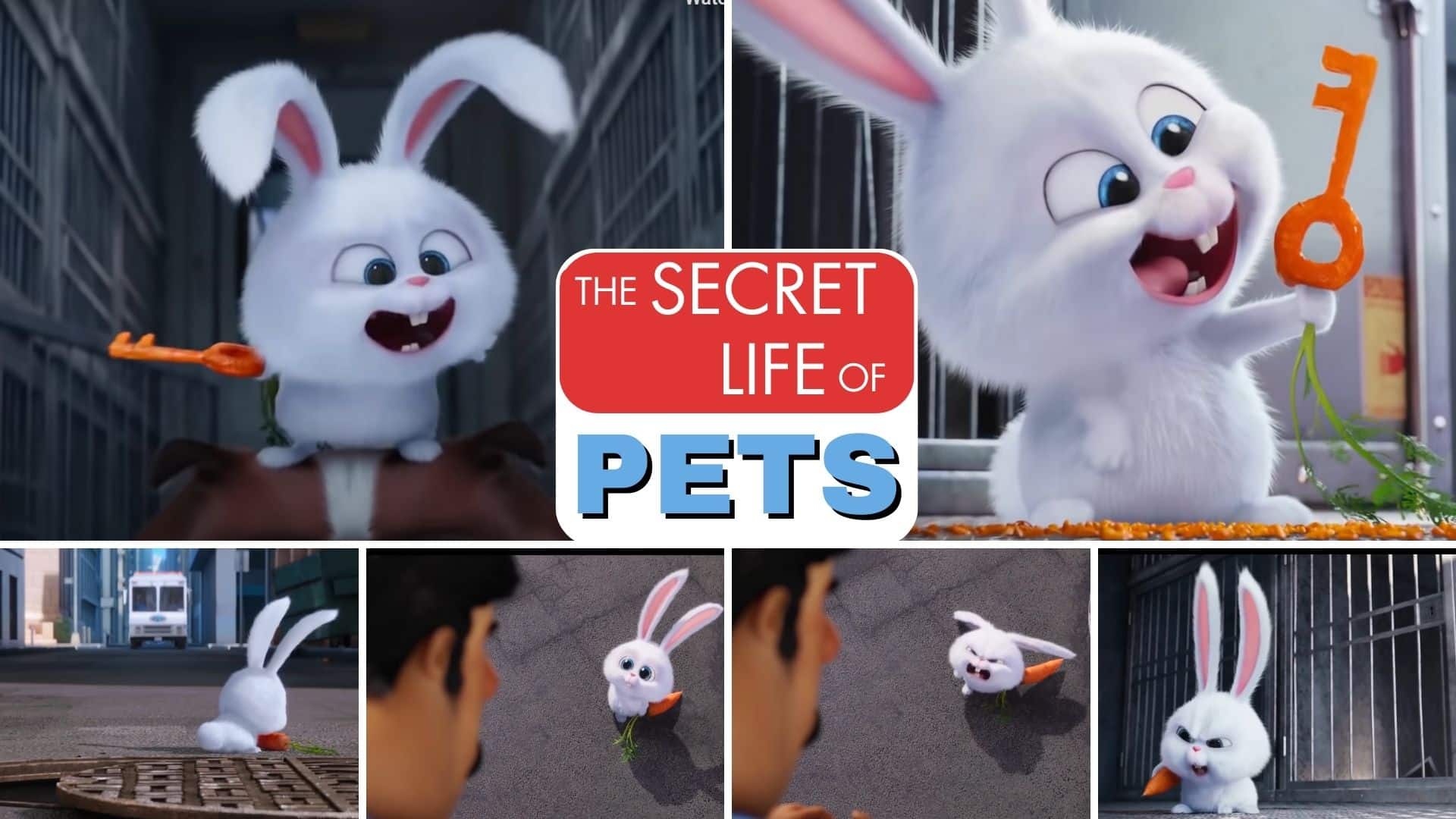 The Secret Life of Pets is a 2016 American computer-animated comedy film produced by Illumination Entertainment and distributed by Universal Pictures. The film received generally positive reviews and grossed $885.3 million worldwide, making it the sixth-highest-grossing film of 2016 as well as the year's most profitable release.
While not exclusively about rabbits, *The Secret Life of Pets* offers a hilarious glimpse into the lives of our beloved furry companions when we're not looking. With memorable characters, witty humor, and a heartwarming storyline, these films are sure to tickle your funny bone.
This is an enjoyable and lovely Christmas movie for all ages, promising to complete your saint night.
6. Who Framed Roger Rabbit? (1988) – a Master piece, best action movie with rabbit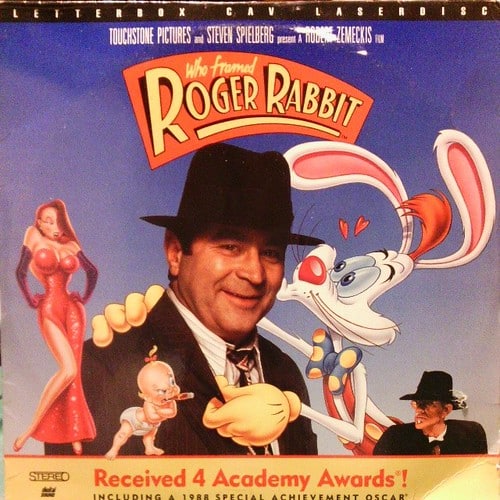 Who Framed Roger Rabbit is a 1988 American fantasy comedy film directed by Robert Zemeckis from a screenplay written by Jeffrey Price and Peter S. Seaman whose notable works include Wild Wild West (1999), How the Grinch Stole Christmas (2000), Last Holiday (2006) and Shrek the Third (2007).
Combining live-action and animation, the film is set in an alternate history Hollywood in 1947, where humans and cartoon characters (referred to as "toons") co-exist. This groundbreaking film seamlessly blends live-action with animation, introducing us to Roger Rabbit, an eccentric but endearing character thrust into a whirlwind of mystery and intrigue.
Critically acclaimed for its innovative visuals, wit, writing, and performances, "Who Framed Roger Rabbit" is hailed as a "groundbreaking" cinematic gem and undoubtedly one of the best movies about rabbits. With its unforgettable characters and dynamic blend of action and comedy, it's a timeless classic that adds a delightful twist to any Christmas night. 
7. The Rise of the Guardians (2012)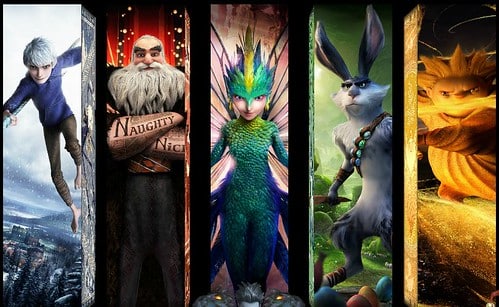 One of the most entertaining Christmas movies for all ages must be Rise of the Guardians. This is a 2012 American 3D computer-animated fantasy action-adventure film produced by DreamWorks Animation and distributed by Paramount Pictures. In this enchanting tale, E. Aster Bunnymund, also known as the Easter Bunny, joins forces with other iconic guardians like Santa Claus and the Tooth Fairy to protect the innocence of children worldwide. This is one of the movies about rabbits showing the bravery and strength of bunny.
Despite the old-school storyline, the unique 3D computer-animated style makes this film stand out from other 2D animations at the moment, which would be an interesting experience for the family this Christmas.
The film has an approval rating of 74% based on 160 reviews on Rotten Tomatoes, which is a fairly good movie with bunny for rabbit lovers this Christmas.
8. Looney Tunes: Back in Action (2003)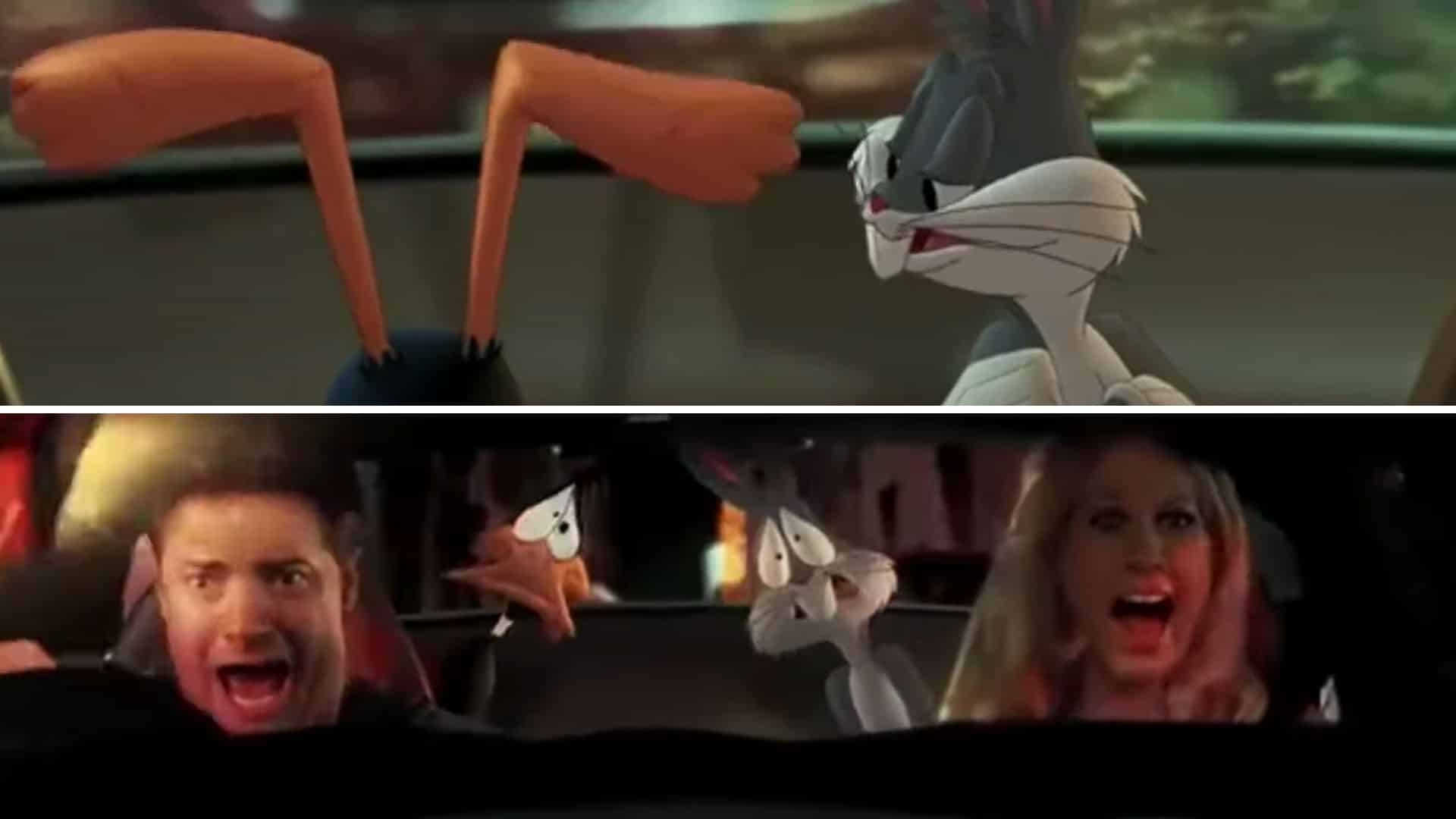 Looney Tunes: Back in Action is a 2003 American live-action/animated comedy film produced by Warner Bros. Feature Animation and distributed by Warner Bros. Pictures. Following the popularity of "toons" movies from the 20th century, this film features one of the most famous rabbits in movies, Bugs Bunny.
This film, a playful riff on action and spy movie tropes, follows Bugs Bunny and Daffy Duck as they get entangled in a scheme by ACME Chairman (Martin). They join forces with aspiring stuntman DJ Drake (Fraser) and Warner Bros. executive Kate Houghton (Elfman) in a dual mission to thwart the Chairman's nefarious plot and rescue DJ's abducted father, Damian (Dalton).
Join Bugs Bunny, Daffy Duck, and the whole Looney Tunes gang in a rollicking adventure that spans from Hollywood to the depths of the Amazon rainforest this Christmas night to make it an unforgettable holiday.
9. The Looney Looney Looney Bugs Bunny Movie (1981)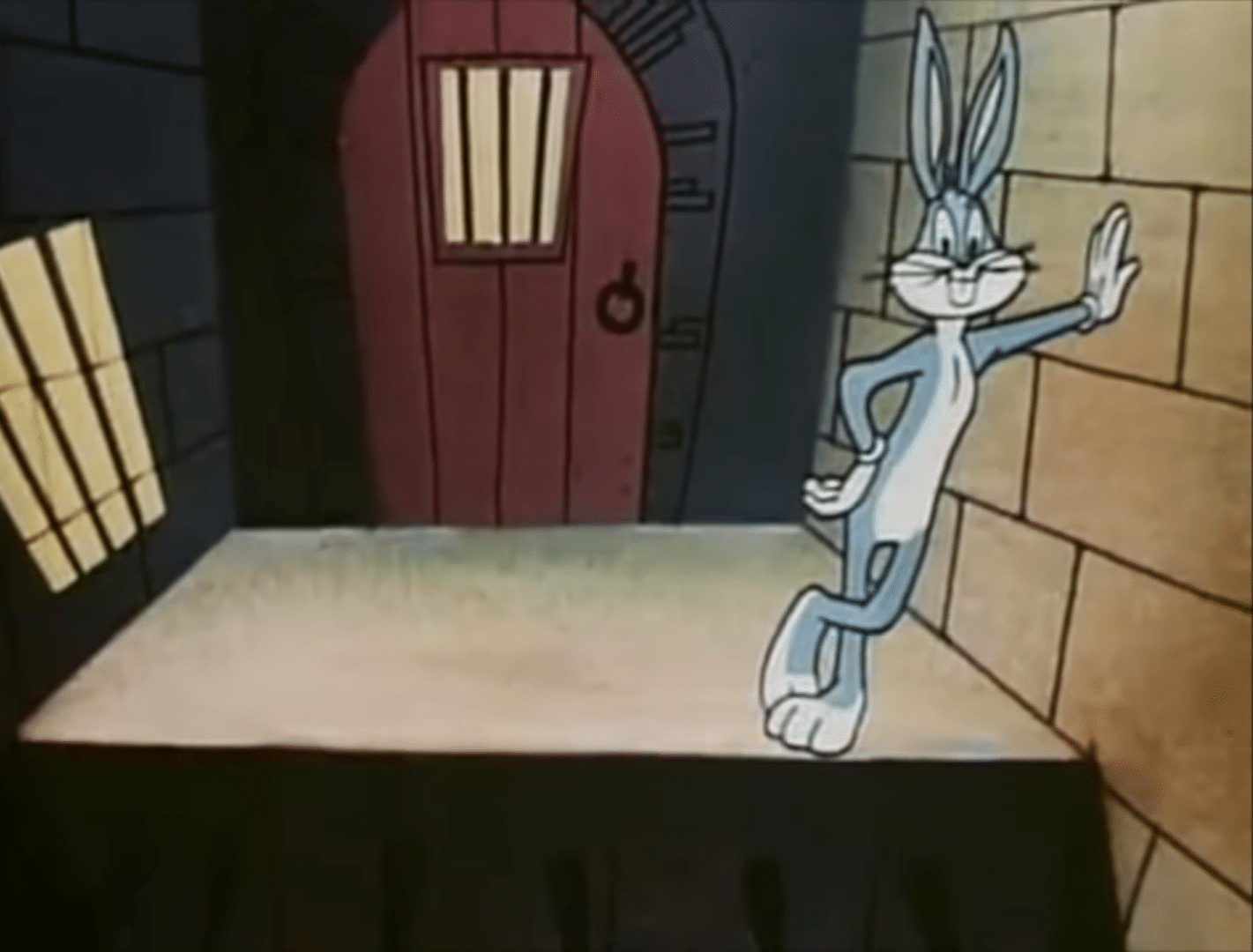 "The Looney Looney Looney Bugs Bunny Movie" (1981) is a delightful American animated comedy anthology, skillfully weaving together some of the most iconic moments from the beloved Looney Tunes series. This compilation movies with rabbits, featuring classic Looney Tunes/Merrie Melodies, showcases new footage created by Warner Bros. Animation. 
Taking a nostalgic trip down memory lane, this movie promises an old-school adventure on your Christmas Movie Night alongside the iconic characters of the Looney Tunes series. Brace yourself for a series of riotous escapades led by Bugs Bunny, guaranteed to leave you and your family in stitches. 
10. Rabbids Invasion Special: Mission to Mars (2019)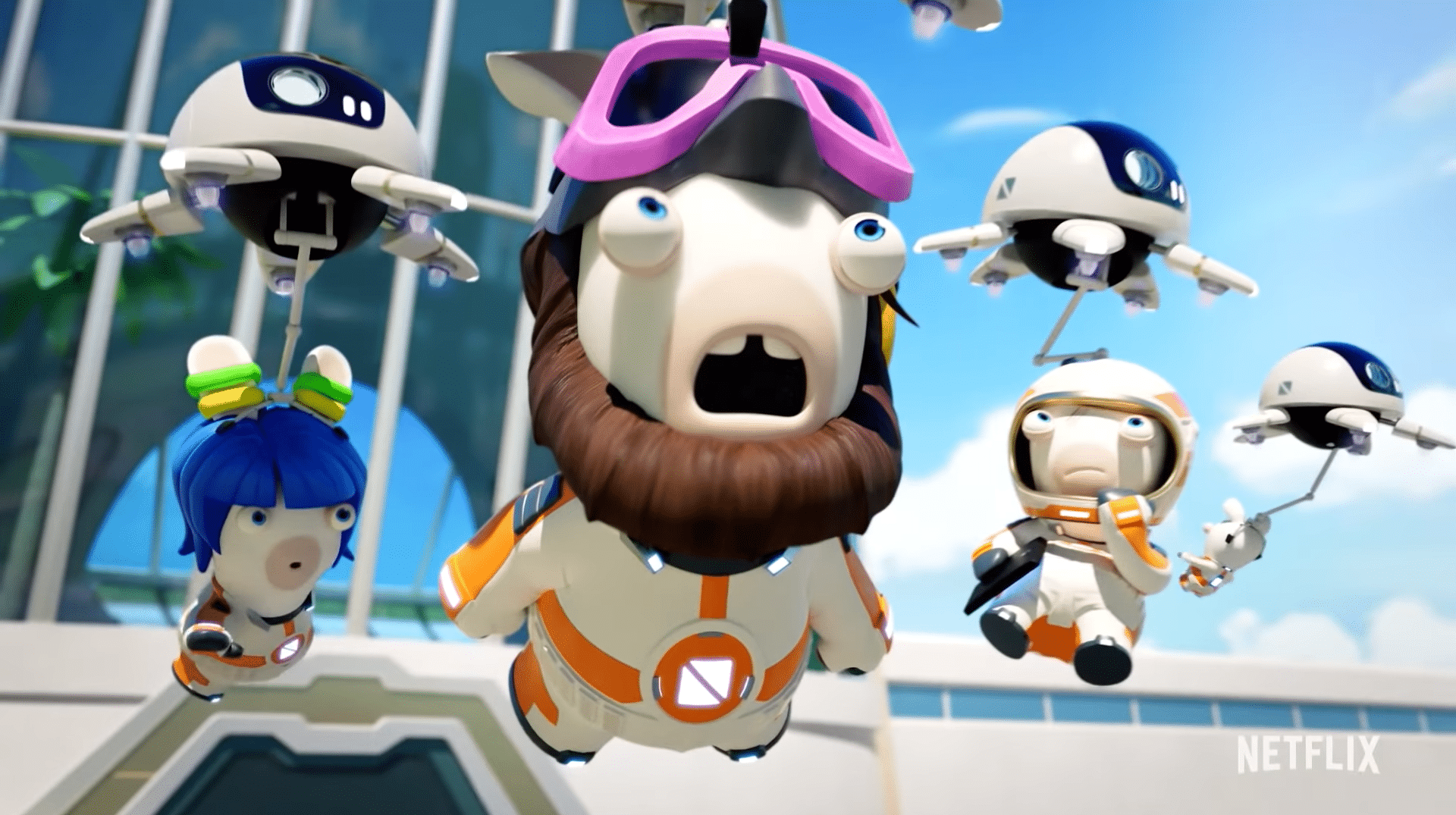 Rabbids Invasion: Mission to Mars is an animated movie based on the popular game/TV franchise. In this special, the zany Rabbids find themselves on a wild mission to Mars. scientists John and Olivia have been tasked with assembling a crew of Rabbids to go on the first space flight to Mars. The flight is being funded by Frank Nebula, a wealthy CEO of a global tech giant. One of the Rabbids, who John and Olivia have named "Scribbles," finds ways to prove that he's unusually gifted at math and science. It turns out that Nebula's scheme is to develop his evil plan. So Scribbles must find a way to stop him.
Packed with slapstick humor and out-of-this-world antics, this film is a riotous space adventure that will leave you and your family in fits of laughter during the Christmas movies night. 
11. Space Jam 1 (1996) and 2 (2021)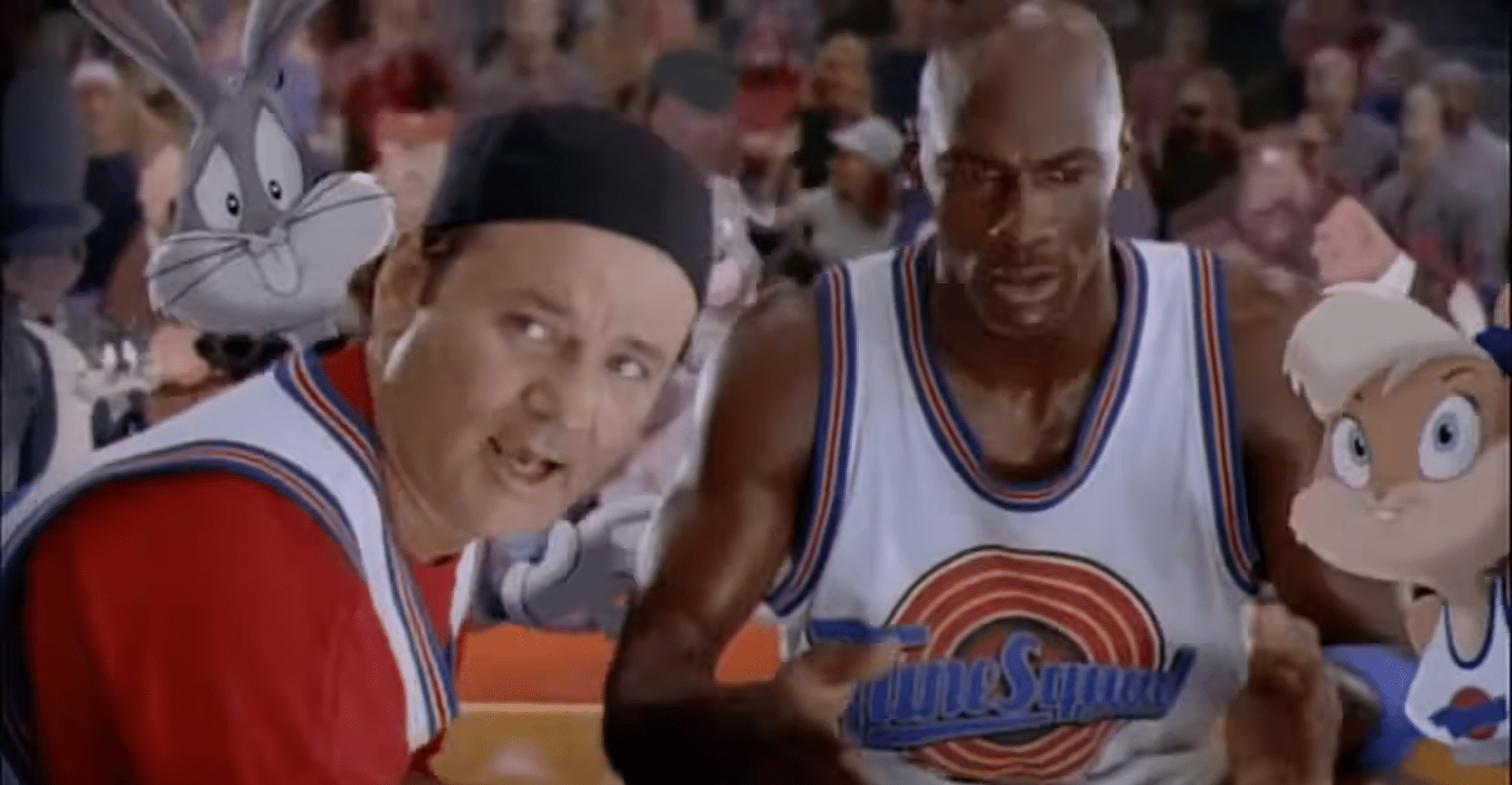 Space Jam was the first film to be produced by Warner Bros. Feature Animation and was released theatrically in the United States on November 15, 1996, by Warner Bros. After 25 years, it comes back with Episode 2 in 2021 bringing a flashback to 90s childhood of many adults yet friendly with children. The first part of this movie, Space Jam 1, was loved for its wonderful team-up chance on the movie of the world's greatest athlete and the best loved cartoon character.
In the first film of Space Jam, the plot follows Jordan as he is brought out of retirement by the Looney Tunes characters to help them win a basketball match against invading aliens intent on enslaving them as amusement park attractions. The second film starring LeBron James, who manages to team up with Looney Tunes to save the day.
12. Harvey (1998)
No round-up of movies with rabbits would be complete without Harvey, starring James Stewart as a man who believes that he is accompanied anywhere by a human-sized rabbit called Harvey, and so tries to introduce him to everybody.
Unlike other suggestions in this list, this one carries a deep and thought-provoking situation of a man whose words are not believed by anyone. Harry Anderson is quite likable in his role as Elwood P. Dowd with good acting. Never was eccentricity so charming as in this movie. It is advised for children above 12+ to better understand this movie.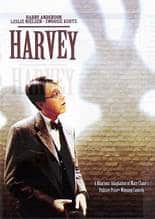 Conclusion
As the holiday season approaches, make sure to add these movies with rabbits to your watchlist. Whether you're snuggled up with family, friends, or with your cute small pets, these films are bound to bring laughter and warmth to your celebrations.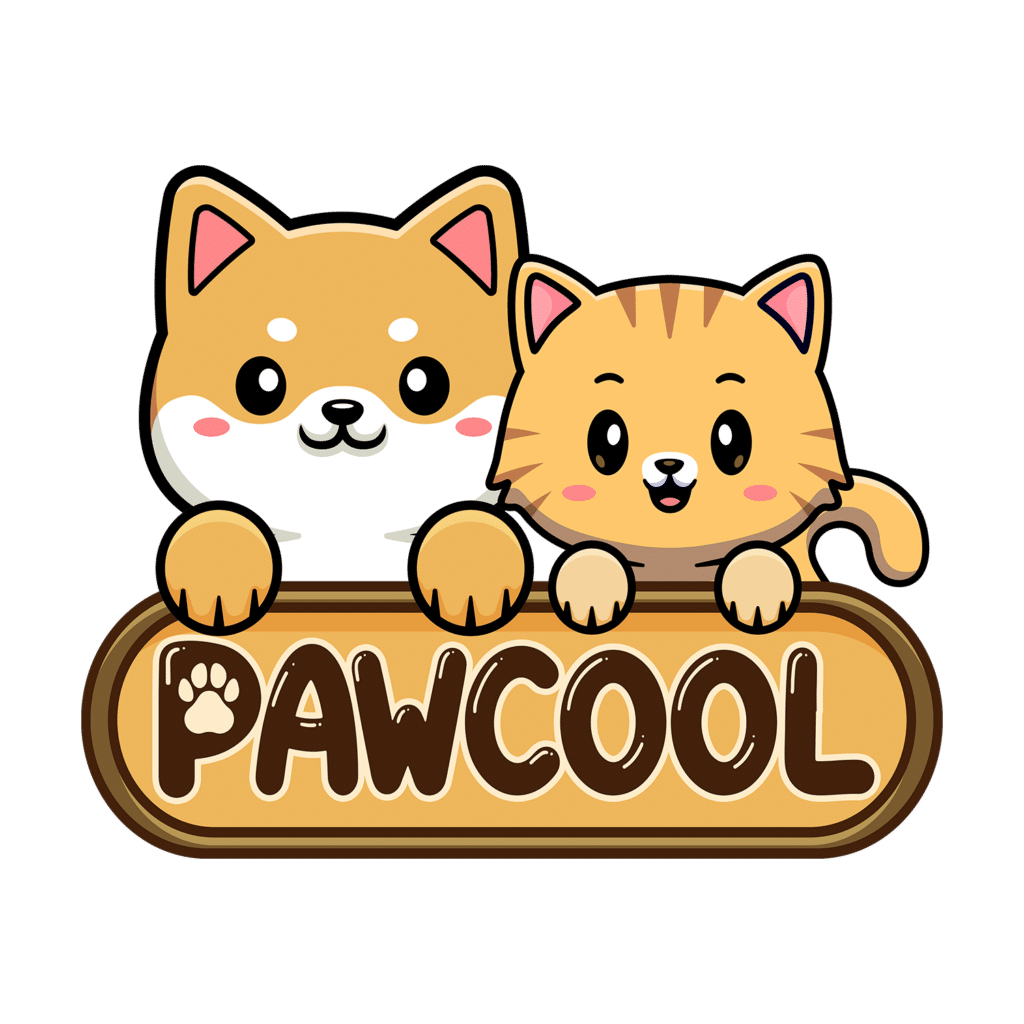 All pet stories & guides you care about