20+ Creative and Cute Dog Halloween Decorations for Your Home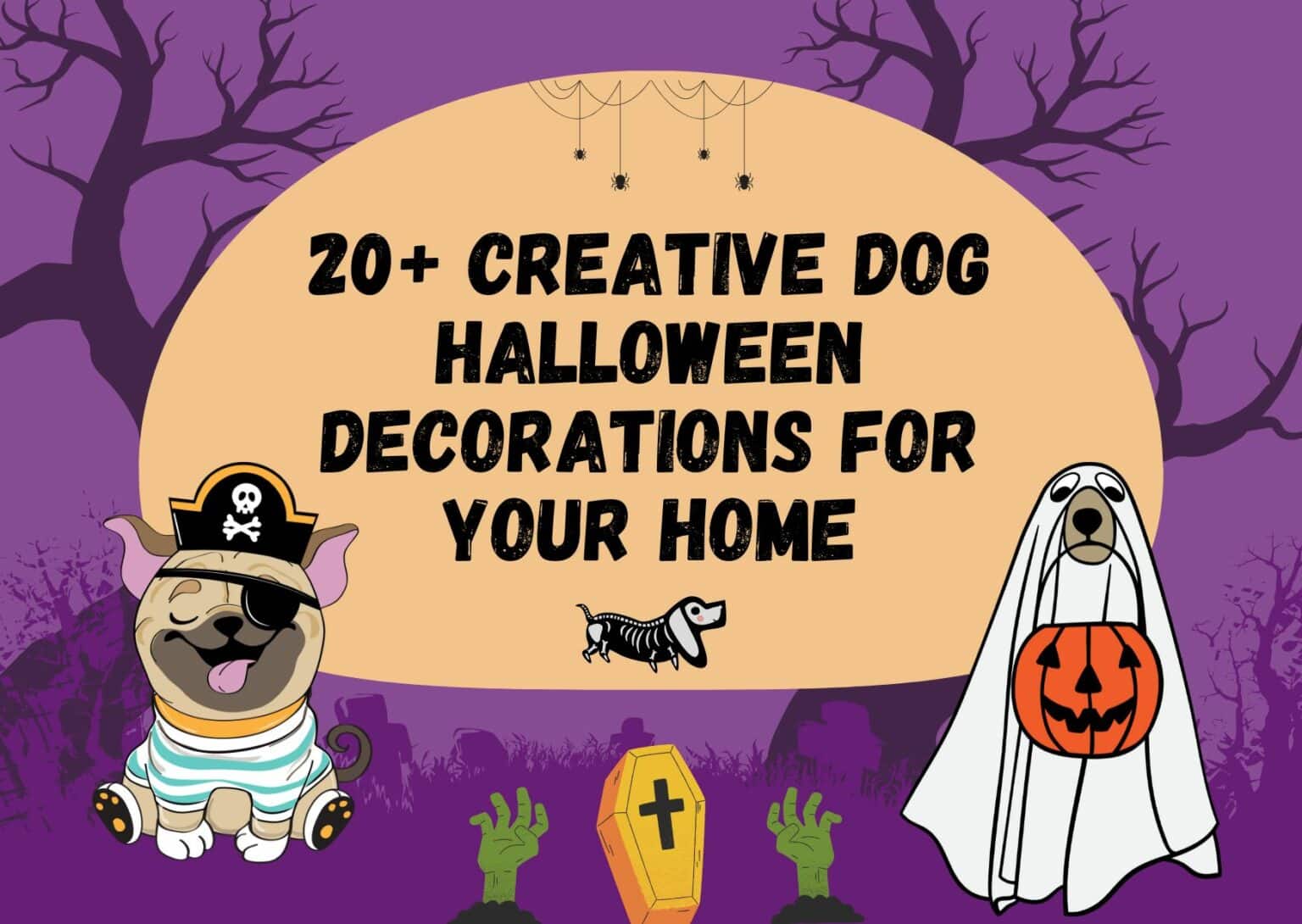 Get into the Halloween spirit with these creative and cute dog Halloween decorations for your home. From spooky costumes to festive yard decor, we've got you covered!
Introduction
Halloween has gone to the dogs! As pet owners increasingly include their furry family members in holiday celebrations, demand has grown for festive and safe dog Halloween decorations. From costumes to yard decorations, pet parents want ways to let their dogs join in the Halloween excitement. This blog post explores the trend of canine-friendly decor that combines holiday fun with safety. We'll look at party supplies, decorations, and costumes designed just for dogs. And we'll provide tips for pet owners to avoid potential hazards and ensure all decor is tailored for their pup's paw participation in the spooky festivities. Get ready to deck your halls and your dog this Halloween!
Safety First: Choosing Pet-Friendly Decorations
Materials to Avoid: Toxicity and Choking Hazards
When selecting dog Halloween decor items like costumes or toys for a Halloween party for dogs, be sure to avoid toxic materials that could be harmful if chewed or ingested. Also, steer clear of small loose parts that could present a choking risk. Take extra care when decorating to keep hazardous items out of reach.
Selecting Durable and Non-Destructible Items
Opt for dog Halloween decorations made of durable, non-toxic materials that can withstand chewing and rough play. Items should be sized appropriately and well-constructed for safe canine handling. Monitor all interactions with decor to prevent destructive behavior or consumption.
Ensuring Decorations are Tangle-Free and Comfortable for Dogs
Any dog Halloween decor costumes or accessories, including coordinated dog and owner Halloween costumes, should allow for natural movement and be comfortable for extended wear. Beware of items that could catch on limbs or pose a strangulation risk. Have your pet walk around to test for a range of motion and hazard potential before their big "happy Halloween" entrance.
20+ Spooktacular Halloween Decorations for Dog Lovers
Outdoor Dog Halloween Decorations
Deck out your yard with Halloween decorations for dog lovers that your pooch will go crazy for. From inflatables to statues, these outdoor ideas will give your home and yard a howling good look.
The Skeleton Dog Inflatable is a playful dog Halloween decoration idea. This 5.5-foot tall inflatable has a skeleton dog with a mischievous grin emerging from the ground, a wagging tail, and perked ears. Place this whimsical decoration in your front yard to give your home a festive Halloween spirit. You and your dog will love this jumbo skeleton pup ready for tricks and treats!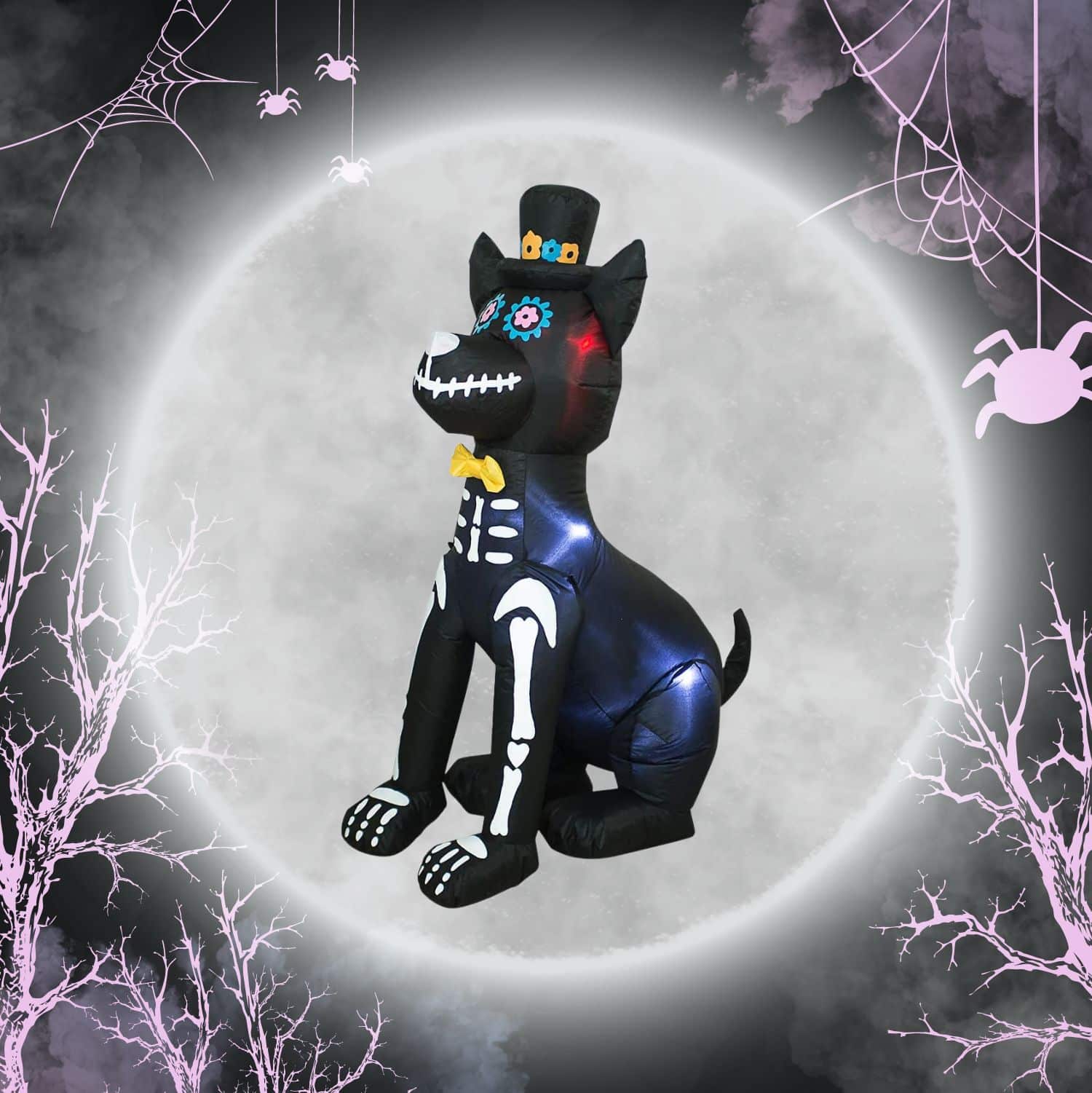 The Inflatable Dog Skeleton Spooky Town item is a great Halloween dog outdoor decor choice. With glowing LED lights inside, this Halloween inflatable lights up to create a spooky atmosphere. Place it on your lawn or porch to give your home a fun, animated touch for trick-or-treaters. It makes the perfect addition to your outdoor Halloween decor.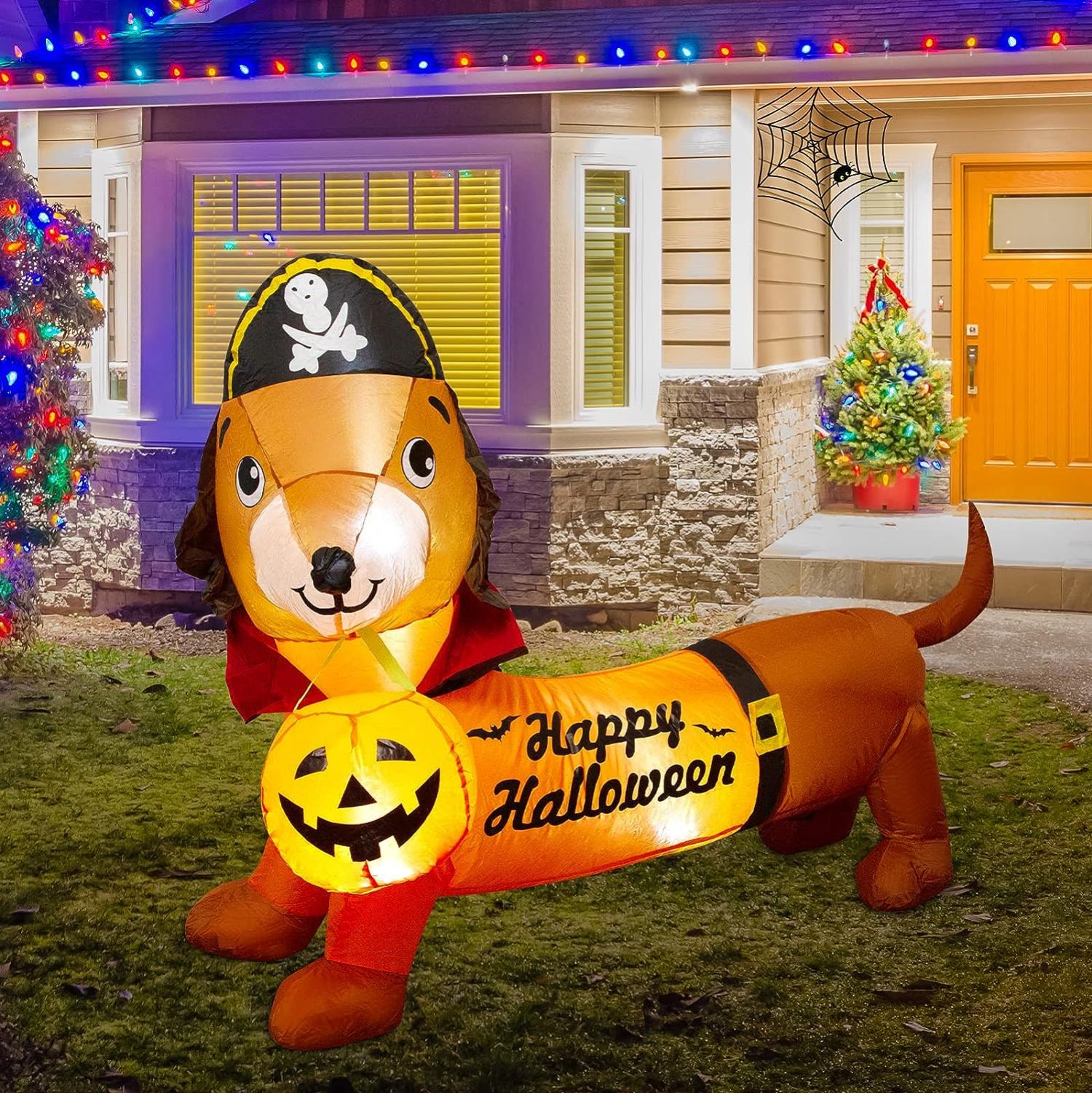 One of the cutest dog Halloween decorations ideas is the Pumpkin Dog Inflatable. This lively decoration depicts an adorable dachshund dressed as a pirate and holding a jack-o'-lantern. With its bright LED lights and cute, friendly design, this inflatable pup will give your yard a playful Halloween spirit.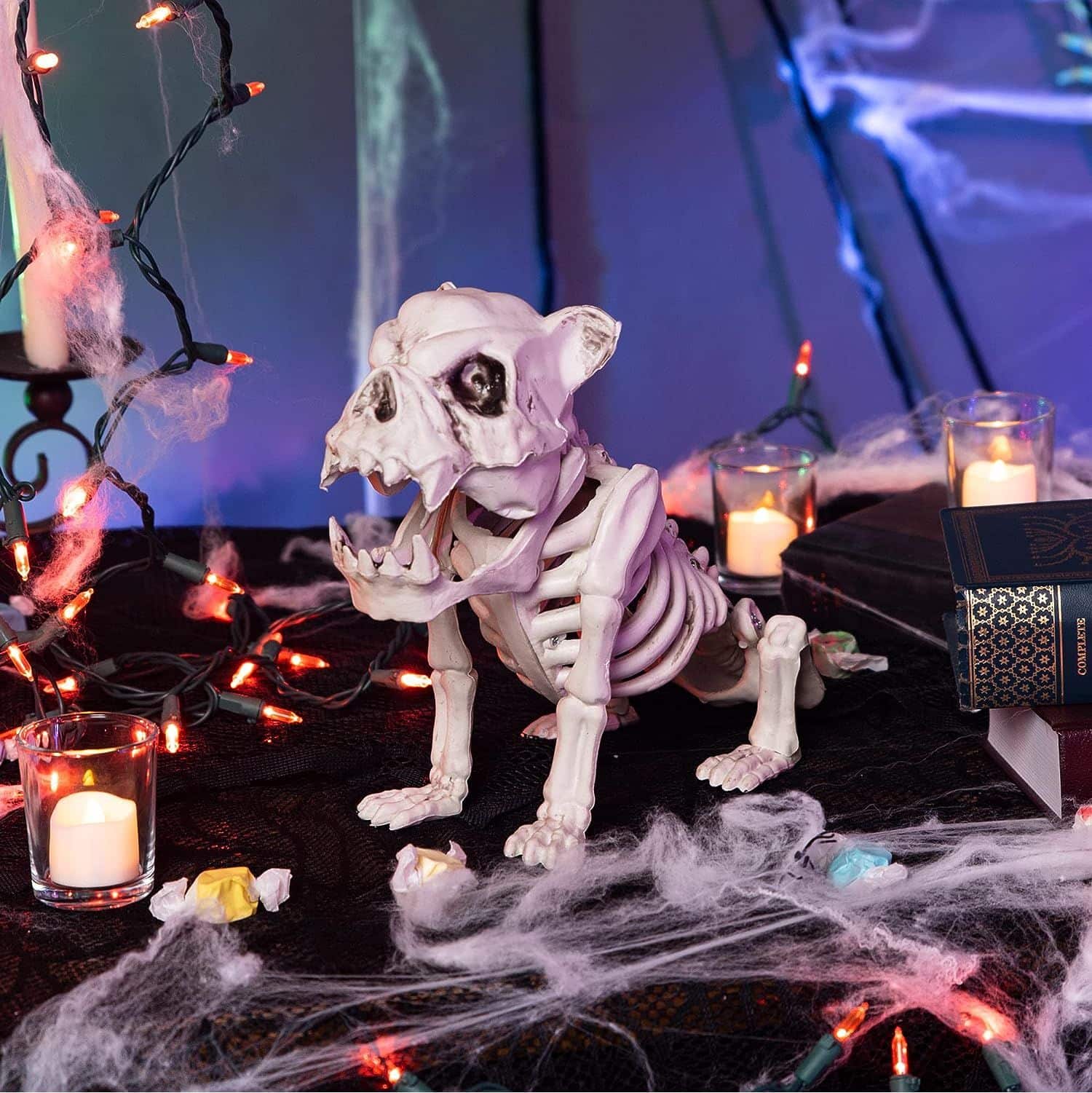 Dog lovers, add a spooky yet adorable touch to your outdoor Halloween decor this year with the poseable skeleton puppy decoration. This plastic skeleton pup looks just like a friendly dog with realistic bones and movable joints. Bend the legs and tail to make the pup sit, stand, or take on other lifelike poses. The skeletal pup will give your outdoor space a doggone great Halloween vibe.
Decorate your home for Halloween with a fun personalized garden flag featuring your dog's breed! This double-sided flag allows you to customize it with your pup's breed name and spooky Halloween imagery. It makes a perfect decorative gift for any dog lover wanting to show off their pooch on Halloween. Put a unique spin on your outdoor Halloween decor and celebrate the spirit of the season with your furry best friend!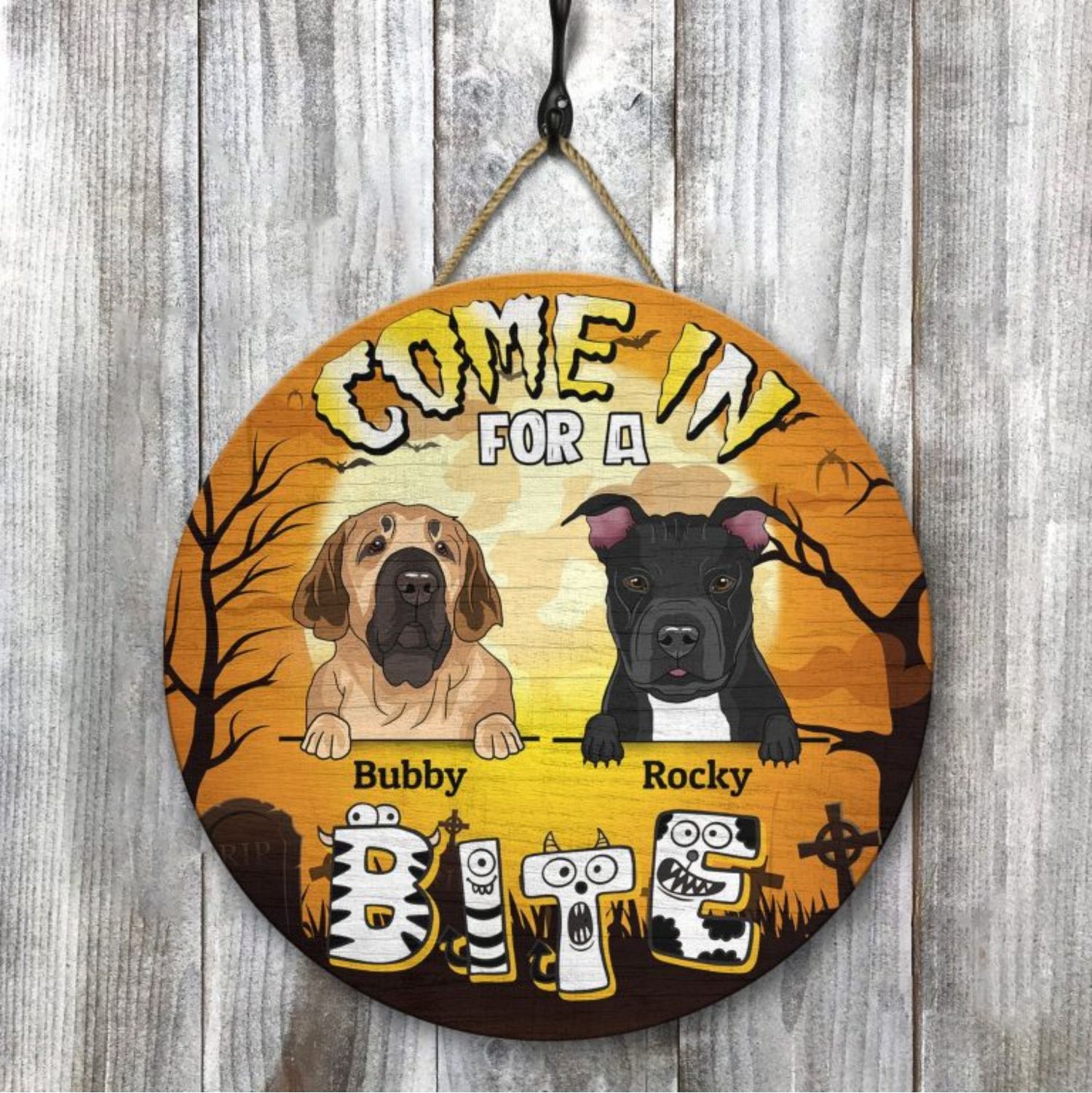 Looking for unique dog Halloween decorations ideas? Check out this custom wooden door sign for dog lovers to celebrate Halloween in style. The "Come In For A Bite" funny Halloween custom dog name circle hanging door sign is perfect for welcoming trick-or-treaters and guests to your home.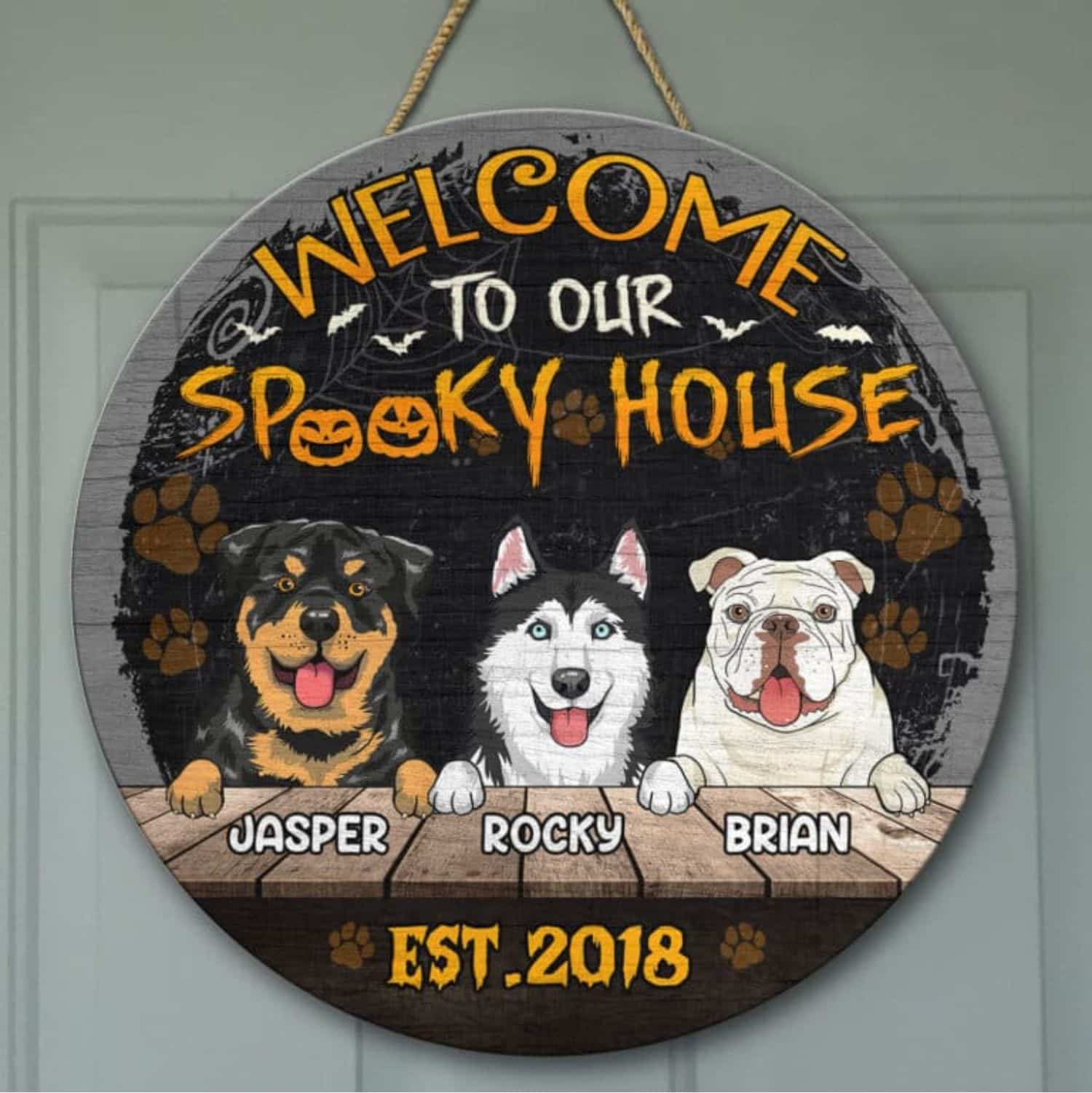 This second door sign is featured a humorous "Spooky House" message in a charming font, this handmade hanging sign will look fetching on your front door or indoors. With multiple size options like 12, 14, and 18 inches, you can find the perfect fit for your home. Make your fur baby part of the Halloween spirit with this adorable and funny dog lover decoration ready for Trick or Treaters!
Looking for some scary dog Halloween decorations? Check out this spooky ghost dog figurine, perfect for dog lovers this Halloween! Featuring a cute dog dressed up in a ghost costume, this resin figurine will make a fun addition to your Halloween decor. With sweet details like the dog's visible eyes peeking through the costume, it's both adorable and slightly creepy. Place this beautiful decoration around your home or pair it with other dog-lover items for a howling good display.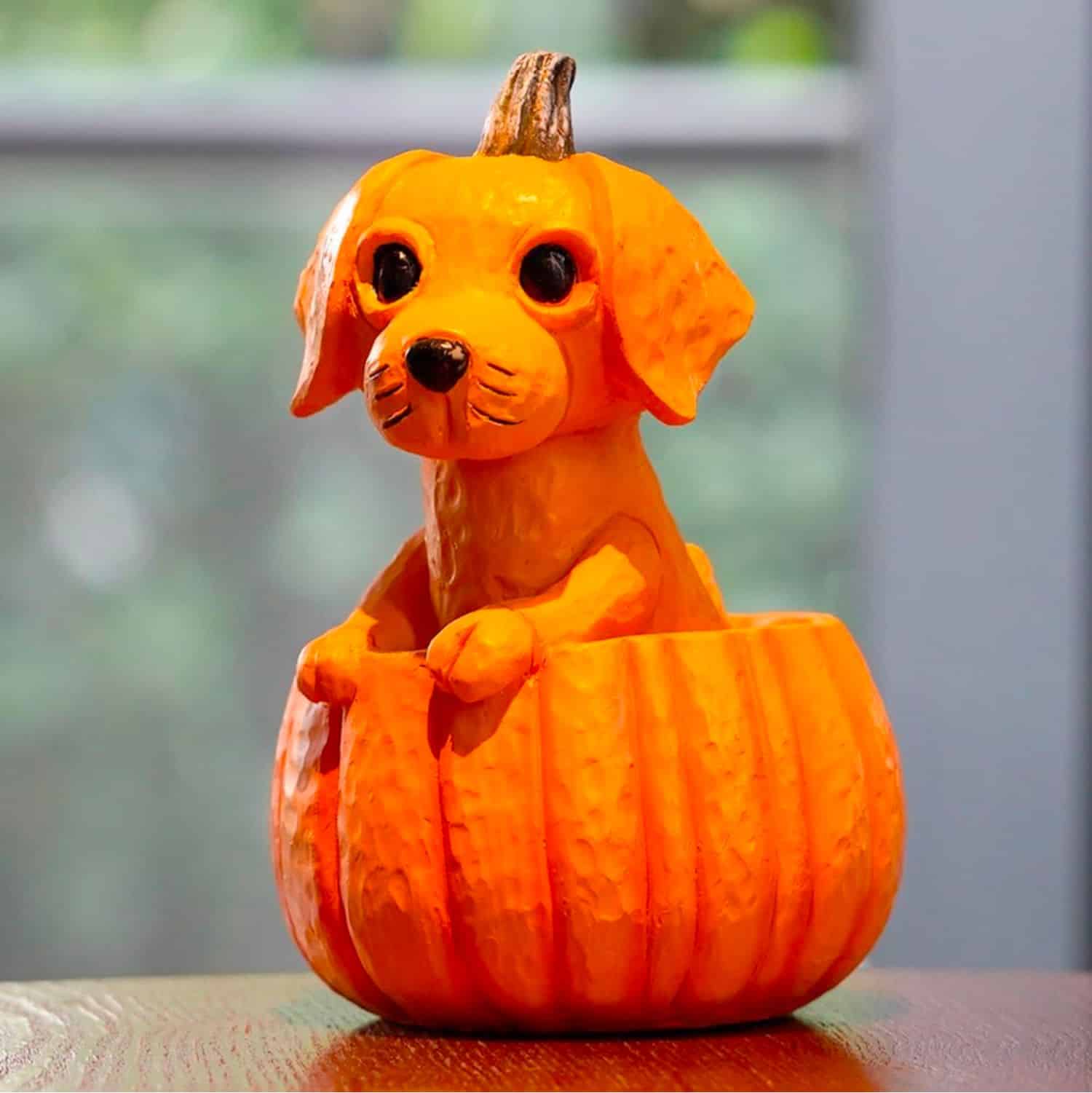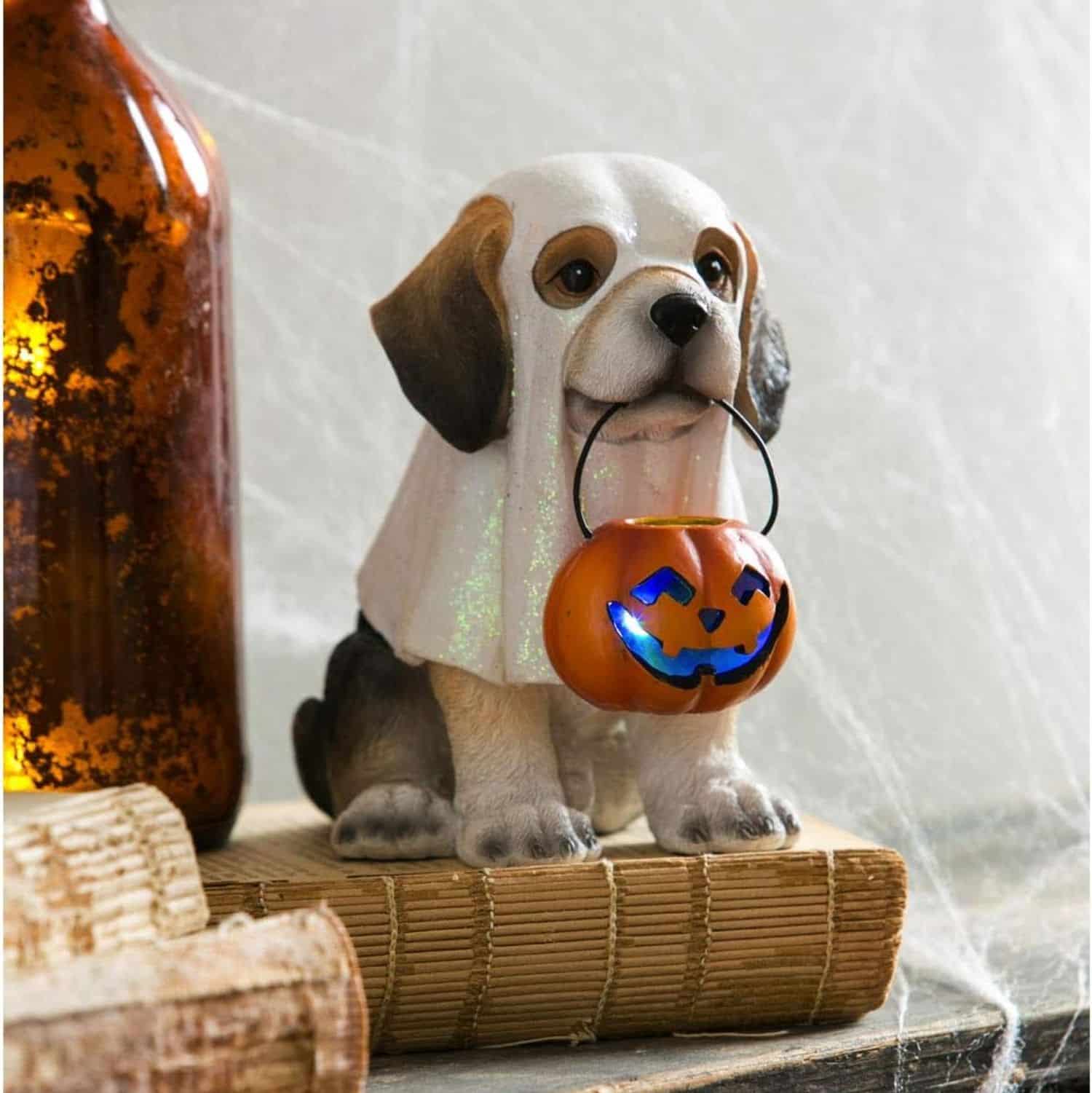 Decorate your home for Halloween with this charming Dog and Pumpkin Theme Light, perfect for dog lovers. This cute Halloween decoration features an illuminated dog in a ghost costume holding a carved pumpkin. The color-changing LED lights make this adorable dog Halloween decor come to life at night. The glowing lights will make it stand out at night, place it in a yard or garden to add a festive touch of canine spirit to your outdoor Halloween decorations.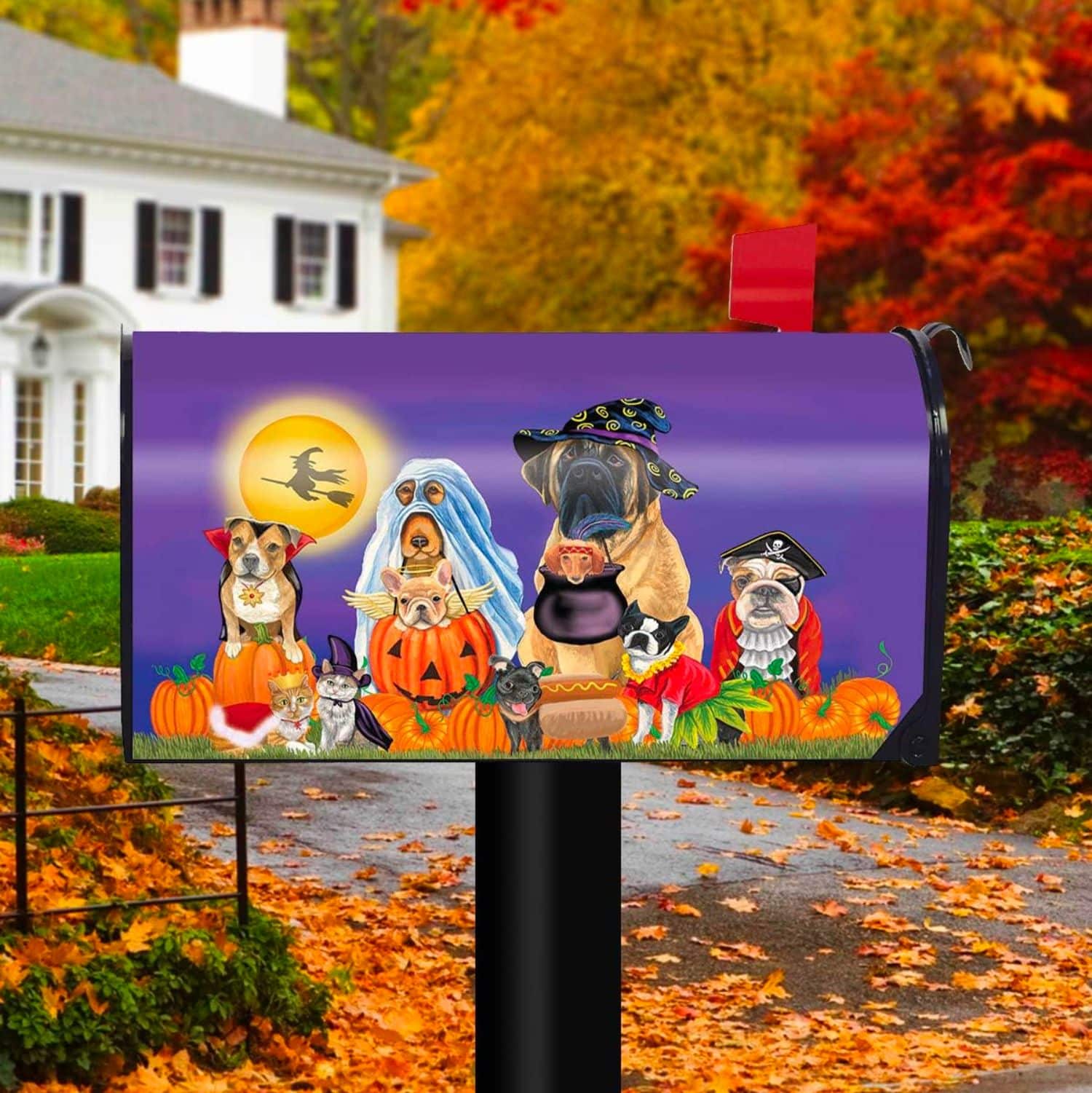 Looking for some frightfully fun dog themed Halloween decorations for your yard? Check out this Halloween Dog Mailbox Cover from Briarwood Lane. It features adorable pups dressed up and ready to go trick-or-treating. With its smiling canine characters and bright, festive colors, this is a playful choice for dog lovers wanting to add some howlingly good spirit to their mailbox. It's a tail-wagging addition to any outdoor Halloween display.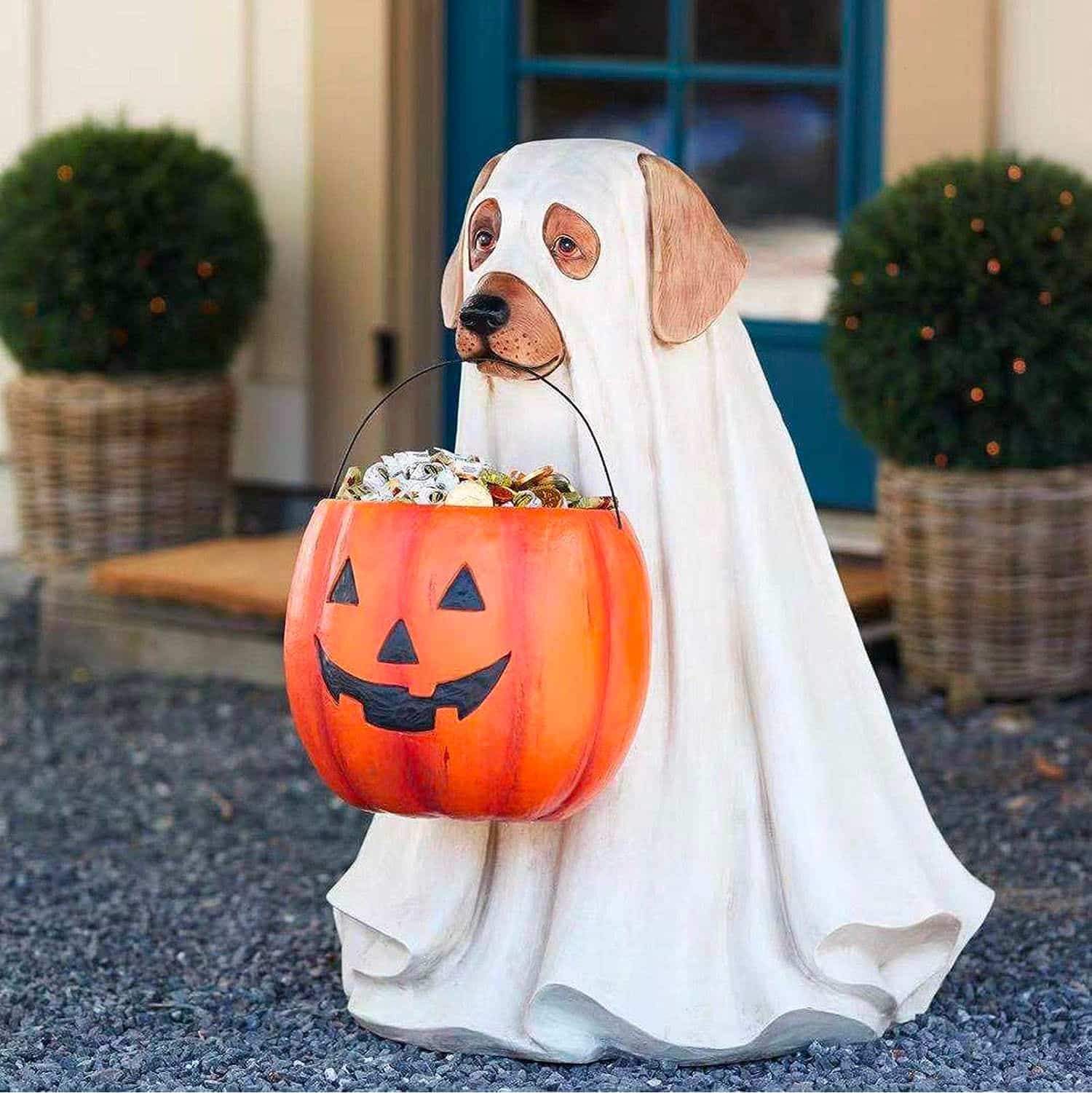 This Ghost Dog Candy Bowl Holder is a frightfully cute way to hold and display Halloween treats. The resin ghost dog stands upright holding a sizable pumpkin candy bowl, perfect for filling up with sweets. The bowl can hold a generous amount of candy, making it great for trick-or-treaters. Place this Halloween decoration outside to delight families as they come up to your door. Or use it inside as a decorative candy server at your Halloween party. The ghostly dog design provides a playful dog theme while the large bowl has plenty of room to hold candy for all your spooky celebrations.
Indoor Dog Halloween Decorations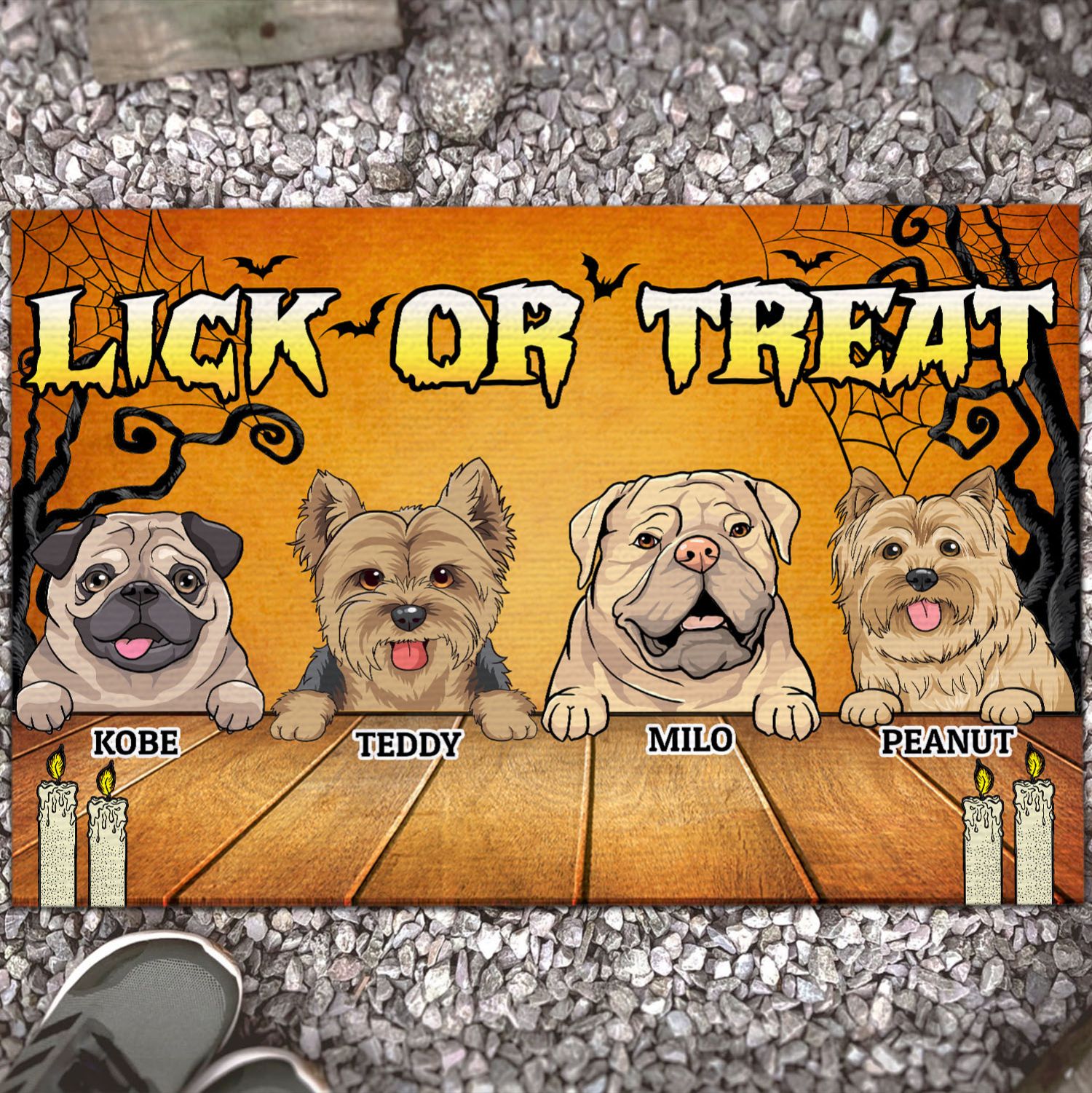 Add a personalized touch to your Halloween decor with this clever dog Halloween doormat that can feature your pup's name and breed! The doormat displays the humorous phrase "Lick or Treat" for a cute dog-themed spin on the classic saying. This customized doormat makes for a great and delightful dog Halloween decorations idea to greet guests with some puppy charm.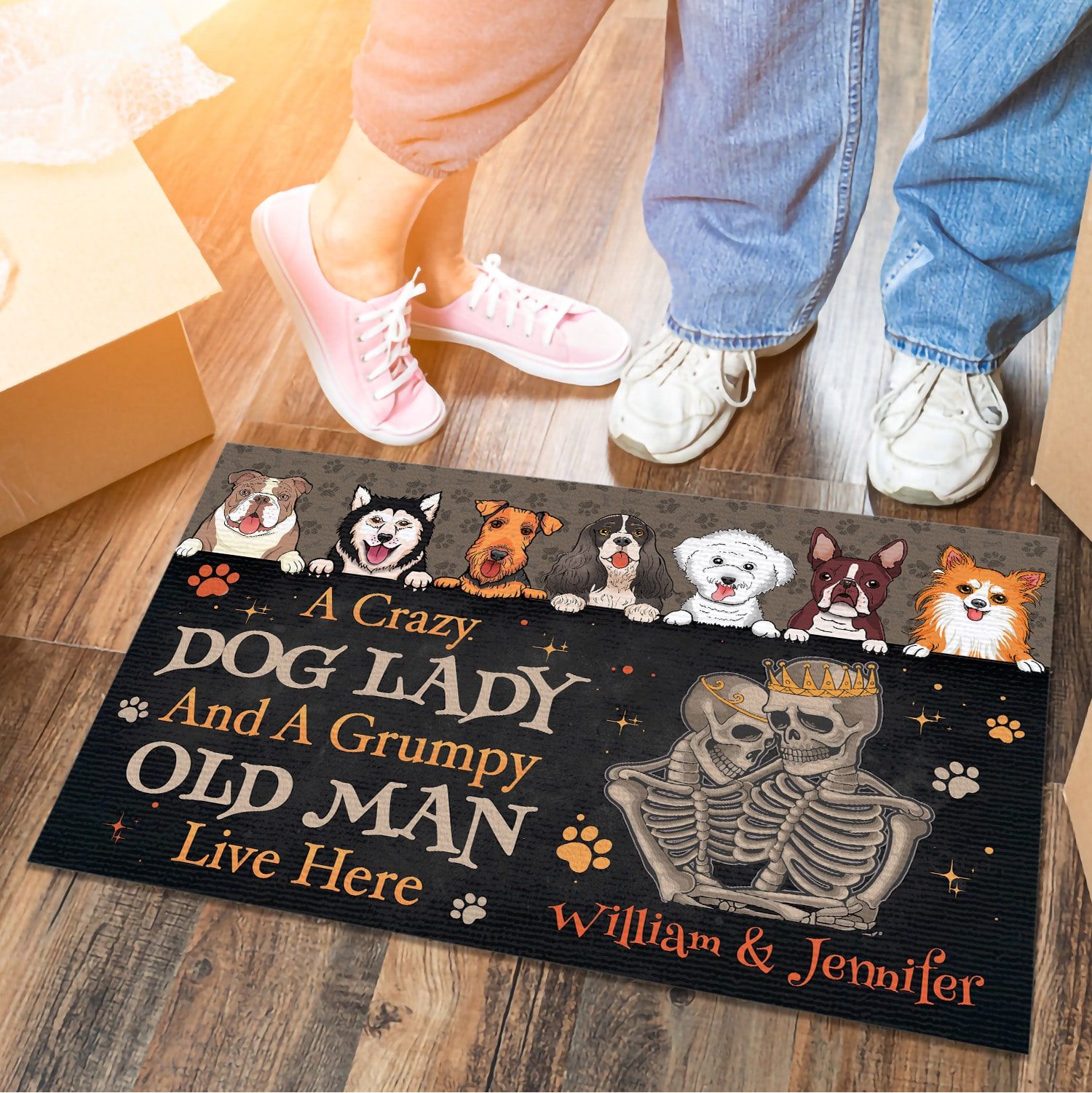 This doormat features the humorous message "A Crazy Dog Lady and a Grumpy Old Man Live Here" with skull graphics. Personalize it by customizing the dog breed and names of the dog-loving couple. This unique doormat pokes fun at devoted dog owners and makes for amusing door decor. With the ability to customize the dog breed and couple's names, you can create a delightfully silly Halloween doormat that friends and family will get a kick out of.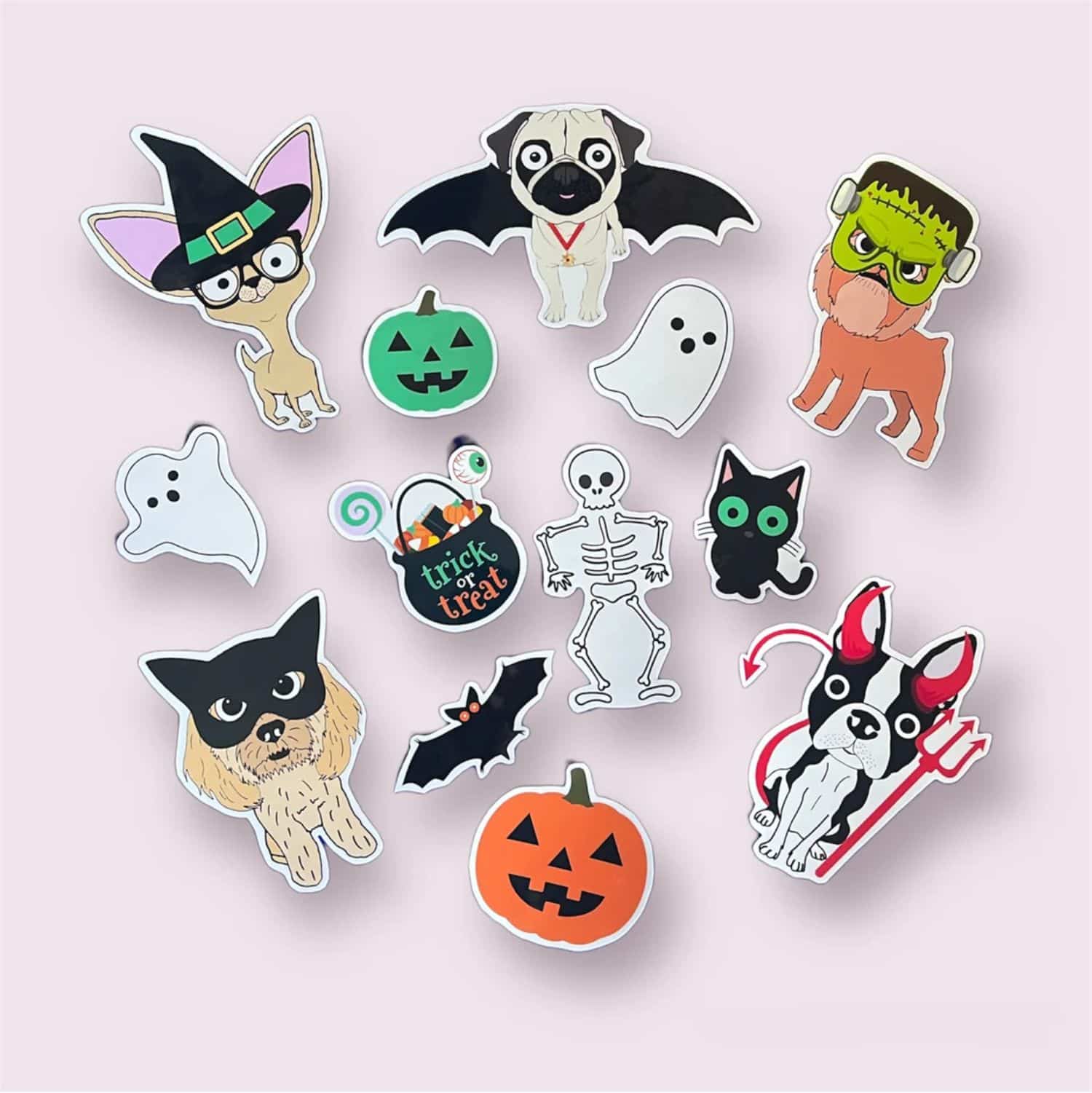 Decorate for Halloween with adorable dog-themed decals and stickers! These cute vinyl stickers feature spooky pups perfect for getting your home into the Halloween spirit. Stick them on mugs or cups to give to ghostly guests or use them as dog Halloween decorations around the house. With so many delightful dog decals to choose from, you can easily enhance your space with these playful pup decals for a howling Halloween!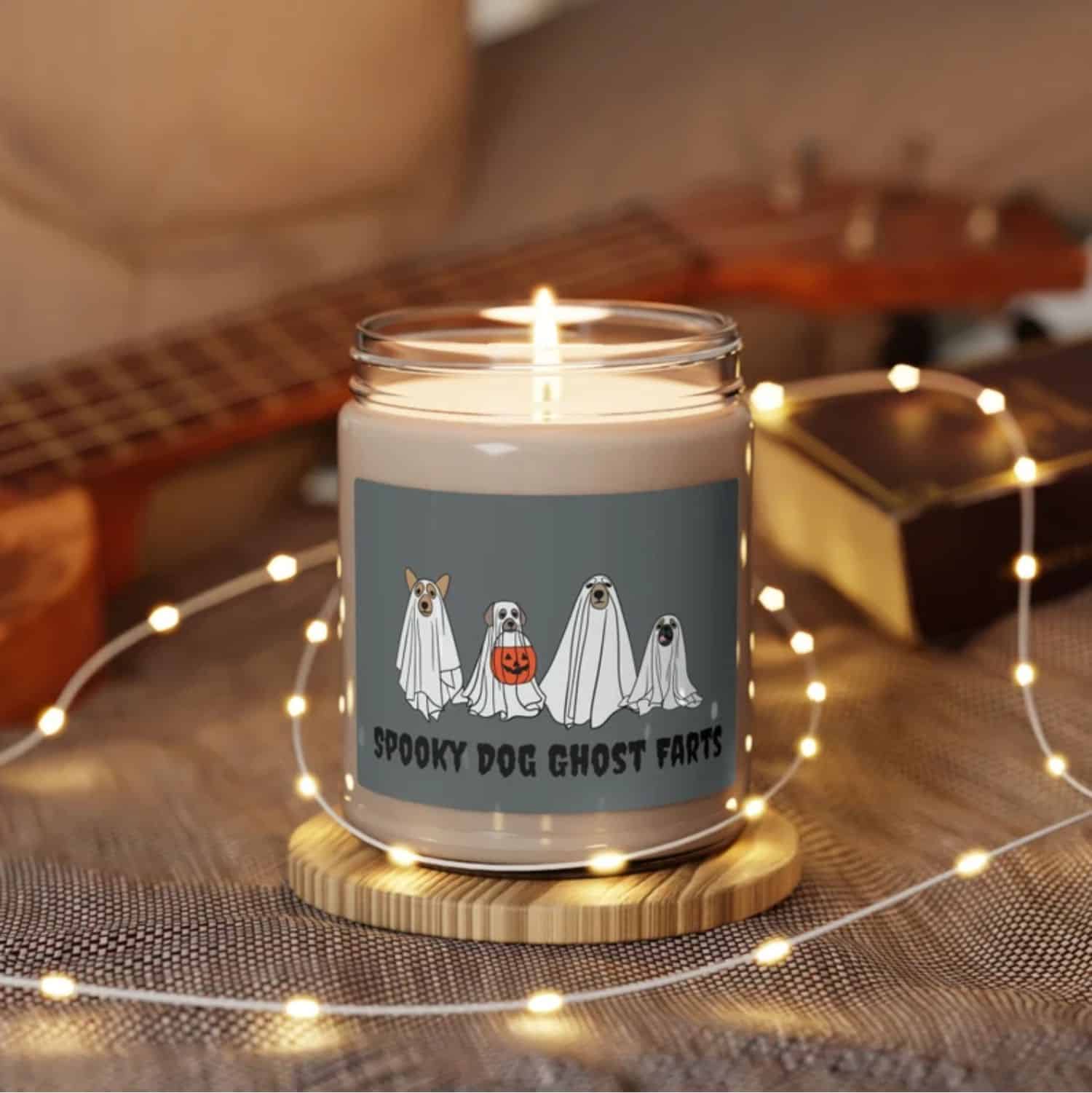 Get your home ready for Halloween with this delightful Spooky Dog Ghost soy candle! The candle features a playful ghost dog design that any dog lover will adore. Available in aromatic scents like apple harvest and cinnamon vanilla, this soy candle makes for a spooktacular dog Halloween decoration. Place it around your home to fill the air with fall scents and get into the Halloween spirit.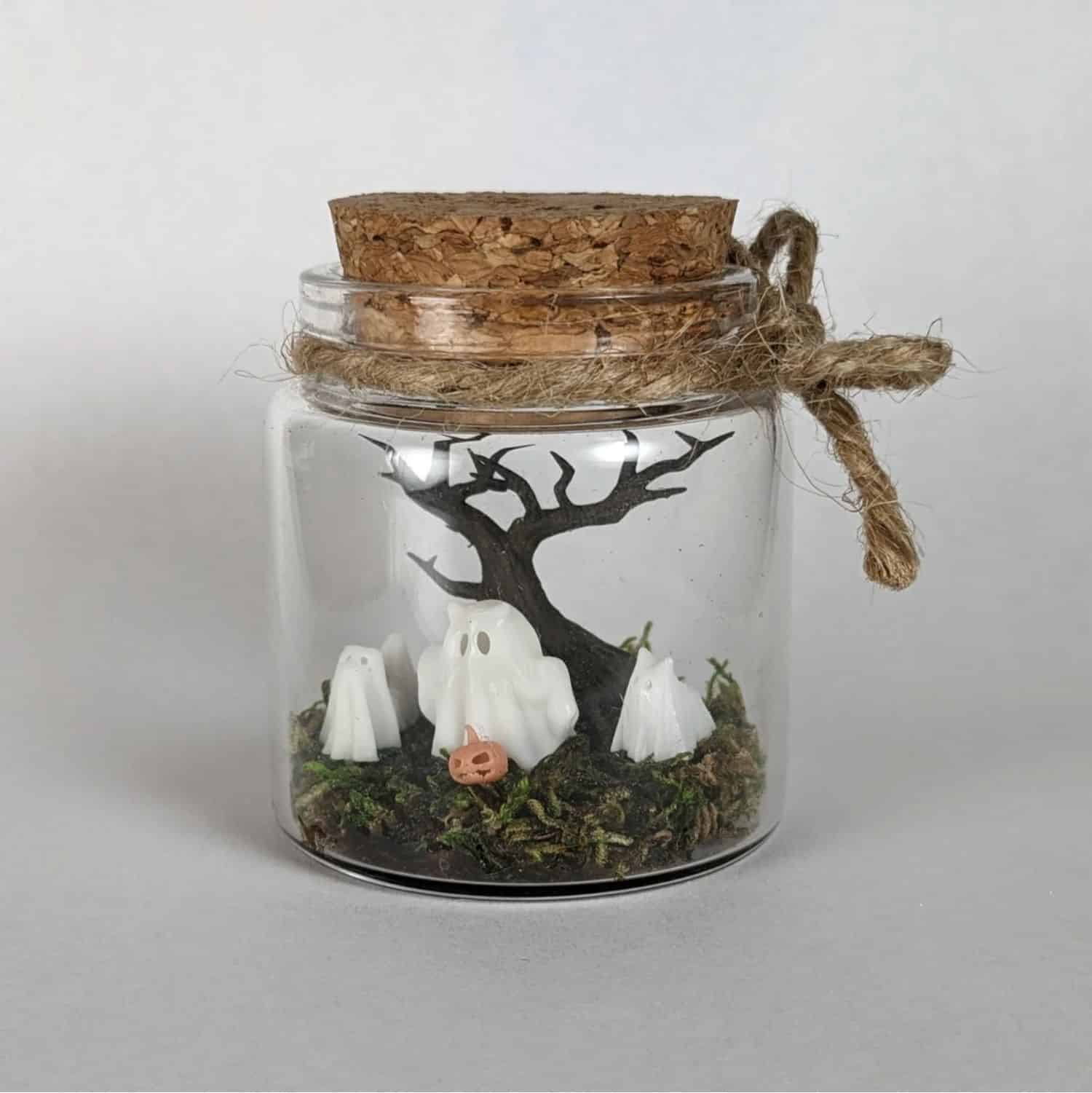 The Halloween-themed bottles feature a cute ghost along with ghost dog or cat friends. Place it on your table or shelf to lend some seasonal spirit. The mini ghost pup or kitty makes an adorable decoration for the spooky season. Display it on your desk at work or at home to get complimented on your creative Halloween flair.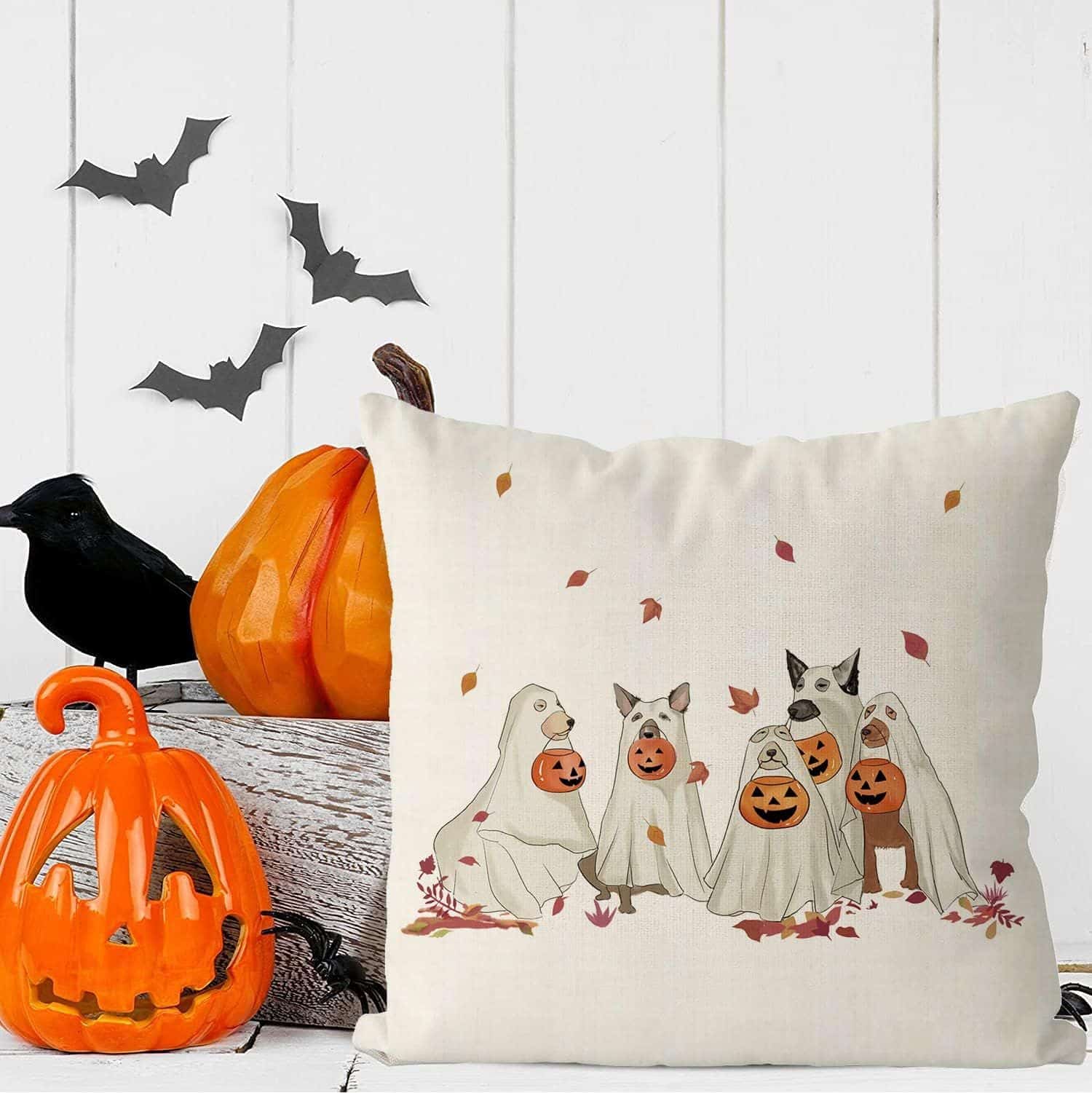 Decorate your home for Halloween with this charming dog-themed pillow cover! The Halloween pillow features a cute print of a dog in a witch hat against an orange background. It's the perfect way for dog lovers to add some canine love and flair to their Halloween decorations. Place it on your sofa, chair, or bed to give your space a playful boost of Halloween spirit.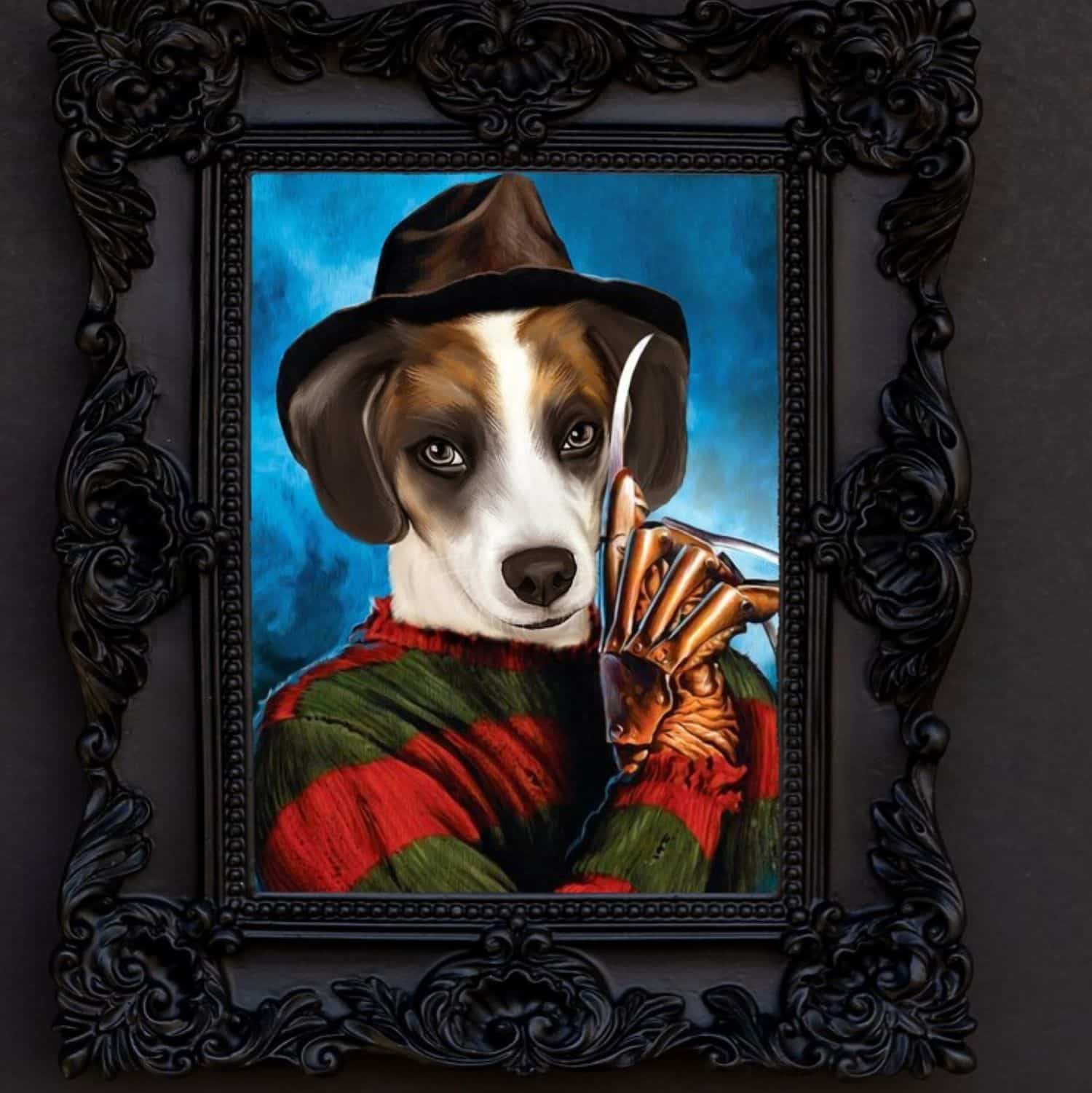 Personalize your Halloween decor this year with a custom-painted portrait of your precious pup! These hand-drawn digital pet portraits feature your dog dressed up in a Halloween costume of your choice. Whether you want a silly or spooky look, your pooch can be transformed into a vampire, witch, mummy or any Halloween character you desire. Let your furry friend take center stage in festive Halloween style with a customized portrait that captures their unique personality.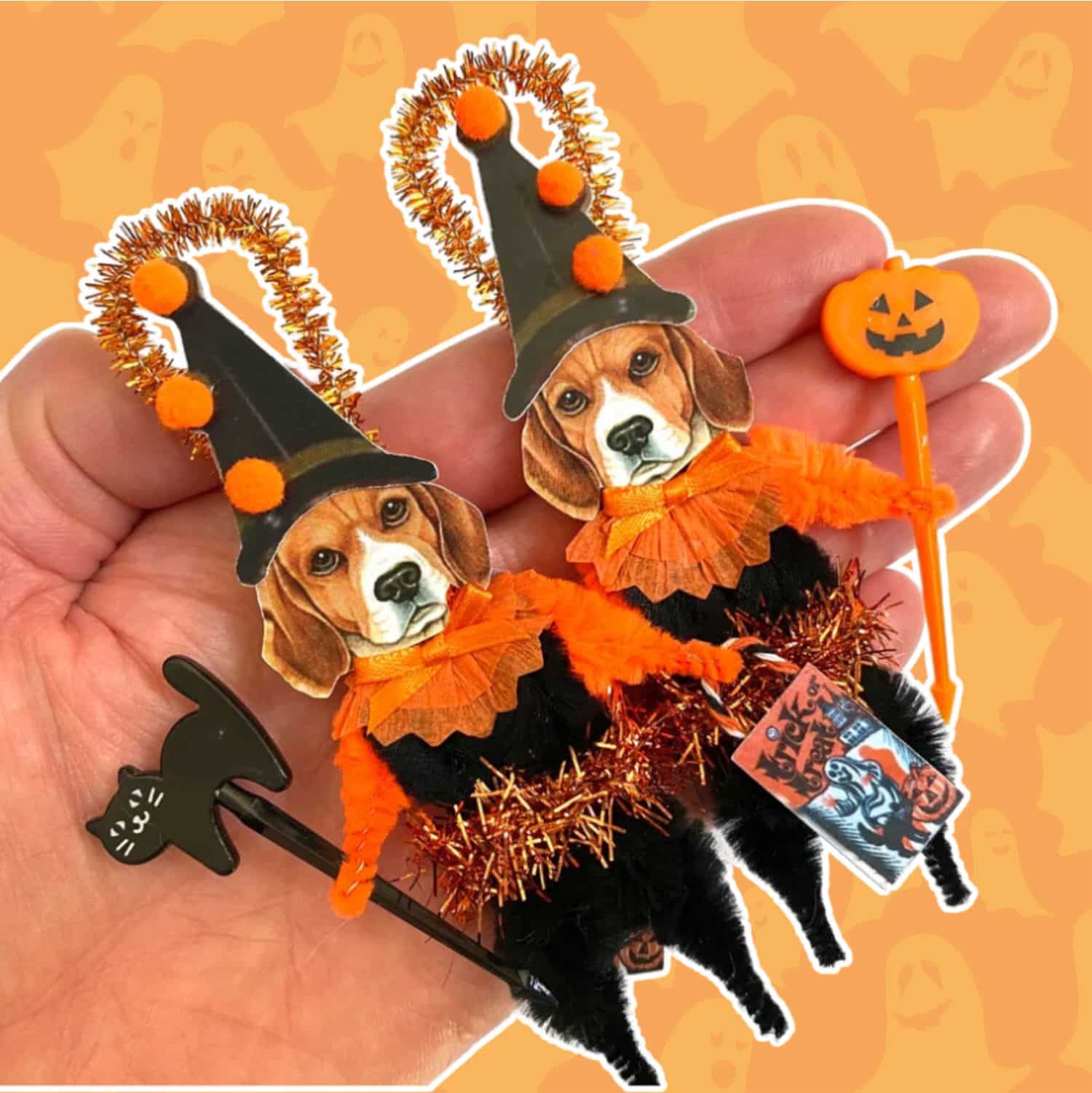 These vintage-style Halloween ornaments feature your dog dressed up for Trick or Treat. Personalize with your own pup's image to create a unique decoration starring your furry friend. The two-piece chenille ornament set is perfect for dog lovers to add some canine charm to holiday decorating. Display them on your Halloween tree or use them as festive accents around your home.
Decorate your door this Halloween with a festive wreath designed for dog devotees! This charming Halloween dog wreath features a cute dog sign along with a playful "Tricks or Treats" message. Place it on your front door or use it as a wall decoration inside to get your home ready for a howling Halloween! With its doggone delightful details, this wreath is perfect for adding some pup-tastic Halloween cheer.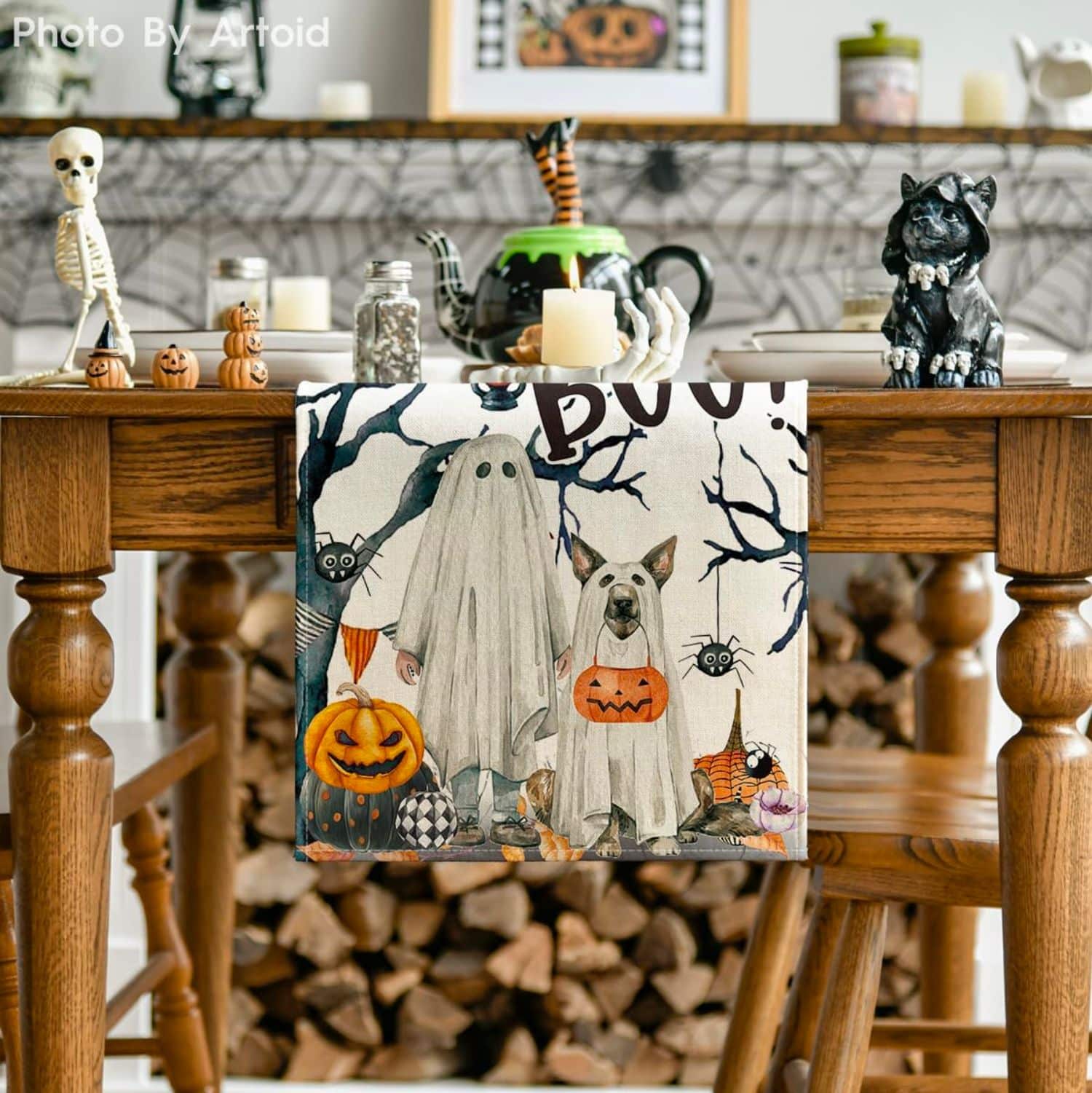 Looking for fun Halloween decorations for dog lovers? Check out this adorable Halloween Dog Theme Table Runner. This table runner features a cute print with ghostly dogs, pumpkins, bones, and other spooky silhouettes. It's the perfect way to add some howling Halloween spirit to your home while showing off your love of dogs. With its durable construction, festive colors, and delightful doggone motif, this table runner is a standout choice for Halloween decorations for dog lovers.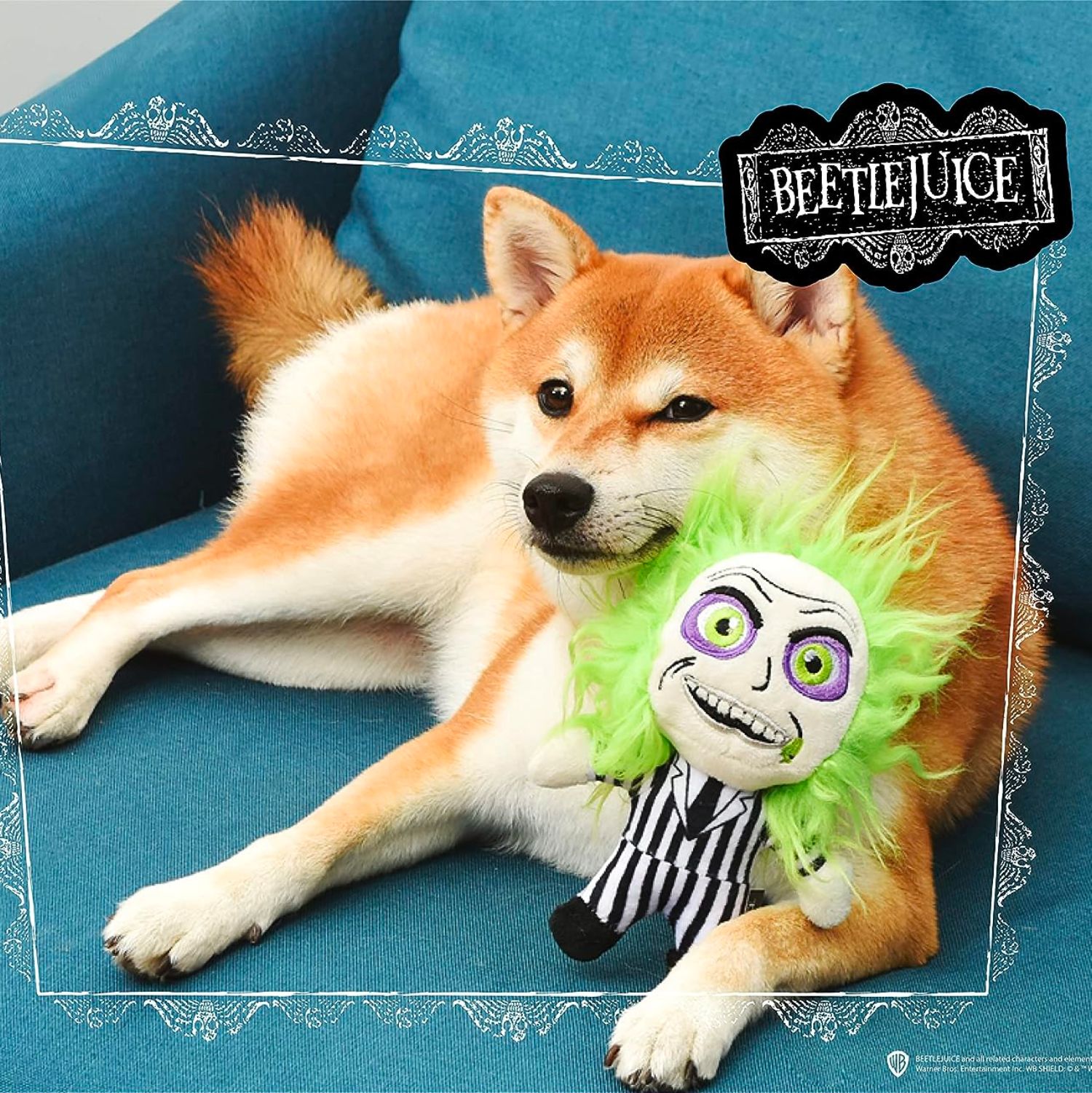 Give your pup a howling good time this Halloween with the Beetlejuice Plush Dog Toy. This adorable squeaky toy brings some spooky spirit. Modeled after the iconic character from the classic Tim Burton film, this soft plush dog toy is shaped like Beetlejuice in his classic black and white striped suit. Your dog will love chomping down on this creepy and kooky chew toy. The built-in squeaker adds noise and excitement to keep your pooch entertained for hours.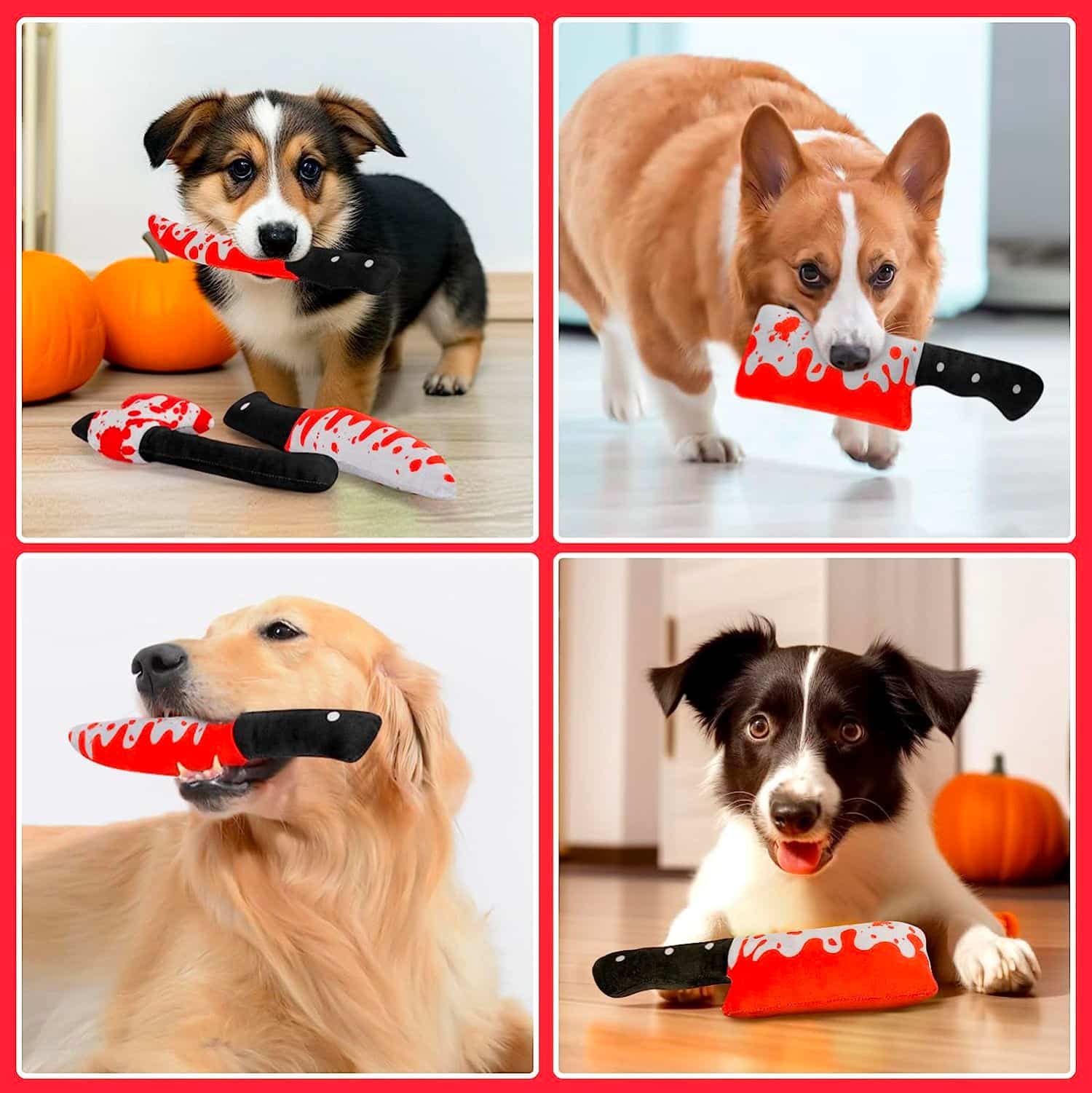 Give your dog a frightfully fun Halloween with this ghoulish set of squeaky toys. Perfect for pups who love to chew, these plush stuffed toys come in spooky shapes like a bloody knife, axe, and dagger. The soft fabric construction makes them perfect for chewing and interactive play. Best of all, the built-in squeakers provide exciting sounds to capture your dog's attention.
Conclusion
This Halloween, treat yourself and your pup to a frightfully fabulous celebration filled with bewitching decor and paw-some fun. No cauldron of gold could ever match the magical joy of dressing up your furry friend and creating spellbinding memories together.
Fill your home with doggone delightful Halloween decoration ideas for dog lovers to delight your four-legged trick-or-treater. Adorn your home with beautiful doggy wreaths, fill your space with beguiling popped lights, and get your home howling with spirited inflatables. Just make sure to use a protective paw print border or exercise pen to block access to any tempting wires or fragile items.
Most importantly, take bewitching photos of your doggo decked out in their costume finery to capture the playful spirit of the season. There's no price you can put on the heartwarming smiles and tail wags you'll share. This Halloween night, may your home be filled with snuggles, treats, and fa-boo-lous fun with your furry friends. Wishing you both a safe, spirited, and utterly priceless Halloween!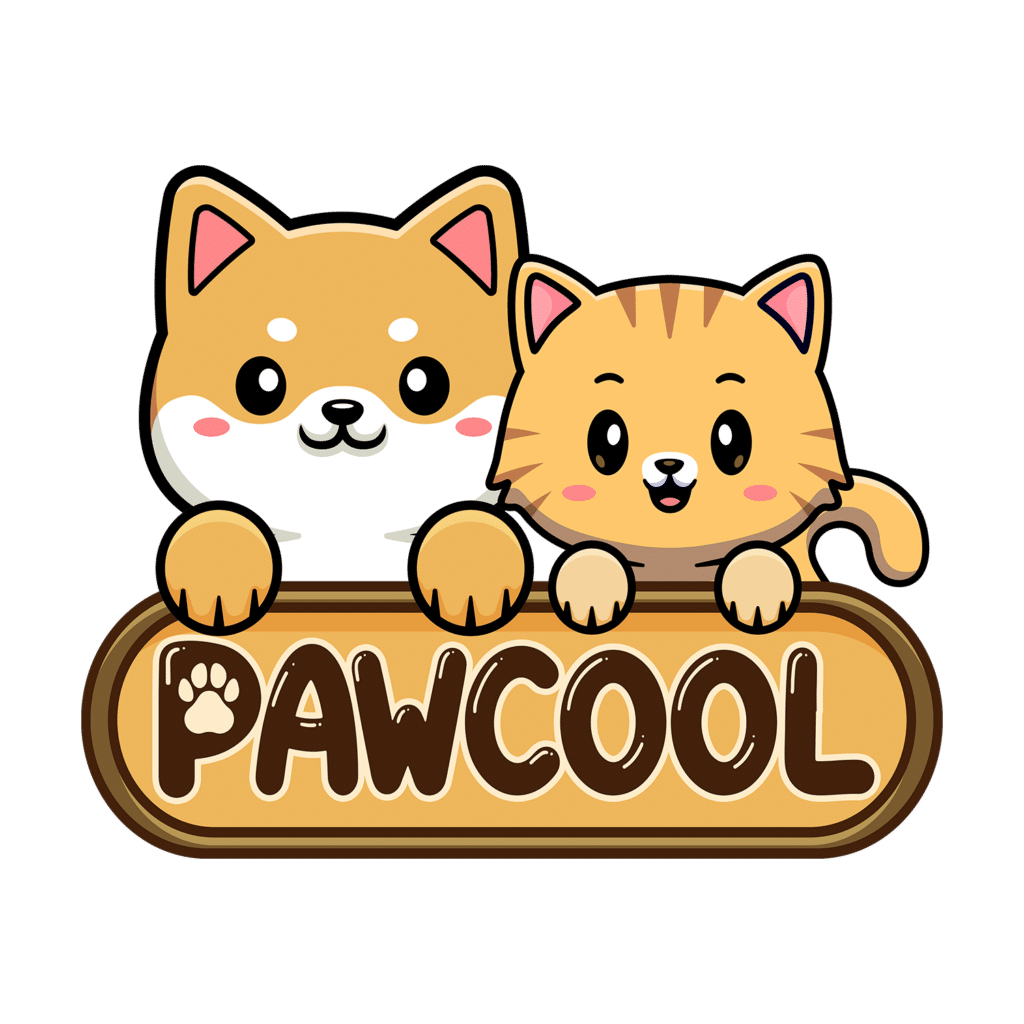 All pet stories & guides you care about